It is that time of the year again for my annual countdown of the very best videos of the year. 2019 has been an interesting year. We've seen some retirements such as Kaori, Shiori Kamisaki and Jessica Kizaki. While others have returned including Minori Hatsune, Shion Utsunomiya/Rion, Kokoa Aisu and Meguri just to name a few. At the same time we've seen some new actresses rise up the ranks like Maria Nagai and Riku Inaba. As in tradition I will be counting down my personal favorite videos of the year. Will there be Hitomi here? Of course. But also expect some surprises. Anyway it's time to begin with…
25. HND-714
"My Girlfriend's Sister Loves Me So Much, She Wants To Have My Babies"
Ruka Inaba was one of the debut actresses for 2019 that really caught my eye. Her petite size combined with her sizable tits and thick figure make for a very unique combination. She had some solid releases throughout the year but this one was her best imo. It features a very similar plot with her seducing her sister's boyfriend, all shot in pov. As always expect lots of sneaky sex such as when you two fuck while your girlfriend is asleep in bed. One unique element of this entry is the focus on creampies although they're most likely fake. There's plenty of sex scenes here and they're all terrific with little filler to get in the way. Appearance wise Ruka looks amazing here. While her wardrobe is standard fare her physique is on point and the camerawork is exceptional. In addition she certainly looks the part of the cute, younger sister. Not only does she look the part but she also plays the part pretty well too. She has great energy, maintains eye contact and is quite lewd overall. While its not the best performance I've seen from this theme she certainly gets the job done. Overall if you've never checked out Ruka Inaba before I'd say this is the one to watch as its a fantastic introduction.
24. SSNI-592
"Reverse Violation Slut Makes A Man Continuously Ejaculate While He Can't Get Away!"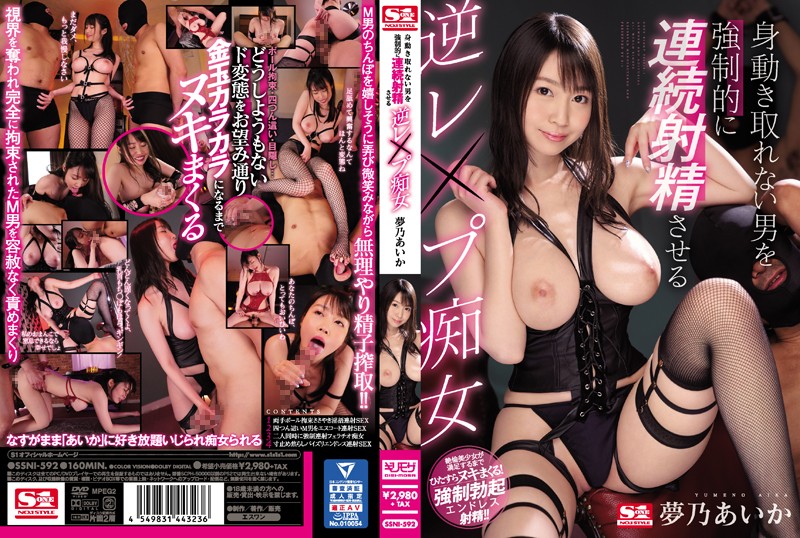 Aika Yumeno had a pretty okay year in 2019. She had plenty of mediocre releases but also a few solid ones as well. Perhaps the best imo is SSNI-592. The plot is pretty simple as its just a femdom focused premise. Don't expect anything too hardcore here. Most of the action consists of her restraining the guys and fucking them silly. About halfway through she usually lets the guys go and they kinda take over and fuck her. Speaking of the action as a whole its quite good with multiple sex scenes and even a nice double blowjob/handjob type scene. She even makes the guys cum twice in some scenes. Now a key element to any femdom video is the actresses performance of course. Aika Yumeno delivers a pretty fine performance all the way through. She's not perfect but she takes control and leads the scene as you'd expect with great energy. Finally regarding her appearance she looks exceptional. She wears some very sexy lingerie that suits her wonderfully. 2019 saw the release of several fantastic femdom videos and this is only the start for my list.
23. MIAA-089
"I Was Reunited With My Childhood Friend With A Bubble Butt After 3 Years. She Turns Into A Slut And Rides Me Wildly"
I was delighted to hear about Kokoa Aisu returning to jav. Overall her return has been okay but she did release this stellar standout video. The premise is pretty much explained entirely by the title as it revolves around Kokoa playing your childhood friend visiting you and just so happens to want your dick badly. Of course it's all shot in pov too greatly enhancing the overall experience. Kokoa definitely excels in this type of role and delivers a solid performance. While at times she can be a bit whiny and sometimes her facial expressions are off she still boasts wonderful enthusiasm and engages quite well. She's such a natural here and plays her part very well. On the appearance side of things Kokoa looks like a snacc here. Very adorable and cute but with a devilish side to boot. She's in remarkable shape too as her signature thick thighs and ass looks terrific. The action as a whole is fine but isn't perfect. In total there's 2 sex scenes, a blowjob scene, an outercourse scene and a solo masturbation scene. On the downside that masturbation scene is pretty terrible and the outercourse scene is forgettable too. However the blowjob scene is terrific thanks to the added risk factor from your wife/sister(dunno really) being nearby. And the two sex scenes are fantastic thanks to all the great ass shots. This is easily her best video since her comeback imo.
22. HODV-21361
"I'm Not Fucking Her Big Sister!? My Girlfriend's Big Sister Laid A Honey Trap And Creampie Fucked Me"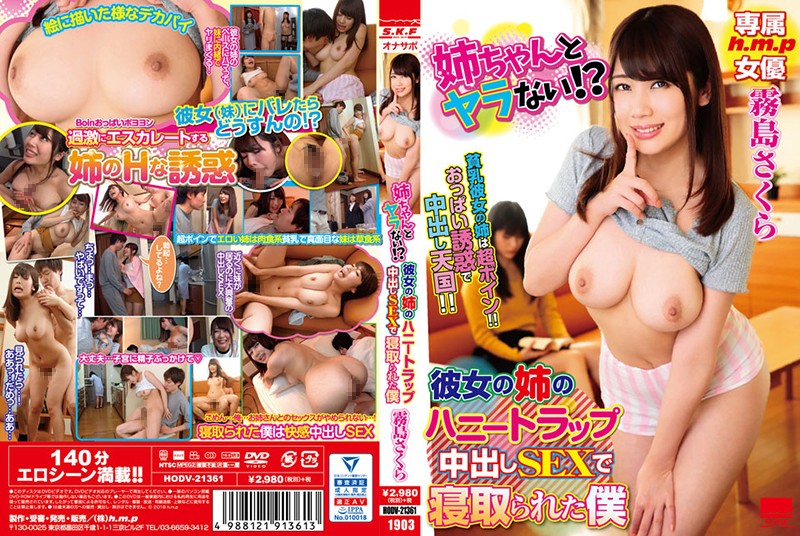 Sakura Kirishima's 2019 was average across the board imo but this particular video was the bests of the bunch. The premise here is follows the typical "GES" formula. For those 2 people unaware the plot here revolves around Sakura stealing her sister's boyfriend while engaging in sex and trying to remain hidden. Speaking of sex, the action as a whole is good for the most part. There's a nice element of risk involved such as in the first sex scene when they fuck right outside the kitchen with her sister mere feet away. Or when they're asleep in bed together and Sakura comes in and grinds on top on him. However at times some scenes are a bit too outlandish and the last sex scene is incredibly vanilla and plain. On the acting side of things Sakura really nails it. While I will say the last scene once again is her weakest besides that she's fantastic. Great enthusiasm and facial expressions all around. Plus she's very lewd here and takes control in nearly every scene making for a daring and fun performance. Lastly regarding her appearance she looks very good as always. On the wardrobe side of things there's nothing too memorable honestly, but physically she's in great shape. Despite a few minor flaws HODV-21361 is still an excellent video that should please any fan of "GES".
21. MIAA-078
"My Big Sister Is Uninterested In Sex But When I Make Her Put On A Maid Costume, She Suddenly Becomes A Dirty Pervert!! I Was Made To Cum Over And Over Again"
Yuu has released quite a lot of videos this year and this is the first to make my list. Yes the plot is exactly as described in the title. The guy gets his sister a maid outfit and after putting it on she can't keep her hands off him. So of course they end up fucking, over and over. So apparently if you wanna fuck your sister just get her a maid outfit. It's a pretty wacky plot but I do appreciate the twist on the maid theme and combining it with incest. Bolstering this plot is Yuu's top-notch performance. She plays her role very well and in convincing fashion with excellent enthusiasm and facial expressions. And overall she's quite devilish and loves teasing the guy. Such as when she's jerking him off and when he starts cumming she lets go of his dick. She's also pretty engaging which helps with the pov aspect. The camerawork is terrific and captures some real great shots of her here. Seeing Yuu in maid outfits is nice but physically I do wish she'd put on some weight but that's just me. Last but not least is the action which is fantastic. There's multiple sex scenes and plenty of outercourse scenes too. Not every scene is a winner but the aspect of making the guy cum multiple times is a nice touch. Yuu Shinoda + POV + incest = a winning combination.
20. MIAA-182
"A Luxury Brand Shorts Sales Lady Unleashes Her Twerking Dance Temptation Sales Technique"
Maria Nagai really caught my eye in 2019. Her tight body and big ass make for some amazing eye candy, which you get plenty of here. Anyway the premise revolves around Maria playing a traveling door-to-door shorts saleswoman who seduces random men into sex by showing off her booty. It's a simple plot but effective as it certainly fits Maria's looks and personality as she delivers an excellent performance overall. She's quite proactive here as she generally takes the lead in every scene and boasts wonderful enthusiasm. There's still some room for improvement but she's definitely on the right track. Now while the scene count is a bit below average with just 4 they're all equally great. 3/4 are full sex scenes with the other being a facesitting/outercourse focused scene. They all feature superb camerawork that do a terrific job at highlighting her best asset. My only one critique is that some scenes take awhile to get going. Anyway regarding her appearance she looks amazing here. Every single scene features her wearing a stunning outfit that shows off her ass and curves very well. Expect lots of tight shorts and thongs. If you haven't jumped on the Maria bandwagon yet I say this is the one to watch. It's simple and showcases her body in the best way possible.
19. HND-710
"One Day, I Got My Hands On A Device That Could Control Women's Bodies, So I Used It On My Big Ass Big Sister-In-Law And Pounded Her With Creampie Sex"
If there was an award for the goofiest plot of the year then this film might just take 1st place. It revolves around a guy being able to control his sister-in-law via a magic video game controller, which is just a gamecube controller minus the Nintendo markings lol. It's a very wacky setup that definitely personifies jav perfectly. Such as in the first scene when he makes her grind on the coffee table and strip her clothes. Very entertaining. The action overall is fantastic with multiple creampie sex scenes. Each scene uses the controller theme in unique and fun ways such as in the final scene when Shiori gets to use the controller on the guy and flips the script. Or in another when he controls her body and forces her to fuck a friend she brings home. Appearance wise she looks pretty decent. Her ass is solid and they do a good job at highlight it here through all the different positions and outfits. And finally regarding her performance she does a splendid job. She acts appropriately submissive through most of the film when she's being controlled against her will. But at the end she turns it around and lets loose a bit. HND-710 easily makes for one of the most memorable videos of the year. You may find yourself fapping and laughing at the same time…
18. BLK-428
"How Many Times Can You Fuck? We Met An Ultra Orgasmic Half South-American Gal And She Gave Us So Much Nookie And She Was So Sexy That We Put Her In This Adult Video"
Maria knocks it out of the park again with yet another stellar release. This one features a premise that is very similar to the "PLA" series. Here Maria attacks various men who are seemingly apart of the production crew and has her way with them. Most, if not all, are probably actors but its still entertaining nonetheless. One big positive about this film is the action. There's no shortage of it here with very little filler to get in the way. Expect several sex scenes, some nice outercourse and even face sitting. Now when it comes to videos like these you typically expect a strong performance and thankfully Maria delivers for the most part. While at times during the sex scenes she can be a bit whiny, beyond that she's terrific with high enthusiasm and solid engagement. She's so much fun to watch. Another reason why she's fun to watch is due to how amazing she looks here. Her wardrobe is rather minimal but her body is in flawless shape for sure. BLK-428 showcases all of Maria's strength's quite nicely with her strong acting and gorgeous body. You really can't go wrong with this one.
17. PPPD-773
"Total Obsession: Cock Orgasm Control"
My opinion on Julia has diminished over the past year or so for a few reasons but that's neither here nor there. I wasn't expecting much out of a femdom Julia video but I came away pleasantly surprised. The plot is much like any other femdom focused video with Julia taking dominating control over the guys here and fucking them senseless. One of the biggest and most important factors in a femdom film is performance and Julia actually delivers in a big way. For one she takes complete control here and is very dominating such as how she makes the guys cum several times in a scene. In addition her energy and facial expressions are really spot-on. All around a near flawless performance. Another factor this film nails is the action. There's a decent variety here with face sitting, paizuri, creampies and of course plenty of sex. From beginning to end the pacing is well done and handled excellently. Now how is her appearance. While physically I can't help but wish she put on a bit more weight I do have to say her wardrobe is spectacular. There's such a nice range of outfits here from fishnets to stockings to a corset just to name a few. If you've been sleeping on Julia this year I highly recommend PPPD-773. Easily one of her best in recent memory.
16.WANZ-869
"My Sexy Ass Neighbor: Young Housewife Made Me Cum Over and Over For One Hour With Her Twerking and Fucking"
Yuu Shinoda back at it again with yet another stellar release with a somewhat unique plot. Here she plays a married woman who loves to show off her ass. Her male neighbor can't help himself and barges into her apartment to rape her. But soon enough the tables turn and she takes control as she fucks him senseless. When it comes to the action its al around pretty great. There's 3 creampie sex scenes, an outercourse scene and lastly a brief montage of sorts of several sex scenes. Most scenes feature multiple creampies(albeit fake but the effect is still worth it), some pov and the positions and camerawork do a great job at showing off her ass. Now regarding Yuu's appearance I feel a bit mixed. On one hand her wardrobe is fantastic and features lots of great outfits. However personally I don't like how skinny she has become. Her ass isn't quite as nice as it used to be. Don't get me wrong, she's still great but I much prefer meaty Yuu. However there's no mixed feelings about her performance as she definitely delivers. She boasts excellent facial expressions, enthusiasm and plays her role to superb effect. Yuu Shinoda has had a busy 2019 with most of the releases being average but this one stands out as one of the best.
15. PPPD-788
"I Summoned A Succubus And Then She Possessed My Big Tits Big Sister-In-Law And From There, She Creampie Fucked Me Every Single Day In A Life Of Semen-Milking Sex Slavery"
Easily one of the best covers of the year hands down. What an attention grabber. Anyway Hitomi had a very strong year in 2019 and this is the first video of hers to make my list. PPPD-788 features a very unique plot with a spin on the traditional succubus theme. Here the guy summons the spirit of a succubus which then possesses his sister-in-law(Hitomi) and well you can guess the rest. It puts an interesting twist on the suc theme for a fun and entertaining premise although the theme could have been utilized a bit better in some areas. Helping sell the plot though is Hitomi's remarkable acting. She is very seductive here with incredible enthusiasm and superb facial expressions making for a convincing performance overall. She can be absolutely relentless here.  The action is incredible too with 3/4 scenes incorporating pov to great effect. The sex itself is mostly pretty great however two scenes really just uses one position which is a bummer admittedly. However the last scene features a heavy element of risk and there's also a fantastic paizuri scene. Rounding this out is her stunning appearance. Her succubus makeover looks amazing for the most part. Makeup could have been a bit better but still great nonetheless. While yes it wasn't perfect and had a few flaws its still a fantastic video overall thanks to Hitomi's immaculate performance and incredible final scene.
14. JUFE-088
"I've Been Saving Up My Cum For A Month To Try And Get My Wife Pregnant… But Her Sexually Frustrated Sister Came Out From Left Field With Colossal Tits And No Bra To Seduce Me"
Maria Nagai strikes again. I don't think I need to explain this plot too much as the title is pretty self-explanatory. It's all about Maria seducing her brother-in-law. As is often the case expect lots of risky sex and slutty acting. This plot definitely fits her quite well and its directed quite nicely. Risk is a major element here and its executed excellently. Such as when Maria and the guy are having sex while her sister is asleep in bed or giving him a blowjob while she's in the kitchen with her back turned. I will say that one of the handjob scenes is very dull and forgettable. Other than that though the action is great. When it comes to her performance she really nails it. She plays her role quite well as she portrays the sultry and seductive older sister to great effect. While she's not entirely perfect more often than not she's on point. Finally we have her appearance. Wardrobe wise she does wear a few nice outfits like some nice lingerie and full body fishnets. And of course physically she looks as good as ever. Overall I'd give this video the slight edge as her best of the year. Here's to hoping 2020 will be even better.
13. WANZ-871
"My Girlfriend's Older Sister Was Secretly Tweaking My Cock Tip… But No Matter How Many Times I Came, She Kept On Following Up With More Creampie Sex, And Making My Dick Go Crazy…"
My expectations for this video were higher than normal for an average Julia film. And to my surprise this video delivered in all areas. It's the typical "girlfriend's older sister" plot so you can expect plenty of risky sex which is easily one of the films highlights. All in all there's several sex scenes that are each fantastic for their own reasons. One features the two fucking while the girlfriend is in bed and another other has Julia restraining the guy and fucking him silly. The other scenes are mainly paizuri and handjob focused all with a heavy risk factor making them much more exciting. One other big positive is the fact that each scene features the cumming multiple times. Some of the cumshots may be fake but the effect is  great and adds to the premise. Bolstering the premise is Julia's fantastic performance. Julia hasn't always been the best performer but she absolutely delivers here. She appropriately takes control in every scene as she should and in convincing fashion. Not only that but her facial expressions and enthusiasm are top-notch. This is really one of her best performances to date imo. Lastly I feel like Julia looks pretty good all around. Her wardrobe isn't anything too fancy but physically she's in the best shape I can remember in recent memory.  Julia really knocks it out of the park here and prove she's still got it.
12. CJOD-203
"My Cousin Hates When She Gets Her Underwear Sweaty, But Now She's Dripping Wet And I Can See Her Titties Through Her Shirt In This Excessive Summer Vacation Of Temptation"
Nanami Matsumoto has really impressed me this year. Don't be surprised to see her again on here. Anyway the premise is pretty simple with her getting super sweaty throughout and seducing her cousin. Expect to see a lot of Nanami wearing thin, see-through outfits covered in sweat. And of course she takes the lead in every scene, as she should. When it comes to her acting she delivers an above average performance overall. She's pretty active, has great facial expressions for the most part and plays her role quite well as she's very lewd throughout. However there's something holding her back but I just can't quite put my finger on it. Still a solid performance though. The action as a whole is pretty well rounded with a few sex scenes and a few paizuri scenes. One of those involves her tittyfucking him while an AC repairman is in the room. If you like clothed sex you certainly get your fill here for sure. I will say though that there's a rather mediocre blowjob scene but the rest of the scenes are terrific. Finally one of the best aspects by far is her appearance. Nanami no doubt has a stunning body and seeing her soaking wet from sweat in skimpy see-through outfits in just amazing. A total knockout. Sweaty action is always a favorite of mine and this film definitely delivers.
11. SSNI-589
"Yua Mikami Is Cumming With All Her Might"
I was pleasantly surprised by this video and in the end it's actually one of my favorite Yua videos ever. There's really no plot to speak of here as it instead focuses mainly on her ass. Pretty vanilla all around but that's not really a bad thing if its executed well. That strong execution begins with the action which is overall very good. There's little filler to get in the way which is nice and the technical aspects are on point. And if you like pov there's a pov sex scene here too. Plus there's copious amounts of facesitting too which is always a plus. Performance wise she's pretty solid. She can definitely be a bit too whiny at times but beyond that she's pretty energetic and active. I would say it's one of her better performances to date. Easily one of the best things here is her appearance. She's in incredible shape with just the right amount of meat on her which is especially noticeable in her thighs. And every single outfit here is amazing as well. Super sexy and does a remarkable job at showing off her body and highlighting her ass and thighs. I haven't always been impressed by Yua and S1 but I gotta give them credit this time. SSNI-589 really delivers and actually lives up the cover for once.