Femdom is by far one of my favorite genres when it comes to jav. In case you're unfamiliar with femdom I'll briefly explain what it means. It basically boils down to having the female as the dominant or top partner. It can range from sensual to extreme in various circumstances. Some elements of femdom include face-sitting, bondage and pegging. Not all of my choices feature the more extreme aspects of femdom but merely  place the actress in the dominant position through the whole course of the video. So if you've got a thing for femdom like me then this is the list for you.
---
Honorable Mentions
BBI-145
"High Class Slut Kurea?Hasumi 's Reverse Rape"
One of Kurea's earlier videos but also one of her most intense to date. This video is all about reverse rape as Kurea has her way with several guys here and fucks their brains out. Her performance is outstanding as she's incredibly slutty and dominant. Couple that with some high energy sex scenes such as when Kurea drags two "random" guys into a car and fucks them silly. Plus her wardrobe is very slutty too which is a great fit for her . Kurea Hasumi is in her natural element here and nails it.
IPZ-561
I Won't Forgive You Until You Cum – Two Smart Frustrated Sluts Become Filthy Reverse Molesters
The premise is basically that of a typical reverse rape/molester video. Both actresses go around in a public location such as an elevator, restroom and library and proceed to throw themselves at unsuspecting men. Every scene features both actresses sometimes in a threesome, foursome or fucking a guy one after another. The best example being the fantastic elevator scene. Easily one of my favorite scenes of all time. Their acting is pretty good too as they take the lead in every scene. The wardrobe here is what you'd expect from an OL film and it suits them quite nicely. Some of you may have expected this a bit higher but I feel like other films here are better examples of the femdom genre.
SSNI-388
"Yua Mikami In A 16-Consecutive Cum Shot Slut Assault She's Tied Up Men For Some Energy-Sucking Fucked Ejaculations"
A Yua Mikami femdom video? Yes sir. To my surprise it's actually not half bad. S1 certainly nails the theming for this one as all the guys are restrained and tied up with Yua having her way with them. She looks absolutely amazing here with several stunning outfits such as a corset plus she's physically in top-notch shape. The action is good but is lacking a bit as some scenes are dragged out a little too much. Performance wise Yua is a mixed bag. Some scenes she's really energetic and into it and other times she's too distant and doesn't feel connected to the scene. In closing Yua's first entry into femdom is solid. Its certainly not perfect but if you love Yua and femdom you'll find some good stuff here.
JUY-337
"The Totally Masochistic Wife"
Now I could be wrong but I believe the plot centers around Mako being the head of a household with masochistic men who love to be dominated by her. It's a pretty hardcore femdom video with some pegging, facesitting and dripping candlewax on the guys. But rest assured there's plenty of great, straightforward action too. Complimenting this is Mako's terrific performance. She boasts excellent enthusiasm and facial expressions and really takes the lead across the entire film. Finally her apperance is great as well. Her wardrobe isn't too memorable besides her last outfit which is featured on the cover. But naturally Mako looks nice at least. Definitely give this a watch if you prefer more hardcore femdom videos.
PPPD-773
"Total Obsession: Cock Orgasm Control"
I wasn't expecting much out of a femdom Julia video but I came away pleasantly surprised. The plot is very simple with Julia taking control over the guys here and fucking them senseless. Gotta give Julia credit as she delivers a strong performance. She's very dominant such as how she makes the guys cum several times in a scene. In addition her energy and facial expressions are really spot-on. There's a decent variety in the action here with face sitting, paizuri, creampies and of course plenty of sex. From beginning to end the pacing is well done and handled excellently. Now how is her appearance. I do have to say her wardrobe is spectacular. There's such a nice range of outfits here from fishnets to stockings to a corset just to name a few. All around this is one of Julia's best videos in recent memory.
---
Top Ten
10. BBI-215
"The Pulling Out And Ejaculation Control By The Dirty Talking Girl"
Kicking off my top 10 with a great example of the femdom genre. The plot here is straightforward as it's all about Asahi putting a collar on this guy and making him her sex slave. This film is chock full of femdom moments such as her spitting on the guy, facesitting and locking his dick up in a chastity like device. And when it comes to the action it's very good overall. The sex scenes are intense and feature Asahi taking complete control. In addition even the filler type scenes are worthwhile thanks to her acting and some nice facesitting moments. Also the camerawork is solid as well. Now when it comes to her performance she absolutely kills it. She's very controlling, dominant and boasts incredible enthusiasm. Not to mention she's super expressive too. Asahi is one of the best in this area and she shows why here. Capping all this off her is stunning appearance. While her wardrobe isn't too exciting just her natural self is more than enough and she's in stunning shape. All this makes for an exciting and top-notch femdom film that perfectly defines the genre.
9. PGD-911
"Kick-Ass Nympho Boss Controls Everything From Work To Ejaculation"
When it comes to playing dominant roles Ai Sayama is a natural at it and when you combine femdom and OL you get a perfect formula. The premise is simple enough with Ai playing a dominating nymphomaniac boss who vigorously fucks her employees however and whenever she wants. Definitely a great fit for her as she has the body and acting talent to really knock this out of the park. One of the strongest elements of this masterpiece is her appearance. I personally love the OL(office lady) look and Ai Sayama is stunning in all her outfits here as she wears super sexy high-heels, glasses and stockings. Her voluptuous body perfectly fits this wardrobe. The action is just as great with some incredible sex scenes and a terrific paizuri scene. All the technical aspects are on point and the positions used really play to her strengths. Now what really sells this premise and video all together is her immaculate performance. This is right up her alley as playing a slutty and dominate type role feels very natural for her. The best things about her acting here is her enthusiasm and facial expressions. Very high energy and incredibly engaging. And when it comes to her facial expressions she's unbelievable as she's super seductive and sultry. I can't say enough good things about this video.
8. CJOD-138
"The Second We Met This Porn Star Jumped On My Dick For A Creampie"
A femdom inspired Yuu Shinoda film? It practically writes itself. There's no real central plot beyond just Yuu Shinoda taking control and having her way with the actors here. There's lots of dirty talk here although for most of you(including myself) it doesn't really matter since we can't understand it. Beyond that there's copious amounts of face sitting and ass focus, what more could you ask for really? Now for a femdom type film you gotta have a strong performance to back it up and Yuu really delivers. Her facial expressions are terrific and she takes the lead throughout in every scene. Not terribly whiny either and her enthusiasm is solid to boot. From top to bottom a real superb performance. Bolstering this dominant slutty performance is her stunning appearance and wardrobe. The range of outfits here are very fitting and suit her perfectly as they do a fantastic job at highlight her body and of course her booty. Bringing up the rear is the action which is flawless. There's several sex scenes and some amazing outercourse scenes too. The camerawork and lighting are especially superb and are really well done. There's no weak scenes here at all. It's an incredible ride that will leave you breathless. Easily one of her best.
7. PPPD-729
"Popping The World's Most Pathetic Boner While My Sister-In-Law's Monster Titties And Vicious Tongue-Lashings Make Me Cum Again And Again…"
No surprise to see Hitomi on my list. And it won't be the last the time either. It's got a fantastic setup that revolves around Hitomi catching her brother-in-law sneaking a peek at her while she's playing with herself. In typical jav fashion she punishes him by fucking his brains out pretty much through the rest of the video. Seeing Hitomi's dominant side is always a pleasure and its on full display here. She delivers a superb dominant performance with great energy and matching facial expressions. It's amazing to see her take complete control from beginning to end as she essentially turns this guy into her pet. It's truly what she's best at. To compliment that her acting is matched by her sexy and top-notch appearance. Whether she's wearing some sexy lingerie or suspenders and a t-shirt she looks phenomenal. This is peak Hitomi for sure. Lastly the action is just as good all around with several sex scenes that all feature multiple cumshots and creampies. And there's a nice sneaky paizuri scene where she makes him cum twice in a row. Dominance is something Hitomi excels at and PPPD-729 is a fine example of that.
6. WANZ-294
"Cowgirl Lady's Certain Explosion Creampie SEX"
This series was one of my favorites from WANZ Factory and Kaho's entry in it is nothing short of spectacular. The focus here is on the cowgirl position and Kaho taking control and being very dominant. Not to mention the abundance of creampies(though likely to fake).  While the premise is centered around cowgirl there's still a fair amount of variety in the scenes. From fucking a guy blindfolded and tied to a chair to a pov sex scene and last but not least the final and best sex scene that is a must watch. Adding to the amazing action is her controlling and very energetic performance. As per usual she gets super sweaty as she rides and grinds with unmatched enthusiasm. And some of the positions she fucks in during the last scene are just beyond words. She looks stunning as well wearing a few nice outfits with the last being the standout. Kaho Kasumi in latex while being covered in sweat is just too good. You just can't go wrong with cowgirl sex, creampies and super dominant Kaho Kasumi.
5. PPPD-511
"Face-Sitting Babe With Super Colossal Tits Get Ready For The Delicious Torture Of Crushing O Cups"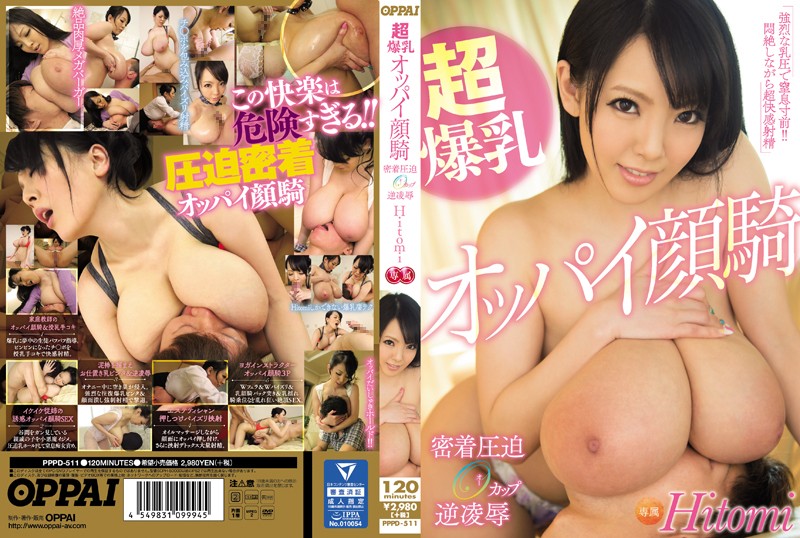 One look at the cover and you know what you're in for. The general premise is very simple with Hitomi smothering guys with her massive tits in dominating fashion. However each scene contains its own unique premise that helps it stand out such as when she catches a burglar in her home and punishes him by slapping him in the face with her boobs. Or when she plays a yoga instructor who gets "hands on" with her clients. You'll be entertaining from to finish here as not only are the scene scenarios great and varied but the action itself is terrific too. There's several great sex scenes, excellent camerawork and tons of titty focus which is always a plus with Hitomi. It's all backed up by her incredible acting. She takes the lead in nearly every scene with superb energy, fantastic facial expressions and really seems to enjoy herself. Last but not least in her appearance which is a home-run. Her wardrobe is outstanding with some standout outfits such as a tight, white dress with revealing cleavage and a sports bra. Still dunno how that thing holds her huge tits together. Anyway on top of that she's in near peak physical shape too. Everything from her face to her body and her boobs looks phenomenal. Perfection from start to finish.
4. WANZ-348
"Cowgirl Babe's Nut-Busting Creampie SEX"
One of the earliest Kurea Hasumi videos I remember watching and still stands as one of the best femdom videos I've ever seen. It's a pretty straightforward video focusing nearly entirely on cowgirl sex and loads of creampies. The highlight of course is no doubt the outstanding action. The lighting and camerawork are excellent and the variations on the cowgirl position are remarkable, especially in the final scene.  Watching her ride these guys for several loads is truly breathtaking. Kurea's forceful and dominant performance makes all these scenes 10 times better. Her enthusiasm is unparalleled and puts nearly all other actresses to shame. Of course adding to all this is her stunning appearance. Her wardrobe is minimal but still fantastic with some sexy lingerie and some awesome latex gloves and knee-high boots. Beyond that though her body is in utterly perfect shape. No denying she's got one of the best bods in jav. Kurea Hasumi is in her natural element here and her dominant performance is a sight to behold.
3. AVOP-169
"Semen Terminator"
No doubt the weirdest entry on my list but also one of the most intense. Kaho Kasumi plays a nymphomaniac who keeps a ton of guys as her own personal sex slaves. She milks cum out of them through a wide array of means such as the device on the cover. Or even using a powerdrill with a onahole on it or using several wand vibrators on a lineup of guys to have them shoot their load. Now despite most of the screentime being devoted to that there's still a couple fantastic sex scenes with her getting creampied several times and taking a bunch of loads of her body. Hell there's even a pegging scene as well which fits into her role and theme. Speaking of her role she absolutely knocks it out of the park with her performance. She's a perfect fit for this nymphomaniac type role with her unmatched energy and enthusiasm as well as dominance. She really takes this premise and makes the most out of it. Can't forget to mention how sexy she looks here too. Some very nice outfits plus she herself is in top notch shape. This is prime femdom material and I can't recommend it enough.
2. PPPD-796
"Fainting In Agony From Huge Tits Pressure! Pulling Out! Choking Ejaculation! Titty Torture Masochist Sexual Club"
Femdom and Hitomi make for a masterful combination. There's really not much to the central plot here besides Hitomi playing a dominatrix type role and fucking the shit out of the guys. Highlights include making them cum multiple times, smothering them with her tits and even some pegging. Femdom videos really live or die by the actresses performance and Hitomi absolutely delivers. She's very dominant here and really seems to enjoy herself as she teases these guys over and over. And for the most part her facial expressions are terrific too. All in all she nails her role and has fun with it. Next up is the action which is excellent. Now yes there is a pegging scene but it's handled pretty well and does end with the guy cumming twice in a row. Beyond that the sex scenes are intense and feature some really sexy positions allowing for some great titty smothering from Hitomi. And while the creampies are fake I do appreciate that afterwards the guy cums for real, usually on her chest. Last but not least I gotta mention her outstanding wardrobe. There's some really standout outfits here such as full-body fishnets, a corset and the cover outfit with the catsuit. They're all very sexy and suit her wonderfully. This is a fantastic example of quality femdom and shouldn't be missed.
1. MIDE-275
"Mistress of Cum Control"
Honestly any of these top 3 videos could have been number one but ultimately gave the edge to MIDE-275 as Anri Okita is one of my all time favorite actresses ever. This video perfectly encapsulates the femdom genre imo. Here she plays a dominate mistress who keeps the guy here as a slave pretty much to do her bidding such as daily chores. But of course she frequently engages in sex acts with him. Such as when she "punishes" him with sex when she catches him trying to pleasure himself while in a chastity device  This is easily one of Anri's best performances. She's incredibly devilish and dominant and constantly teases him throughout. Plus her engagement is fantastic. For example when the guy is tied to a chair and the teases him with an onahole and spits in his mouth. In addition the action is just as good and plays to the theme very well. Such as one scene where she teases the guy and watches him jerk off. The actual sex scenes are fantastic and there's some great paizuri and even handjob action too. One of those scenes even leads to the guy "squirting". Lastly I can't forget to mention how damn good Anri looks here. She's in absolute peak physical shape on top of wearing some very sexy lingerie that suit her wonderfully. This film is the epitome of femdom. It perfectly captures all the elements of the genre and delivers a near masterpiece imo.