Here we are again, back for the top videos of the previous year. 2019 has been a fun year as I've come at JAV from different angles. This year I bought a VR headset and have been watching plenty of that. I also expanded the debut actresses I watched to 21 and have seen over 30 videos among debuts. Anyway, as I look forward to this year, here's my favourite videos from last year.
25. FCVR-007
A Black Exchange Student Is Cumming Over For A Homestay! We Threw Him A Welcoming Party, And He Brought Over Some Booze, And While I Was Knocked Out, He Was Groping My Wife And Her Stepsister's Colossal Tits And Fucking Them With His Huge Cock…
Marina Yuzuki and Yuri Oshikawa
VR and I have had an interesting time this past month. I only recently got a VR headset and now with all the new videos available I've been diving headfirst into it. VR is pretty refreshing and creates an interesting perspective. I've also tried watching a wide variety of VR to find what does and doesn't work. This is one of those videos that wound up being interesting
This video stars an American who visits Japan as an exchange student. He goes to live with Marina and Yuri (who are sisters). After some introductions (with a lot of English) he winds up seeing how far he can go with Marina. Turns out pretty far as she's blowing him not long after. Yuri then shows up and before you know it he's fucking both of them.
The video had a really unique perspective on VR given that it's not in POV. It's actually more like a traditional video except from different angles and perspectives. While it wouldn't be good to do all the time I found it to be better than I expected. I think the English was awesome, seeing Yuri and Marina speak English was fun. I found the video was quite lengthy and included a ton of solid content in it. VR tends to be boring because they don't do enough, it's too short, or it's paced extremely poorly, but I think this video did a great job at all of those aspects. A lot of different positions with an introduction that was enjoyable for those that don't fully understand Japanese.
If you can enjoy watching these two lovely ladies fucked by a BBC then it's certainly worth the watch. The fact that this is VR without POV is partially why it's 25th on my list but the content is very solid and it does feature some lengthy English dialogue.
24. SSNI-475
She Intentionally Gave The Slut Treatment To A Man She Hated And Fucked Him Anyway
Aika Yumeno
Aika Yumeno is someone I always keep hoping will become a better performer. She's so wonderful up until she starts having sex and then it becomes pretty lacking. When I first caught wind of the theme and title I knew for sure I'd be watchng this. As it turns out, giving Aika some forced direction is pretty awesome.
Aika is situated in various scenarios where she decides to dominate someone she doesn't like. She's completely uninterested in the guy but then she decides instead to go dominant and fuck his brains out. This is especially true in the first scene when she hates the guy but completely controls him and makes him her play thing. The video features several different scenarios and themes including office worker, masseuse, and dentist.
Aika's performance was better than it usually is and the content was great. Aika was able to be quite dominant and play it off well. Even though she had some trouble maintaining that dominant personality while having sex she was great about immediately going back to being dominant the second he stopped thrusting. The content is definitely where the video was best. There's so many good outfits in the video and Aika has various states of undress in them. Seeing her still partially clothed helped keep the outfits enjoyable while simultaneously promoting the theme. With three of them winding up with sex it's just a ton of great content.
Aika may not be the strongest performer but this video is a step up for her. It's also just filled with tons of great looking content with her in some fantastic outfits.
23. AVSA-096
A Beautiful Lady Boss Who Abuses Her Power
Reiko Kobayakawa
Dominant bosses at work is one of my favourite genres. It's also a genre I have a hard time finding good videos of. It's just so common for videos to be mediocre because the office lady theme is done poorly, or the actress isn't the boss, or the actress can't live up to my expectations. So when you have videos in that theme with actresses who are as good as Reiko, you know you're in for a good time.
The video portrays Reiko as the dominant boss. Reiko decides she'd love to have some fun at work. She sexually harasses her employees with all sorts of things from footjobs, forcing them to eat her out, or just fucking them.
The video was spectacular on all fronts. Reiko played a dominant boss very well. She was very assertive in forcing them to do things which was great to see. You often don't see such clear indications the actress is the boss but Reiko's dominant personality made it very clear. In one scene she forces a guy to eat her out while on the phone, in another she leaves his tie on while he's otherwise nude so she can grab him by his tie to boss him around. Even during sex she managed to maintain enough composure to still be dominant and maintain the character she was playing.
Definitely a great dominant boss film. This theme is so hard to find done well and the video does the theme as well as I've ever seen it done, from the way Reiko forces them to be her toy to the hot content as she dominates them.
22. PPPD-736
The Busty Female Manager Who Keeps Repeating The Year To Fuck Cherry Boys Loves Quickies And Creampies
Julia
Julia is always an interesting actress because her videos are always so hit or miss. She's now working for two studios, Oppai and Wanz Factory. What it means is that there's twice the opportunities for Julia to be impressive or disappointing. Thankfully, I think Julia is just a numbers game, and more opportunities means eventually one will be good. Of the few that I saw this year, this was definitely the best one she had.
The video involves Julia playing the manager to a bunch of sports teams. She proceeds to fuck the players on the teams who could use some extra motivation. Regardless of it being the baseball team, volleyball team, or whatever other team she's managing, she'll fuck them and let them creampie her.
Julia clicked with the content and had a really good performance. You could see her smiling and chatting as she rode a guy and generally having a good time. It's so rare that she truly enjoys the theme but I felt that way here. The content was similarly great. I loved seeing her in various sporting outfits like a swimsuit, bloomers, and baseball uniform. Seeing her take some creampies in those outfits, it's just awesome.
While Julia often isn't the greatest sometimes she does have some good videos. This is one of those cases where a video just clicked, from Julia's performance being good to the content being awesome.
21. PPPD-738
My Girlfriend's Elder Sister Tempts Me With Her Big Tits, Saying It's OK To Creampie Her
Touka Rinne
As people may remember, 2018 had Touka as one of the standout debuts. She was really hot but her performing wasn't there yet, and I knew 2019 would be a fun year to follow along with her. When she did GES I was both happy and sad. On on hand I was glad to see someone I was interested in doing the series, on the other hand I was sad to see someone who wasn't quite ready to take on the series doing it. Boy was I ever wrong. Touka's entry far exceeded my expectations.
I feel like I write this a lot, but in GES Touka plays the elder sister who becomes sexually interested in her sister's boyfriend. After tempting him with her big tits he gives in to that temptation and winds up fucking her. Of course, she offers creampies as well and suddenly he can't say no. It doesn't matter how risky it is the boyfriend can't help but want to fuck Touka.
Touka's performance was actually rather solid here. I wasn't expecting such a breakout performance from her but I was overall very pleased. Touka was leading the action, changing her expression, and engaging her sister when she got caught. They also managed some great content, like Touka jerking him off while talking to her sister or calling the boyfriend over to fuck while she was masturbating and getting in the mood.
Tons of great content with a surprisingly wonderful performance. Touka has really impressed me this year and this is certainly one of her better videos. I really can't wait to see what 2020 has for Touka with her performing this well this early on in her career.
20. DSVR-411
A Glamorous Succubus Gets Summoned Through A Magic Diagram And Immediately Gets Me Hard! – I'm Unable To Resist As My Cock Responds To The Overwhelming Strength Of Her Sex Appeal And Ejaculates Again And Again As If It's Broken!
Kyoko Maki
As I mentioned before I've been watching a lot of VR. This video came highly recommended to me, and I think VR creates an interesting perspective for a video like this. Having seen other succubus videos before, I felt like the quality of the visuals make a huge impact on it, and VR was the perfect opportunity to do so. Knowing it was highly recommended, I figured that it would be worth the watch.
You play a huge fan of Kyoko and want nothing more than to fuck her. You draw a hexagram hoping to summon her and wind up summoning a succubus Kyoko. Kyoko then proceeds to fuck the living daylight out of you. The video is her milking you over and over whether she's blowing you or fucking you.
Everything about this video except the short runtime is fantastic. Kyoko's performance was great and she could often be seen laughing at you. You'd be cumming all over her and she'd be laughing about it. Seeing her expression so thoroughly fit the succubus theme was wonderful. On top of that the visuals were great. Outside of the outfit the lights really set the mood. I absolutely loved the use of a fake cock because it allowed her to really drain you the way a succubus would.
Definitely a good video to sell VR to people. This is one where the theme absolutely fits VR well and it's just done superbly from the lighting to the outfit to the cum spurting out of the fake cock. Don't forget how good Kyoko's performance was!
19. HND-718
This Slut Is Living With 21 Single Men At This House Please Spend A Day Here And Become Our Creampie Manager
Akari Mitani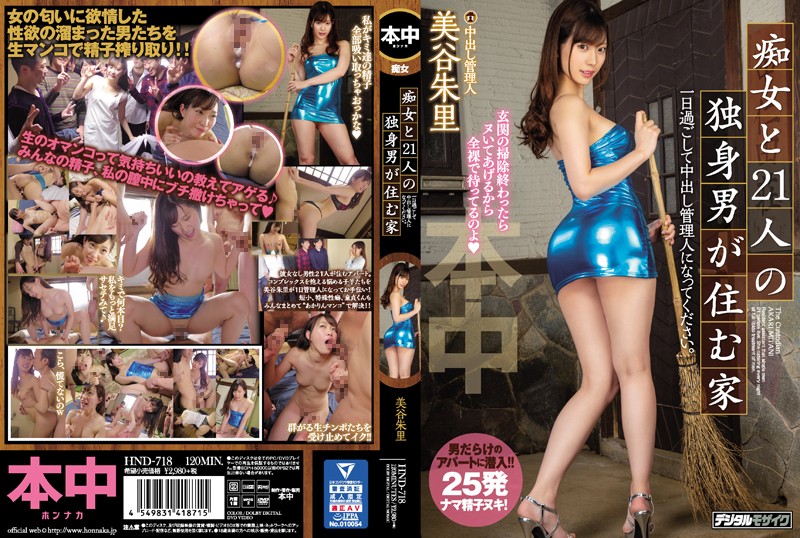 This is one of those cases where I was expecting the video to be quite good before watching it. This is the third in the series, the first two starring Kurea Hasumi and Asahi Mizuno, both being quite good. While Akari is relatively new compared to the industry veterans that starred in the other two, Akari has proven herself to be quite a good performer.
As the video goes, Akari shows up at a bachelor pad and goes around getting it on with the residents. She walks from room to room getting them off, including casually getting creampied and going on to her next victim. The video then ends with a giant gangbang where they each get a turn to creampie her.
The video itself was excellent. I thoroughly enjoyed Akari's performance and the content the same way I had both previous entries. There's just something about an actress being so slutty that they can walk into a room, take a creampie from some unsuspecting guy, and then walk to the next room to find their next victim. Not even taking the time to clean up really puts an interesting perspective. If it wasn't enough that she got filled up a bunch in the first half, she intentionally takes several creampies in the second half. I also quite enjoyed her performance. The speed at which people came (particularly in the first half) prevented her from getting into it and moaning, instead giving her prompts to laugh at a guy who came in only a minute or two.
Ultimately a video that looked like it would fare well before it even came out. This series is great and I highly recommend Akari's as well as the previous entries. Akari has really proven she has what it takes and this video has shown that this series is really something special.
18. HND-631
The Young Married Lady Next Door Secretly Whispers Dirty Words To Me And Tries To Have An Affair With Me Every Day; I Decide To Take Her Seriously And Fuck Her Relentlessly, Trying To Get Her Pregnant
Yu Shinoda
Risky sex is one of my favourite genres and Hon Naka is one of my favourite studios. Pair them up with an actress that I like in Yu Shinoda and you've got a clear winner. Just look at that ass on the cover, plus the glasses. It also reminded me another series by HMP with this exact theme, one which ended up my favourite video in 2017. Easily worth the watch and I'm glad I did.
The video stars Yu as the neighbour and stumbles back to her apartment drunk, winding up her neighbour's instead. When she comes back over the next day to grab her phone she left she finds his mounds of tissues and all his lewd stuff. It's pretty straightforward from there as she eventually decides to have creampie sex with him. The video is then about how Yu is this slutty neighbour who just wants to fuck you behind her boyfriend's back.
Both Yu's performance and the content were hot. I find actresses being drunk is a theme that goes over so well because it's so easy to pretend to be drunk. I very much enjoyed the theme of her being this slutty neighbour and seeing her naughty side open up. Glasses, POV, creampie, it was all wonderful. Seeing her come back for more despite having a boyfriend was awesome. There's even a scene when you're over at her place while her boyfriend is there and she's still being naughty. It's just one of those videos where the content and performance line up so well.
Definitely a good video to watch. It's pretty hard to go wrong with Yu's ass in general, but when you add such a hot theme of giving your neighbour creampies it's a slam dunk.
17. JUY-777
Wife Next Door
Ai Sayama
Ai Sayama is a terrific actress and actually made my top 10 actresses earlier this year. Ai's had plenty of good content over the years, and one thing that sticks out to me is just how good she continues to be. The fact that she's making my top 25 is a signal of her continued skills considering she also made my top 10 last year. Having seen some other entries in this series I was excited to see such a good performer and one of my favourites take it on.
Ai plays a married woman who can't get any action from her husband. She decides to seek some validation online and wouldn't you know, her neighbour is one such guy tuning in. It's not long before the two realize and things get sexual pretty quickly after that. Ai, feeling her husband ignoring her, decides to fuck the guy over and over.
I thought both the content and performance were nice. The video had a lot of prompts for some great acting, like when Ai got caught masturbating by her neighbour. You could see as Ai was confused about what to do but ultimately decided her pleasure was important. Seeing her become dominant and have a smirk as she masturbated for him was nice. Similarly the content was also hot, I mean how can you argue with a hot chick masturbating at the window for you? They managed to find risky opportunities all over the place, like seeing Ai fuck him with the husband in the background. In the end Ai was calling the guy over to fuck while her husband wasn't home and it was all kinds of hot seeing her be assertive and enjoy herself.
Definitely a fantastic video from Ai. It's everything that you want, from hot action to a wonderful performance. Highly recommended it a lonely housewife across from you sounds like a good time.
16. VEC-379
One Day My House Suddenly Becomes A Private Lodging?! My Guests Were 3 Mature Women With Big Tits! I Had To Look After Them While My Parents Were Away, But Surrounded By Sexy Ladies, I Couldn't Help Fucking Them Until My Balls Ran Dry!
Azusa Hagi, Chisato Shoda, Yukari Matsuzawa
2019 has been a year of MILFs for me. While I've always enjoyed a good MILF video I've come to enjoy MILF actresses a lot more as well. Chisato Shoda especially has really benefited from this as I've seen a number of her videos this year. Azusa Hagi has also benefited to a lesser degree. When you've got a MILF themed video with a solid cast and some lesbian action you're well on your way to a standout video.
As the story goes, your parents are away and you decide to rent out some space in your apartment as a hotel. Who would show up but three lovely, thicc MILFs. Not only that, those MILFs are really slutty as they manage to have lesbian sex that you catch a glimpse of. Well, with Chisato noticing the video pretty easily transitions to them getting it on with you.
The content here is all kinds of hot. A lesbian three way is exactly as hot as it sounds. Similarly, seeing three thicc MILFs fuck you is also quite awesome. I think the variety in content was really nice whether it was  them blowing you, watching them have lesbian sex, or fucking the three of them. The performances were quite nice, particularly Chisato's. I find Chisato is really good at showing her sexual desire and you could see her take charge throughout the scenes.
If what you want is a group of thicc MILFs in a nice variety then this is for you.
15. RCTD-232
Son Guesses Sister's, Mom's, and Grandma's Naked Body! Mother And Child Three Generation Incest Special
Ayame Ichinose, Koko Masshiro, Marina Yuzuki, Nanako Yoshioka
Ah yes, Rocket makes an appearance on the list. Rocket by far has the most interesting videos out there. Sometimes that amounts to weird stuff that just isn't enjoyable, and sometimes that stuff is amazing. This is one of those videos where the video is weird and yet really enjoyable. Add in one of my favourites in Marina, who's already on this list, and you've got an awesome video.
The theme of this video is a game show. Contestants have to guess their relationship to the woman in question based only on their body. They've got the mom, grandmother, and daughter who all try and hope the young guys of the family can guess who they are from their bodies. They do all sorts of stuff to guess, like playing with their breasts, touching their pussies, or even fucking them. All this for the grand prize of a nice vacation.
I quite enjoyed the content and performances here. Marina and Nanako performed quite admirably and I loved the prompts the video had. There's one section where they guessed Marina wrong and she came out upset that they got it wrong while the grandmother was thrilled they thought she was younger. I found the game show to be a really interesting take but it was actually the content surrounding it that was hot. There was lots of creampie sex, and in Rocket fashion they somehow managed to think they could immediately use pregnancy tests to check. And of course, if you need to avoid getting pregnant what better way than to slurp that dripping cum, so Marina eats out both Koko and Nanako at the end of the video and even swallow's Nanako's creampie.
Rocket is the king of wacky videos and this is absolutely one that worked out well. Great content including lesbian action, if you're up for something a little more interesting this is it.
14. VENU-886
Intimate Fucking – Stepmom Molester – I Try To Keep My Voice Down While I Get Fucked Slowly And Deeply By My New Husband's Son
Reiko Sawamura
Reiko Sawamura is someone who I've been enjoying as of late the same way I've been enjoying Chisato Shoda. When the opportunity to watch a risky video from a different perspective came around I jumped at the chance.
Reiko's newly remarried and her stepson has the hots for her. Eventually he takes matters into his own hands and decides to form a special relationship with her. He proceeds to make it sexual, fucking her despite his dad being around. Whether it's while his dad is asleep or his dad's on the computer he's ready to fuck his hot stepmom.
I thought both the content and Reiko's performance were great. Reiko had really vibrant expressions that showed the theme off quite well. This idea of her not wanting to be fucked by her stepson but being coerced / forced into it translated into her being extremely expressive. Being able to keep her voice down while being so expressive was quite nice. I also thought the content was quite nice, seeing her fucked with her husband nearby was hot. I particularly enjoyed seeing her bent over the kitchen counter being fucked while her husband was using his computer just a few feet away. And again, all of that with such a wide range of expressions was quite nice.
If you're into some risky sex from a hot MILF then this is absolutely it. 2019 has been a year full of me watching plenty of MILF videos and this is one of the great videos I saw.
13. NDRA-057
I'm Secretly Doing My Girlfriend's Mom…
Yumi Kazama
Yumi Kazama is someone I find really hit or miss like Julia. She stars in a lot of content and the quality ranges a ton. With a theme of cheating on your girlfriend with her hot mom, well, it's not hard to see it had potential. When I actually watched the video Yumi reminded me why she's a household name and 20+ year veteran.
The basic premise is that Yumi and her daughter's boyfriend have a mutual attraction to each other. Eventually they can't hold it and decide it's time to fuck. While they have to cut their first time short due to Yumi's daughter the two make up for it later by fucking like wild animals. The video then continues as they attempt to keep it up without Yumi's daughter finding out.
The content here was so insanely hot. I absolutely loved as they couldn't contain themselves and went straight for sex, Yumi just bending over and asking for it. Then seeing them have to stop to avoid getting caught was the ultimate tease. I really loved Yumi's performance here and it's among her best, which is saying someone with as much experience as she has. During sex she does a wonderful job mixing between moaning, heavy panting, and even just chatting. Her facial expressions were on point as was her assertiveness. I loved seeing Yumi go between desperation, desire, disappointment, and dominance.
If you're like me you might have been finding Yumi lacking in recent months or years. This is a video that reminds us just how good Yumi is. If you want some hot dominant sex, with the actress being dominant and without any weird themes, then this is for you.
12. WANZ-837
Whenever Our Parents Aren't Looking, My Big Sister Starts Luring Me To Temptation For Thrilling Creampie Sex
Akari Mitani
I feel like we're starting to see a trendy with risky videos but there's just something about it that does it for me. I think part of that is the acting opportunities videos like this present. Requiring the actress to not moan too much is a huge thing as are the expressions as they aim not to get caught. Akari being as great as she is with this being her second entry is rather unsurprising. While I wasn't a huge fan of hers at first she's won me over with some excellent videos. This is absolutely one such video.
Akari decides to fuck her brother and tries not to get caught. She first tempts him when eating breakfast and before you know it they're having creampie sex. The entire time Akari wants her brother so badly that she doesn't seem to care others are nearby, finding every way to fuck him while avoiding getting caught.
Both Akari's performance and the content were great. There are all types of risky scenes here whether she's blowing him underneath the kotatsu, fucking him while guests are over, or even fucking him in the closet to avoid their mom finding out. I especially liked how she was so into it that they started fucking in the hallway as soon as their parents left. Seeing them transition that to fucking all around the house, whether it was the hallway, stairs, bathroom, or couch was hot. Similarly her performance was quite good. Facial expressions were on point when teasing and she kept her voice down when she needed to.
A video that definitely mixes a good blend of hot content and good performing. Risky videos can be difficult to pull off but when you have an actress like Akari it's a walk in the park.
11. RCTD-197
Daydream Item Extreme Evolution Series Soul Sucking Possessed Gun 3
Honoka Mihara, Kyoko Maki, Marina Yuzuki
This video is weird and wacky and wonderful all at the same time – exactly what I expect from Rocket. A cast of three ladies I love is a nice start, and when you start adding lesbian interaction, nice outfits, and an intriguing theme, you've got a winner in the making. I actually had this one recommended to me, and all I can say is for good reason.
The video has this really weird theme that can only be described as a Rocket video. Some guy in a hospital gets a gun where he's able to posses other people. He then uses it to make his nurse (Marina), doctor (Kyoko), and the person who caused the accident (Honoka) be his sex slaves. It sounds weird but three hot ladies fulfilling all your sexual desires is quite nice.
The video is extremely hot. Seeing three hot actresses go wild for you was amazing. Each of them had an initial opportunity to push back on the guy and then the gun he had made them do a 180 on their character. Seeing them then go completely wild for him and loving it was amazing. Seriously, I can't say enough good things about how quickly they flipped and how amazing they were at enjoying everything with great expression. The content was honestly a bit strange at times, perhaps because it was difficult to follow, but it always quickly became amazing. Marina riding and giving a nice paizuri, Kyoko sharing him with Marina, triple blowjob action from the three of them. Add in some awesome lesbian interaction for good measure, like Kyoko and Marina playing with Honoka's breasts and sucking on her tits, all while they're in the outfits on the cover.
Rocket videos can be really weird but I'll be damned if this isn't insanely hot. Three lovely, busty ladies who provide one hell of a good show.
10. MIRD-194
One Day, My Dad Got Remarried To A Legendary Porn Actress – Full-On Sex With Genius Sisters – The Temptation Never Ends
Akari Mitani, Kurea Hasumi, Natsuko Kayama, Yui Hatano
This video wound up being one in the last little push I made to see if I missed anything this year. Considering it's in 10th place I'd say it clearly was something I overlooked. Just looking at the cast it's not surprising it was great. Pair up two really great veterans in Yui and Kurea with one of the new greats Akari Mitani, then add in Natsuko Kayama as the mom… holy hell that's a cast. Considering this is Akari's third entry on the list I think it's safe to say she's been doing quite well this year.
Your dad marries the legendary actress Natsuko and she brings along her three daughters. As it turns out, all of them take after their slutty mother and can't help but want to fuck you. They fiend after you and fuck you every chance you get, and of course mom finds out and joins in the action.
The video was unbelievably hot. Seeing the three daughters go wild for you was seriously amazing. They'd chase you around the house just to be able to fuck you. Their expressions were great whether they were dominating you or realizing someone else just caught them. I especially loved the scene where Natsuko finds out and goes wild fucking you as well. Seeing several scenes where they're going at it that wildly was quite nice. And of course, who can argue with a cast like this? Seriously, what a star-studded lineup.
Definitely recommend this one to fans of any of the actresses here, which I think is pretty much everyone.
9. MEYD-505
A Cultured But Plain-Looking Married Woman Who Lives Next Door Accidentally Walked In On Me When I Was Jerking Off. Contrary To Her Appearance, She's Really Sexually Aggressive And She Fucked Me Like Crazy
Touka Rinne
It's not at all surprising to me that this is the second Touka entry on this list. Touka has far exceeded my expectations this year. I felt like in 2019 she had a lot of improving to do and she clearly did it. Touka has become a clear favourite of mine between her awesome body, great videos, and much improved performing. In fact, Touka tied for the most videos with a 90+ rating this year and is solidly one of my top five new actresses in the past three years. Anyway, the video itself is one of a series I've seen before starring Ai Sayama and I had no doubt I wanted to check out Touka's.
The premise is that Touka is a married woman next door who accidentally walks in on you masturbating. Turns out she has a really slutty side and loses all control when she notices. After fucking you senseless she regains her senses and wonders how she ended up in this predicament. Turns out she knows exactly how as she finds herself wanting more, espcially knowing that you masturbate to her.
I loved both the performance and content. Touka was great at all stages and had such good energy. She would grab his head and force him to eat her out or shake her hips quite nicely in doggy. I found Touka being consistently in charge and exactly what I wanted to see. The action is capped by three scenes that all end in creampies. Seeing her wear glasses for most of the video was nice. I quite love seeing glasses because it's rare and refreshing, even if it was in an earlier entry and is actually in another entry on the list as well. Touka just looked great as the hot lady from next door. I found the action just worked out well with her performance.
I continue to be impressed by Touka and I think it's safe to call her one of my favourites. While she certainly isn't on my top 10 list of all-time she's very rapidly headed in that direction. Touka's just been doing so well for herself and really proving why she deserves a second entry on the list.
8. URVRSP-006
Oh Shit! I've Been Caught Cheating! But Now The Tables Have Been Turned Thanks To Divine Intervention!
Arisa Hanyu, Natsuko Mishima, Yuri Oshikawa, Marina Yuzuki
A little bit of a spoiler here but number eight is the highest rated VR video on the list. It's been fun watching VR this year even if I only started quite late in the year. This video really shows you just how important the content is in VR. I find that plot/story/theme matter much more in normal videos but the unique perspective VR offers makes the content more important. Having it all be POV without really being able to move kind of forces them to be put in situations where you don't have to move. As a result, good sexual acts tend to become super important. This video is also interestingly the third Marina Yuzuki video on the list, quite the impressive feat.
The video is premised that you're in a relationship and wind up cheating on your girlfriend. While cheating your girlfriend you get caught, and instead of her being mad you end up having a threesome. The video is split into two scenes, one with Natsuko and Arisa, the other with Yuri and Marina.
I found that the video had insanely hot content. Tons of sex that ended in creampies and even lesbian interactions. VR is the kind of thing that requires much better content, even if it means the performance struggles. You put yourself in a view to really take in the content and when it includes lesbian action, well, that's super hot. I find VR can get repetitive really easily and I found the lesbian action really helped preventing it from getting repetitive. I also loved the performances, particularly how well the actresses worked together. I know Natsuko and Arisa are good friends and you could tell their chemistry was good. Similarly I was not surprised to see Marina and Yuri perform well. While I know them to be friends as well, the evidence is even in this list as they have another duo video in this list alone. I think the performances are just the icing on the cake that put this video into my top 10.
Great content, wonderful performances, and a superb cast. If you're not already interested I don't know what to say.
7. STARS-157
I'm So Obsessed With Suzu Honjo, I Summoned Her As A Succubus
Suzu Honjo
I'm not at all surprised to find two succubus videos made the list. Succubus is a great theme that's easy to do quite well. I think there's a lot of things that contribute to how good the theme is. For one, it provides some great visuals when done well, with the horns and tail, the tattoos, the lighting, etc. It also provides the actress an easily defined personality to take on and be very dominant. I find actresses tend to do very well when explicitly prompted and this theme delivers on that.
The video is themed like most succubus, where the guy is a huge fan and attempts to summon her, winding up with a succubus version of her. After summoning her, Suzu does as any succubus would and milks her victim dry.
The performance was really great and Suzu definitely understood the succubus role. She was expressive and enthusiastic the entire time. I really enjoy seeing actresses laugh at the pathetic human in front of them and Suzu laughing as she rode him was great. Similarly the content looked spectacular. Suzu in a nice outfit, great lighting and effects as well. This one, like Kyoko's, used a fake cock to press the idea of him being milked dry. Suzu forced him to creampie her a bunch and you'd always get to see the aftermath of cum dripping out. It was really just some hot action from start to finish.
Succubus is a great theme that's so easy to turn out well. I'm really hoping to see more of my favourites explore this theme, in either standard or VR.
6. DASD-514
Nanami Is Good At Luring Men To Temptation
Nanami Matsumoto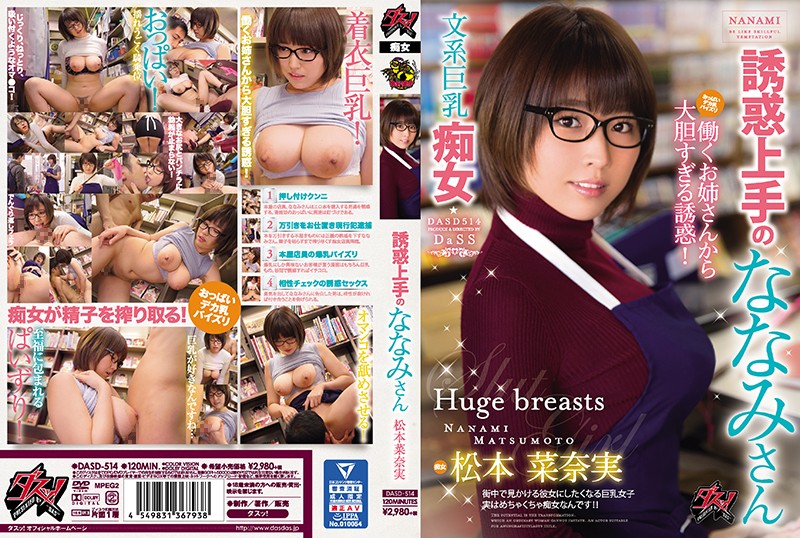 Like Touka Rinne and Marina Yuzuki, Nanami has proven to be a standout newcomer. Her performing has become quite good and with her freelancing she manages to start in plenty of great videos. While she only has this one entry on the list, Nanami has more than impressed me with this. Glasses were almost enough on their own to get me to watch it, and I wound up watching it pretty shortly after I used it for a gif in our Epic Battle of JAV on our discord channel.
The video has Nanami as a book store working who finds herself attracted to her customers. She then finds herself in situations where she can be lewd with the shoppers, whether it's punishing someone for attempted shoplifting or just generally wanting to enjoy herself.
The performance and content were all quite spectacular. I absolutely loved the little things from Nanami, like adjusting her glasses or drooling from the pleasure. She had a really amazing personality that was a cross between sweet and dominant. On the dominant side you got to see her force a guy to eat her out, shove her breasts in his face, or give a footjob to "punish" him. On the flip side she came off as this really kind and sweet lady. You got to see her attending to the sexual desires of her customers as they would come to hope for some action with her. Seeing all the sex take place in the book store was really nice and seeing Nanami in her outfit with glasses was equally as nice. The action was just super nice the entire time and I felt like it flowed really well.
Nanami has really been killing it this year (along with Marina and Touka) and it's not surprising she has an entry this far up my list. She has several that just barely missed the cut and I'm looking forward to 2020 for her.
5. STARS-104
You Know That Yuna Girl, She Seems To Be Living Her Best Life And Is So Happy And That Really Pisses Me Off, So I Fucked The Shit Out Of Her
Yuna Ogura, Rena Aoi
This video wound up being weirdly recommended to me. While some people were hoping this wasn't the first Yuna video I'd watch, others were simply happy to see me watching Yuna. Ultimately, it was a gif that convinced me to watch it. Yuna's performance in such a short clip was so amazing that I felt I had to watch it.
The video's premise is that Rena hates how happy Yuna is. She decides to put Yuna in her place by having someone rape her. As Yuna's being raped Rena shows up and lets her in on the plan. Then the video continues as Yuna gets raped repeatedly until she eventually becomes a slut who loves it. While Rena doesn't actually have intercourse Rena is there quite a bit to play the part of an evil mastermind.
This video is really nice on every count. I found the content and performances blended really well together. Yuna is so expressive and was really good at playing the part of the rape victim. Rape videos always feel so bland because the actress often just completely tunes out, so to see Yuna take it in the exact opposite direction and show such significant hate toward it and trying to escape was a nice change of pace It was quite hot seeing Rena just laughing maniacally as her friend is being raped in front of her. Seeing Rena not actually have sex but force the issue on her friend was hot. Similarly, seeing Rena force her friend to get deepthroated was nice. The guys were pretty rough to Yuna and I thought it was nice seeing them be that rough.
This video feels like it's one of the best rape videos I've ever seen. Quality content start to finish with a performance that left me wanting to see more of both Yuna and Rena, but especially Yuna.
4. AVOP-450
Double Coercion Suite: Stewardess & Female Doctor In…
Minori Kuwata and Ririka
This is a series I have such mixed opinions about. I love the idea of a hardcore video where the guys are pretty ruthless to the girls. It's also a series that so frequently has underwhelming content. The actress doesn't perform well, the content isn't quite there, etc. Knowing Minori is solid at this degrading stuff and that Ririka is even better I could tell this would be great.
The premise of the video is that Ririka and Minori are coerced into some really rough action in a hotel room. They each have a solo scene before joining for more duo action. The video is premised on the action being extremely rough with the pair getting fucked in every which way. Oh, and the video is a whopping FOUR HOURS long.
The performances and content are both as good as I've ever seen in this series. I find this series often misses the mark, but both of these actresses are so good at this type of action. There was a lot of great action including deepthroating, spanking, even DP. I felt like it was just so hot seeing them getting used in every which way. Seeing them get sloppy and wet whether it was Minori lactating, someone squirting, or just drool from being deepthroated was insane. Seeing Minori's bathroom scene where the guy was pulling her hair and spanking her was beyond hot as she moaned like a bitch in heat. Hot uniforms also played a part in making it look extra nice but I think the cherry on top was the small lesbian interactions here and there.
You've come to the right video if what you want is hot, rough sex. As much as the video before it was wonderful, that video is more so great for the wonderful performance whereas this one is just full of hot action.
3. BBAN-246
Uncut Scenes Of Aggressive Lesbian Action – Ririka Is Driven To Climax Hell When The Stimulation Doesn't Stop No Matter How Many Times She Cums
Mao Hamasaki, Rena Aoi, Ririka
Wouldn't you know, Ririka in another hardcore video is the next video on the list. Not only that, it makes Ririka someone with two videos in the top five. Ririka and hardcore seem pretty synonymous to me, and when you want a hardcore video she's perfect. Interestingly it's also the second time Rena Aoi of all people made the list, and in the top five no less (though remember she doesn't do too much in Yuna's video). Even before watching, Mao and Rena make great casts for dominant actresses and when coupled with strap ons I knew I'd be in for something special.
The video is pretty much premised on aggressive lesbian action. Mao and Rena completely dominate Ririka, going extremely hardcore whether they're slapping her, choking her, spitroasting her with their strap-ons, pissing on her, etc.
I absolutely loved both the action and performances. Ririka's so good at being dominated and makes it look wonderful. I find actresses usually struggle when content gets this rough but not Ririka. I was also super happy with the casting decision of Mao and Rena as they both are perfect at dominating Ririka. It takes a special blend to find someone who can thoroughly enjoy this type of action and we've already seen just from this list alone that Rena has what it takes. The action itself is super hot as they find all sorts of ways to dominate her. I happen to like strap-on lesbian sex and they used it quite well. There are instances where they're slapping her tits aggressively, shoving their cocks down her throat, etc. Just all sorts of nice dominant action that's insanely hot.
This is no doubt one of the best videos of the year. Hot, rough lesbian action is so rare to find and this is done insanely well. Three great performers putting on a clinic.
2. XVSR-473
Nerdy Older Step Sister's Tempting Extracurricular Learning
Ayaka Tomoda
This video was a really interesting case for me. I wouldn't classify myself as a huge Ayaka fan, and this was actually the second video of hers I saw. However, this video left me wanting both more of this genre and more of Ayaka.
Ayaka plays the stepsister who tutors her stepbrother. However, being horny she decides to tutor him in sex ed instead. And of course you can't just fuck him once, you need to keep going back for more.
I quite loved Ayaka's performance. She was very good at setting the stage for the theme of this video. There were moments where she was whispering in his hear and that really helped prevent her from moaning too much. Her character had an interesting display of being slutty and desperate that wound up working out really well. You could see she didn't care about teaching them and only cared about getting what she wanted. I also found the action extremely nice, Ayaka with glasses is even nicer than it seems. Seeing her be this studious type that wound up fucking is super hot. With the action ranging from solo masturbation to fucking him the content was easily very enjoyable.
The fact that I immediately wanted more of Ayaka and more of this theme speaks volumes to how good it was. Ayaka is absolutely someone I hope to find more good content of in 2020.
1. PPPD-729
Popping The World's Most Pathetic Boner While My Sister-In-Law's Monster Titties And Vicious Tongue-Lashings Make Me Cum Again And Again…
Hitomi
Ah yes, the number one video of the year. This is a really interesting case because I suspected it would be amazing before it even came out. Julia starred in this film the year before and it was really good so it didn't surprise me a better performer could make a better video. It's so rare to have high expectations of a video before it comes out and have it pan out exactly as you expected.
Hitomi plays a stepsister that catches her brother-in-law jerking off to her. She then proceeds to punish him in the only way porn would have it: by making him be her sex slave. She forces him to masturbate for her before joining in for some hot action. And of course, once the action starts Hitomi has to keep getting more.
I think what ultimately makes this video my favourite for the year is Hitomi's performance. It's spectacular here and easily among her best. Very strong expressions that convey her emotion well. It's rare that the emotions are captured quite this well and I found myself loving everything, especially the first scene. Watching her be so angry with him and putting him in his place was super hot. The content equally matched it, what with her shoving her tits in his face as "punishment" or blowing him with her husband nearby.
Hitomi's 2019 has been quite solid and I'm quite pleased that she had the best video. It's not surprising this wound up being my favourite and I'm excited to see her 2020 videos.
That concludes my favourite videos of 2019. Hope you enjoyed reading and hope that 2020 brings plenty of great videos.