Throughout my many years of watching jav I've come across plenty of awful videos. Normally I don't mention those too often but now is the chance. This post is dedicated to 20 of my personal least favorite videos in all of jav that I've ever seen. I'm only picking videos from actresses that I actually watch and enjoy. It'd be way to easy to just throw some actress on here I don't like or watch. So without further ado let's begin.
20. PZD-027
"Boob Squeezing Enthusiasts' Tit Fucking Contest"
I enjoy some good paizuri as much as anyone but an entire film dedicated to just that with nothing else? That's what PZD-027 is all about. There's no plot whatsoever here as the entire focus is just on tittyfucking with just a single brief sex scene at the very end. Now don't get me wrong I love paizuri and I even enjoy some paizuri focused videos in the past from the likes of Hitomi and Marina Shiraishi actually. But this offers up no variety, no themes and just no interesting scenes at all. It's just a few individual scenes of her in a room tittyfucking a group of guys one at a time. Her performance is decent at least for the most part but it's just so very boring and dull. Maybe if you're a super diehard fan of paizuri you'll enjoy it otherwise it's a massive snoozefest.
19. CEAD-099
"Asshole Licking – High Grade Nympho Salon"
Just as the title suggests there's a large focus on rimsjobs and asshole licking. Two things I personally don't care for. Beyond that there's once again, just like my previous entry, only one sex scene and its not until the very end. Besides that here's some paizuri, blowjobs and even some pegging throughout. It's not all bad though as her performance is quite good actually with great energy and she looks terrific too. Nice wardrobe all around. Now if you happen to be into asshole play and rimjobs you'll probably enjoy this way more than I did. As it stands though this just wasn't my cup of tea and didn't really appeal to me at all.
18. ATFB-250
"Bewitching Sexy Lingerie – A Beauty In Her Sexy Underwear"
I really don't like FETISH BOX studio for a variety of reason. They use the exact same setting and room for nearly all their videos along with the same overall style of camerawork. Plus the action almost always follows the same setup with a few outercourse scenes and one mediocre sex scene at the end. That's this video in a nutshell. Not much of a central theme, boring action, drab setting and the same off-putting camerawork. Her performance at least is alright but that's definitely not enough to save this terrible and utterly forgettable film.
17. ARMG-226
"PREMIUM All Body Licking Massage Parlor"
I'm a big fan of massage themed videos and of course I love Haruki Sato. So how could this go wrong? Well for starters there's one single sex scene throughout the whole video and its not till the very end. Secondly the rest of the action just consists of mediocre handjobs and blowjobs. Third is that there's a very large focus on body licking as the title states which personally I can't stand. Its just not appealing to me at all whatsoever. Its honestly pretty gross to watch. Plus she spends most of the video fully clothed. Her performance at least is fine but unless you're super into body licking there's nothing worth watching here.
16. SNIS-807
"Jessica Kizaki Has Her Guard Up Strong And Won't Drink Any Alcohol, So We Took Her Out Drinking All Night And She Transformed Into An Instant Whore And Committed Her First Ever Life Changing Mistake"
This has to be one of the most boring videos ever in jav. And that's not hyperbole. The whole premise centers around her going out with some actors, drinking and going back to the hotel room and having sex. Where I do start with this one? The biggest issue is that it's DREADFULLY slow. Literally no action of any sort happens till over 70 minutes in. Its just footage of her drinking and hanging out till then. Even once the action starts its mediocre. The first sex scene is decent but the second one is awful with fixed static camerawork. Again it's just so plain and dry. I will say her acting isn't too bad in the first sex scene at least. But a solid performance can only go so far. Zzz…
15. MIDE-341
"Bad Girl Detective Special"
This particular video stings a little more than the rest on this list. Why? Because this happened to be Minori's very last video before disappearing into the ether. Although she would return this year out of nowhere. However, seemingly ending her career on this complete dud of a video is just painful. As far as the premise goes it's your typical detective/secret agent getting captured and raped. I know I said I wasn't gonna include rape videos here but I just had to here because of the circumstances as this was her final video and her second rape video in a damn row. Broke my heart. Video itself is nothing special at all either. Bland lighting, mediocre performance and action along with a tired and overused plot. I just didn't enjoy this video at all. Minori deserved a better sendoff then this at the time. Hopefully with this new comeback she'll get a worthy final video.
14. CESD-188
"Attraction's Character Change Quick Change"
Kaho Kasumi can make nearly any setup or premise work but nothing can really save this one here. The gimmick behind this film is of course Kaho donning various wigs and taking on different roles as a result. It just doesn't work as all the wigs look terrible and don't suit her at all. Also the action is very underwhelming as there's only one single sex with the rest being outercourse and blowjobs. Kaho Kasumi does the best she can here but the awful wigs and lame action are just too much to overcome. As much as I love Kaho Kasumi this video is downright terrible.
13. JUFD-633
"Shiori Tsukada Never Wanted To Do Anal Before, But The Second She Has An Anal Orgasm It's All She Wants!"
Anal in jav is almost always a disappointment and that statement rings true with this entry. It's a straightforward video as its Shiori Tsukada's very first anal experience on film. The only real positive I can mention is that Shiori looks pretty good and her ass is plenty juicy and thick. Everything else is just awful here. One of the biggest  negatives is her acting. She's extremely whiny here, often looking like she's in pain and at times on the verge of tears. Just incredibly uncomfortable all the way through. In addition while there's a few highlights with the action, like when she gets dp'ed, the rest is outright boring. They spend over an hour interviewing her and just toying with her ass. And even when the sex starts its pretty light and slow paced. All around this perfectly encompasses why anal in jav is usually terrible. Not worth at all unless you're a diehard anal lover.
12. SNIS-945
"Peeping Real Document! 22 Up Close And Personal Days We Filmed Aika Yumeno In All Of Her Private Moments, Using A Handsome Picking Up Girls Pro Disguised As A Stylist To Get In Her Pants"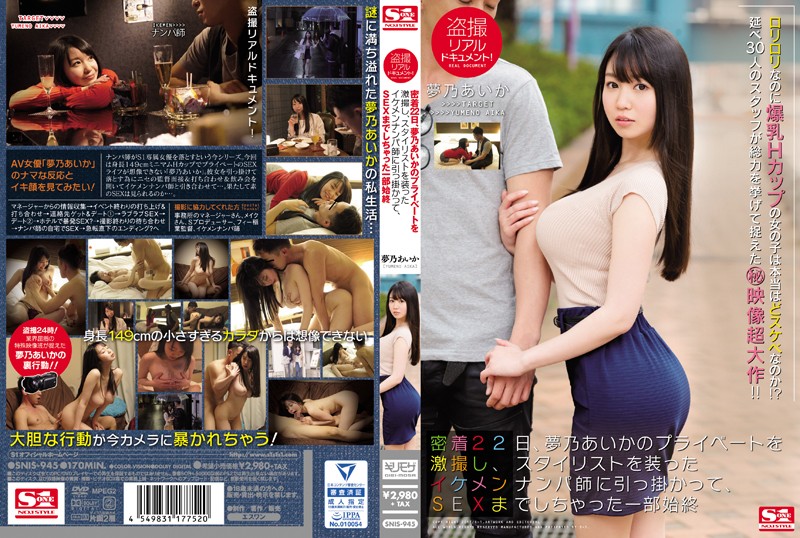 "Resident sleeper" sums up this video and series pretty well. Despite the great cover this video is a snoozefest. It basically follows Aika Yumeno going on a private date, going back to a hotel and having sex. Not much else to it beyond that. Now why will this film bore you to tears? Well for starters 45 minutes is spent just on interviews and footage of them drinking and eating together leading to an all around slow paced film. The other negative is the action itself. Not only is it incredibly vanilla but its filmed via static camerawork. I understand its used to convey a voyeur feel but I personally can't stand it. It's just lazy and uninspired to me. Aika Yumeno's acting is okay for the most part but that's about it. This is easily one of S1's all time worst series and should be completely avoided. This video belongs in the trash.
11. BBACOS-004
"Old Hag Cosplay! I Made The Housewife Next Door(Mother Of A Cute Boy In The 2nd Grade) Engage In Shameful Cosplay [Mr. Nakata x 2]"
That's a pretty nice cover right? Features a good looking cosplay too. However this video completely missed the mark and falls flat. It's just one scene with Erika visiting a guy/fan in his apartment as she dons this cosplay on the cover. While she doesn't look bad in the cosplay outfit everything else here is very subpar. The action is lackluster thanks to its filming style with just one camera  and  is just overall very meh. Her performance is about average for the most part but nothing too memorable. There's not much else to say here. BBACOS-004 is a very dull, uninspired cosplay film with mediocre action and acting making for an all around bad time.