Profile
Born : 05/08/78(40 years old)
Career Status: 2009 – present
Measurements: JP 88-58-88 (US 35-23-35)
Cup Size: G
Height : 165 cm (5 ft 5 in) 
Hair Color: Brown
Eye Color: Brown
| Metric | Score |
| --- | --- |
| Breasts | 7.5/10 |
| Face | 8/10 |
| Body | 8.5/10 |
| Ass | 10/10 |
| Acting | 8/10 |
Introduction
Kaori Morishima originally got her career started as a race queen and then became a gravure/bikini model starring in countless bikini and lingerie photoshoots along with magazines, calendars, car shows and movies. Here's an album of her work. It wasn't until December 2009 that Kaori made her AV debut with Muteki studio with a movie titled "Perfume". She released several videos with Muteki but then started working with Attackers and Premium. Afterwards she started branching out even more and releasing videos with BeFree, Fitch, Ideapocket and Moodyz. And her mature appearance and thick body made her a perfect fit for studios such as Fitch, Madonna and Venus. Now that you're more familiar with the lovely Kaori let's begin with some honorable mentions.
Honorable Mentions
JUX-362
"My Father's Girl"
I'm a big fan of this series and Kaori's entry is another home-run. The plot revolves around a young man whose father has started dating Kaori. Ultimately the son starts to become infatuated by her and by the end the two up fucking. What's really nice here is the flow of the scenes and the story. It all comes together in a very well produced and directed video. Plus Kaori looks fantastic and delivers a solid performance. Definitely check it out if you enjoy a good plot.
EKAI-004
"The Kind Of Girl You Wanna Fuck"
Sometimes you don't need a good plot or story in a video. That's the case for this one as it's all about Kaori playing the dominant role. It's pretty femdom oriented but features no pegging or anything of the sorts. The action consists mainly of just vanilla sex scenes but they're handled quite well, thanks to the awesome director in K-West. Beyond that her acting is superb and her wardrobe is astonishing consisting of some full body fishnets and a corset.
OBA-366
"Tempted By My Boss' Slut Wife!"
This is her most recent release to make my list and proves she's still got it. The plot is about a man who visits his boss's home for a drink. Later on Kaori who is playing the boss's wife ends up seducing him and the rest is history. The scene variety is great here as it features a few "holdthemoan" type scenes with them trying to stay quiet while the boss is around and there's even a nice threesome at the end. Her acting is pretty on point and she looks terrific while wearing some sexy lingerie, even if she is putting just a bit too much weight imo.
PGD-487
"Fascinating Panty-Less Female Teacher"

Kaori as a school teacher who goes around without panties and has sex with her students? Sounds like a great premise. While it is indeed a bit silly there's no denying how good Kaori looks here which is a big draw for this video. Plus the action is terrific and the school theme is used well. Very strong video overall and don't be surprised to see another teacher themed release make my list…
BF-427
"Rubber Lady A Girl Who Gets Turned On By Rubber"
No real plot to be had here as it's about Kaori wearing super sexy latex/rubber outfits. While her performance is mostly average the action and her appearance are the main draw here. Her wardrobe does an outstanding job at highlight her ass and thick thighs. I strongly recommend those with a latex fetish to check this out. The combination of Kaori and rubber is just too good.
Best Videos
JUFD-570
"Ecstatic Ass Trembling Dripping Wet Big Assed Fucking"
Without a doubt this is my all time favorite from Kaori and also one of the very first videos I saw of hers. One of the main reasons this video is so great is the premise. She plays a housewife who inadvertently seduces random men by flaunting her ass. I personally love that type of plot and Kaori does a fantastic job with it. Adding to that is Kaori's terrific acting as she delivers one of her better performances to date. Now the only slight negative is the number of sex scenes being only two. However they're very good and even the filler scenes are worth watching due to the amazing camerawork. It perfectly captures the best angles of the action and really shows off her incredible body and ass. Also the first sex scene is by far my favorite Kaori scene of all time. But by far the best aspect here is Kaori's appearance and wardrobe. Every single outfit fits her perfectly and is super tight and sexy. In closing this is one that should be seen by just about everyone. Not just Kaori fans but also anyone into thick actresses and especially big asses.
GVG-188
"Sexy Student Council Brat"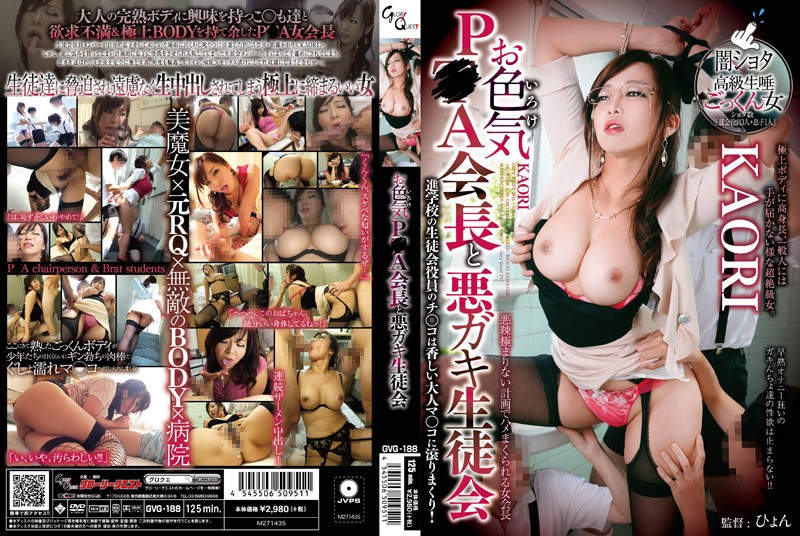 I must admit this is a little more niche than other entries on my list but I absolutely loved this one in every way. Perhaps the biggest reason is that plot. Kaori basically plays a teacher whose son accidentally pushes a bully of his down the stairs and injures him. Kaori visits him in the hospital and gets persuaded to suck his dick. Another student secretly records it and uses it to blackmail her so he and his friends can fuck her in the restroom. Afterwards they visit her in her apartment and force her to give her son a blowjob and then they fuck her briefly. Finally she gives in and willingly has sex with all of them while wearing some sexy lingerie. Beyond that her performance makes the whole premise even better. She plays her part nicely as she's accurately resistant and unwillingly and at the same time she's not overly whiny. Plus her facial expressions are spot on too. The sex is excellent as well with a few great sex scenes filled with creampies and solid camerawork. Rounding all this out is Kaori's superb appearance and teacher wardrobe. If you're into teacher themed videos and plots involving blackmail then this will be right up your alley.
AVOP-371
"An Explosive Ass Exhibition Big Ass Mature Woman Babes In A Sexy Fuck Fest"
One of the most recent videos on this list is also one of her entries for the AV Open. It also happens to be one of the best videos of 2017. The premise is very simple. 5 milfs with 5 big asses casting Kaori as the center focus. Featuring 4 hours of juicy goodness. What's really special here is the action of course and scene variety. You'd think the premise may wear thin and scenes may starting feeling a little stale but not so. Marrion does an outstanding job. The variety is excellent here. Some highlights include:
Lesbian scene with Kaori
Swimsuit scene involving pegging
Threesome massage with Kaori and Ryoko Murakimi
Group sex scene with a maid theme
Not only that but all the actresses look super sexy and wear some phenomenal outfits. Each one accentuates their amazing asses and bodies. My personal favorite being Kaori's outfit in her solo sex scene which is a bunnygirl/maid outfit. Lastly performances from all of them are top-notch as they're intense, dominant, engaging and very enthusiastic. Sometimes they overdo it but it's hardly big issue. Whether you're a Kaori fan, enjoy milfs or an ass lover you absolutely cannot miss this video. No doubt one of her best and a contender for video of 2017.
JUFD-586
"Wild, Voluptuous, Colossal Tits – I Wanna Get Ravaged By A Slut"
Fitch once again delivers an outstanding video with two of the hottest thick actresses in the game. The main overall theme here is based around gym and fitness. There's not much to gripe about here besides just one "meh" scene being the middle scene and the lack of interaction between the pair. Besides that this video excels in every category. Fantastic and simple premise, superb action with a nice variety as well as flawless and slutty performances from both Kaori and Yumi make this one of my absolute favorites. If you enjoy workout/gym themes, slutty performances and also body oil then this is for you.
IPZ-091
"Supreme Butt Fetish"
Kaori's ass is truly one of the best and this video is a perfect showcase of it. This one is completely devoid of plot and instead focuses on whats truly important, her massive and glorious ass. With a runtime of 2 and a half hours you certainly get your fill here. The sex is excellent all around with a few full sex scenes and a couple other filler type scenes. For example one where she grinds her ass on a guys dick and makes him cum. By far the worst one is the 3rd scene which takes place in the dark and has her getting covered in glow in the dark lube while getting toyed with. Besides that though every scene is superb. The camerawork is also top-notch providing you with amazing views of her ass. Unfortunately they use the fish eye lens a little too much here. I understand using it for other actresses like Tsubasa Amami or other Idea Pocket actresses but when it comes to Kaori its just like "why"? She definitely doesn't need it that's for sure. Performance wise though she's pretty solid. I wasn't blown away by her acting here but she's not too whiny and does a decent job all the way through. Got no complaints really but nothing praise worthy. And of course perhaps the best aspect is how fantasstic Kaori looks. Her ass is on full display from start to finish and it looks amazing. Plus every single outfit of her shows it off perfectly. No doubt this is one of her absolute best videos and if you're an ass man then you must watch this.
JUFD-593
"A Slut Who Tempts With Dirty Talk And Teases With Pull Out Sex ~ My Business Partner Who Enjoys Torturing Me To Death"
Hands down one of my favorite plot focused videos from Kaori and leave it to Fitch  to knock it out of the park as this is their 3rd video on my list. Here she plays your slutty co-worker who endlessly teases you.  What's especially remarkable is how expertly paced the scenes are. Starting out with her just flashing her ass at you and teasing your dick. Then moving onto a blowjob scene followed by you watching her fuck another co-worker through the doorway. Finally though it ends with 2 full sex scenes. Another huge reason this videos excels is due to Kaori's top-notch acting. No doubt one of her best performances to date. She's very slutty, devilish and lewd. Pretty engaging too and her facial expressions for the most part are spot on. Such as when she's riding the co-worker and looking at you from afar while winking. She really nails the role very well. Last but certainly not least is her appearance. She wears some super sexy office wear along with some incredibly lingerie that fit her body perfectly. And as always she looks stunning too. This is an absolute must watch thanks to its expertly paced action full of devilish teasing and foreplay with some incredible sex scenes to boot. A top 10 video for sure.
NAKA-011
"Meet Kaori, The Thicc Bartender That Everybody's Been Talking About"
Kaori roleplaying as essentially a Hooters bartender sounds like a great premise, right? Thankfully the video mostly lives up to that and its outstanding cover. For starters nearly the entire video is shot in pov. Anyway the plot is about you visiting this bar where she works, talking to her and eventually fucking her of course. It does a nice job at building up to the sex scenes by using filler such as having you play darts with her and sharing a drink together. As you can tell by the cover by far one of the best aspects here is her wardrobe and appearance. There's a few racequeen inspired outfits with some pantyhose along with the super sexy Hooters-esque outfit on the cover which looks amazing on her. The sex is pretty great all around with a few solid sex scenes and a nice blowjob scene of her sucking you off in the bar with customers in the background. In addition there's even creampies and the pov camerawork is handled nicely. Lastly regarding her performance she delivers a solid performance overall. During the setup she's especially great and during the sex scenes she's serviceable enough. In the end I strongly recommend this to those that enjoy pov and fun and unique plots.
GVG-367
"Mother Son Sex"
Kaori and incest make for a great combination and as an avid fan of the genre I couldn't help but to include some form of it on my list. In this Kaori plays wife and mother who is trying ignite a spark in the bedroom by buying some new lingerie. Her son catches a glimpse of her trying them on and she notices. After her husband fails to show any new interest she does the only logical thing. Fucks her son of course. This is a natural fit for Kaori and as always she does a very nice job. The sex as a whole is terrific and besides an average paizuri scene it's all great. Especially the final sex scene as she and her son have sex while in bed with her husband asleep right next to them. Can't forget to mention there's creampies as well which is always a plus. Another plus is her acting. She plays her role quite well and doesn't overact or go overboard. Only slight nitpick is that her enthusiasm could have been better here and there but besides that she's fantastic. Finally her appearance is stunning overall. Her wardrobe consists mainly of super sexy lingerie that fit her very nicely and show off her wonderfully thick body. Kaori herself is in excellent shape with everything from her hair to her body and makeup being top-notch. While this is definitely more niche in its appeal anyone that happens to enjoy some mother-son incest should for sure give this a watch.
BF-456
"Big-Assed, Glamorous FUCK"
A video centered squarely around Kaori's magnificent ass? Sign me up! That's exactly what you get here as this is primarily a sex focused film with no plot whatsoever. It's just comprised of several scenes ranging from full on sex to blowjobs and some outercourse. The main focus of all the scenes is as I mentioned her ass. Helping that out is her outstanding wardrobe. Every single outfit does a great job at highlight her ass. Not to mention the camerawork is on point capturing plenty of awe-inspiring shots of it. Her performance is solid as well boasting decent energy and some nice facial expressions. There's really not much else to say really. It's very simple and straightforward. If you're a simple man(or woman) and just wanna enjoy Kaori's ass without any sort of plot then this is right up your alley.
MEYD-128
"This Female Teacher With A Big Ass Loves It Doggie Style"
Kaori has done several teacher themed videos but ultimately this is my personal favorite and easily one of her best overall films. When it comes to its premise it's pretty basic. Kaori plays a school teacher who seduces her students into sex mostly by teasing them with her big ass. Always love seeing her play a more controlling and dominant role. Thankfully her performance mostly lives up to her role. My only slight complaint with the video as a whole is she sometimes lacks enthusiasm. However besides that she does a commendable job at playing her role and taking the lead during the scenes. The one area however this doesn't falter at is her appearance. Her wardrobe is fantastic consisting of the expected typical teacher garb that Kaori looks stunning in along with some sexy lingerie. And of course she's in remarkable shape and looks as good as ever. All this is bolstered by some terrific action. There's some very nice outercourse type scenes to go along with the typical sex scenes and even a threesome scene at the end. Technical aspects across the board are all rock solid as well. In closing if you're a big fan of teachers like myself then I highly recommend this. You won't be disappointed.
Worst Videos
EKW-022
"We'll Lend You The Key To This Masochist Man's Apartment"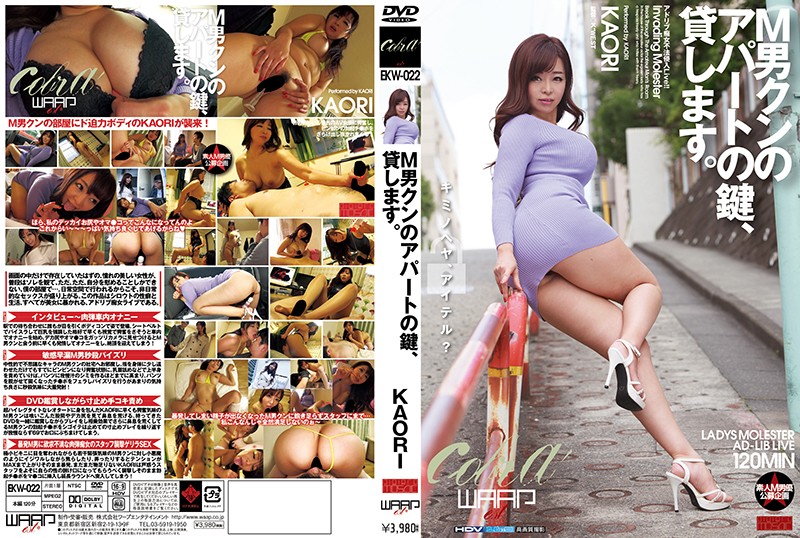 I'm usually a big fan of this genre of having the actress visit lucky fans in their homes but this one was a damn snoozefest. There's literally one sex scene that doesn't happen till the very end and it's incredibly brief. Besides that it's just blowjobs pretty much. While she does look nice it's not nearly enough to save this dud of a video.
EIKI-018
"Silver Fox Diner – Miss Kaori – "Moaning From Just A Little Nipple Play?" This Skillful MILF's Food And Sex Are Both Delicious."
Why? What's the point of this? There is a single sex scene and that's it. Over half of the entire video is dedicated to her cooking. I just…I don't understand. Easily one of the most baffling videos I've ever seen. An absolute complete waste of time. Do not bother.
OIGS-014
"A Married Woman Addicted To Bondage A Beauty In The Throes Of The Pleasure And Pain Of S&M"
Hardcore bondage involving ropes and nipple clamps just aren't my thing at all. In face it's one of my most hated themes.  I only breezed through this video once and quickly "noped" out of it. I'm sure some of you out there may enjoy this but I absolute cannot.
 With that I bring this pan picks post to a close. Perhaps after reading this you'll be converted into a fan. Or if you're already a fan then maybe you'll have some new material to check out. Her big ass, perky large tits, nice hips and juicy thighs are all perfect reasons to enjoy Kaori. She's had a long career in the industry and hopefully she's not going away any time soon.