Today we're going to be looking at some of the top studios in the industry. I find that studios are often overlooked. People tend to focus more on actresses or themes and studios often find themselves not being well known. The industry is made up of tons and tons of studios, many of which specialize in certain content. This list is a few of my favourite studios, all of which are big, popular studios. I'm hoping that people will learn a bit about some studios and start to pay more attention to them.
For each studio I've listed out what they're known for, the actresses they work with (roster), some of the notable series they have, the codes they use for their videos, and then my thoughts on the studio.
To give a brief overview of the codes for anyone that doesn't know, the codes are basically a product number. A code typically looks something like PPPD-402, where the first part is alphabetic and the second part is numeric. The alpha portion refers to which studio, and as you'll see the studios each have their own set of codes. The numeric portion refers to which release from the studio it is, and they go in sequentially increasing numbers. Studios typically go up to 999 and then pick a new alpha portion. The alpha portions range from about 2-7 characters, though most of them are 3 or 4. Studios also tend to work with each other to keep them unique so you can refer to a video uniquely by this code. It's really great when you're discussing content or trying to source because you can simply Google that code and find the video. For some studios, the alpha portion refers to what type of content the video has whether it has multiple actresses or debuts where other studios don't care so much.
Without further ado here's the list of my favourite studios.
Oppai
Known For
Large breasts. Oppai literally means boobs in Japanese so this studio is all about the busty ladies. Their videos tend to focus on actresses who are a good blend of attractive and busty as opposed to just the bustiest ladies possible. Generally speaking these are actresses who are G-Cup or bigger but also fairly slim. They do work with some less busty actresses from time to time just because they know it will sell. Their themes can be all over the place and other than the actress focus they don't have a real focus.
Roster
Exclusive + freelance. Oppai has both a cast of exclusive actresses as well as a number of freelancers. The main names on their roster are Hitomi and Julia who are two insanely well known names who fit the "slim + busty + attractive" style very well. Some guests might show up for a video here and there but if they fit their style they can become exclusives. such as Yuria Yoshine and Matsuri Kiritani who are both exclusive to Oppai plus one other studios. Oppai typically has a few debuts each year as well.
Notable Series
My Girlfriend's Elder Sister Tempts Me With Her Big Tits Saying It's OK To Creampie Her (GES)
This is my favourite series and easily Oppai's best. It's such a simple premise of cheating on your girlfriend with her hot sister. The older sister seduces the boyfriends with her big tits and keeps him coming back for more when she lets him creampie her, and despite their best efforts they wind up getting caught in the end. When you couple in all the risky content, hot actresses, and creampies it's sure to be great. GES has over 40 entries now starring so many of my favourites.
The Busty Teacher's Allure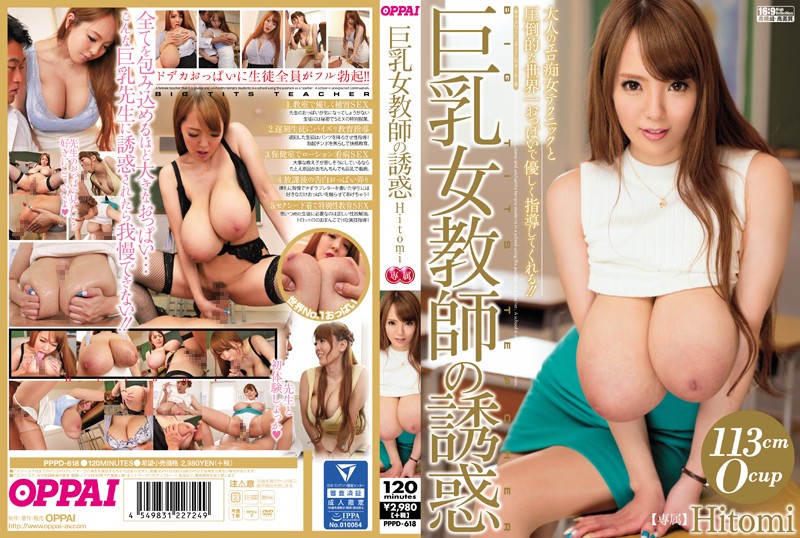 Another simple series where the hot, busty teacher seduces her students and fucks them. Often teacher series end up being rape or gangbang themed but this one is just simply the teacher seducing a student and fucking them. Everyone loves big tits and teachers and this is as good of a series featuring that content that you can get.
Nude Big Tits Maid
Another wonderful yet simple theme. A girl shows up at a guy's house to be his maid except she's fully nude. Watching her take care of all your needs, including your sexual needs, is awesome. Getting to see some non-sexual action while she's in the nude is surprisingly hot and with tons of busty and voluptuous actresses in the mix it's a great time.
Codes
PPPD, PPSD. PPPD is their main code while PPSD tends to be for group releases.
Oppai has long since been a favourite studio of mine. It's pretty clear with the name Oppai when I call myself Oppaira. They're all about big breasted ladies and that's exactly what I love. One thing is that Oppai tends to shy away from those who are on the heavier side, so they're more about pretty + large breasts as opposed to the absolute biggest; that's largely okay with me since I do prefer ladies with more shapely bodies. Oppai does tend to go smaller on the breast size every now and then which allows actresses like Yui Hatano or even Ai Uehara to make appearances. That's resulted in a significant number of my favourite actresses having worked with them. Even some of my favourites not currently on their roster have been on it before such as Ai Sayama and Meguri.
Oppai's videos are largely hit or miss. GES has a ton of my favourite videos but Oppai also has a ton of mediocrity. They often focus more on the actress and their physical attributes than the theme or plot which results in some mediocre content, unfortunately; this is especially true for Hitomi who often stars in bland videos that promote her breasts. You can see even with the series I pointed out that the plots are very simple. While busty women are great, a lot of busty actresses just aren't the best performers. It means that sometimes Oppai's videos are mediocre because of a mediocre actress in them.
S1 No. 1 Style
Known for
Attractive actresses. S1 has always been a studio where the physical attributes matter the most. They try to get actresses who blend pretty with curves but aren't too curvy. This results in actresses who are less extreme and thus have more widespread appeal. They do manage to have some extremely curvy actresses from time to time but are usually limited to only one or two among their large roster. S1 also tends to focus more on the actress than the content, meaning they don't really adventure out into the less popular fetishes. S1 doesn't even do creampies and they are typically the most tame studio around.
Roster: Entirely exclusive. Yua Mikami, Arina Hashimoto, Aoi, Tsukasa Aoi, Aika Yumeno, Moe Amatsuka, Usa Miharu, Nami Hoshino Saki Okuda, etc.. S1 has a large roster (a couple dozen) and the list before is just a few of the popular names. They have a lot of actresses rotate through there, often debuting with this large, popular studio and later deciding to freelance. They do always manage to have a steady stream of actresses working with them though and they tend to have a large number that are among the most popular in the industry.
Notable Series
S1 Fan Appreciation Day
S1 Fan Appreciation Day is fan service for the fans. The actress has some fun with a fan who tries his best not to cum instantly while being with an actress he's fantasized about. Fan appreciation is always super awesome as it gives the actress a chance to be herself and just have fun. Seeing S1's roster in less scripted scenarios is always a good time.
I'm Terrible; Giving Into Temptation
I'm Terrible; Giving Into Temptation is S1's version of GES and is great. It centers around the guy fucking his girlfriend's sister behind her back. Tons of great risky content paired with the awesome S1 cast is nice. Often S1 videos are super generic so seeing such an enjoyable theme with their cast is nice.
Codes
SOE, SNIS, SSNI, ONED, SIVR. S1 has been around for a while and when coupled with how large their roster typically is they've cycled through a lot of codes. Right now they're using SSNI for their main and SIVR for their VR releases.
S1 is another favourite studio of mine. Despite being extremely vanilla in their content they always manage to have a top notch roster on hand.  Many of my all-time favourites have worked there including Anri Okita, RION, Nanami Matsumoto, or among their current roster Aika Yumeno. That has basically always been the selling point for S1, that their roster could trump how plain their content was. Even if they won't even do as much as a creampie people still flock to their releases. S1 has definitely proven that you can sell videos simply on the fact that the actress involved is hot and beloved.
S1 tends to get a bad rap because of how plain their videos are. Compared to some studios on this list they just don't hold up with their content. S1 isn't afraid to do themes like rape or NTR but how far they're willing to take them is usually pretty limited. No creampies, limited bondage or bukkake, and just in general not much going on. I find myself often tired of watching how vanilla their content is and find myself watching explicitly for the actresses I enjoy. Right now Aika Yumeno and Saki Okuda are my favourites there, with Yua Mikami and Nami Hoshino being another couple I like. I'm certainly willing to watch their content because I enjoy the actress, but it would be a lot easier to watch and more enjoyable if they weren't so bland. I find that I typically only enjoy a handful of their large roster, not willing to watch several simply because of how plain the videos are. On top of that, the actresses themselves tend to be mediocre performers, relying more so on their attractiveness that S1 is pushing rather than performing skills.
Fitch

Known For
Thicc. If there's one thing that stands out about Fitch it's that all the actresses they work with are super thicc. Fitch does an exceptional job at making an actress' curves stand out.
Roster
Freelance + quickly rotating exclusives. Fitch tends to mostly have freelancing actresses, though at times they'll have an actress come back for a number of videos. Their exclusive contracts tend to be short-lived.
Notable Series
Horny Hip Rotation Huge Ass Perverted Slut
At some point people just want to watch some hot, thicc actresses get fucked. This is the perfect series for that. Seeing hot actresses in all of their thiccness fucking is great. Lots of great outfits and scenes here to really give some top notch content. This is but one of many wonderful thicc series they have.
An Unsuspecting Colossal Tits Big Sister Gets Her Brains Fucked Out By Her Orgasmic Little Brother
This is Fitch's take on a risky theme and boy is it great. The older sister decides she likes making her brother squirm and uses her body to do so. What she isn't prepared for is the brother taking matters into his own hands and fucking her. She finds the script flipped here and suddenly she's the one squirming while her brother keeps fucking her. Filled with tons of risky content as they're trying not to get caught by their parents as well as the actress being filled with his cum, this is a great series.
Black Guy has Hard Core Sex
Fitch has a couple of BBC series but this is the more notable one. Simply put, actresses fucking black guys, usually for the first time. BBC in JAV is nice because it's so rare, and when you couple it with thicc actresses it's wonderful. Often times BBCs feel like they're too big for the girl so when you pair it with a thicc actress it feels right at home.
The Seductive, Fully Clothed Fucking Of Working Women
Clothed sex can be really hot and no studio does thicc better than Fitch. Often times an actress being clothed makes you wish they weren't so you could see them nude but watching a thicc actress clothed is hot. Seeing their curves accentuated by hot outfits is definitely a nice series.
Codes
JUFD, JUFE, JUNY, FINH, NIMA. JUFE is their main code right now, FINH and JUNY tend to be for newer actresses or debuts, and NIMA is used for hentai adaptations.
Fitch is definitely the go-to studio if what you want is someone thicc. While other studios might have some thiccness among their roster or videos Fitch is pretty much exclusively grabbing thicc actresses. Fitch is also particularly good at capturing their thiccness. They always manage to have great themes, outfits, and especially camera angles that show off the actress. That's why they're one of my favourite studios. Thicc is great and when they do such a good job at it it's no reason why I like them so much. Fitch is also known for having a large number of series and cycling their major freelancers through them. I listed out a few of them but they have so many more great series, you could probably write a discussion post just on the series that Fitch has.
One of the downsides to thicc all the time is that there are plenty of thicc actresses that aren't that nice. Fitch has definitely had numerous videos starring favourites of mine and there's no shortage of content among them to watch. However, watching anything other than a favourite tends to be a waste of time. Fitch will often embellish covers to make an actress seem more thicc than she actually is. If you don't know what you're getting into it's really easy to watch something you're not at all interested in.
Moodyz
Known For
Nothing in particular. Moodyz does a lot of different things from bukkake to futa to standard maid content. Moodyz is about as good as you can get with a variety studio. There's definitely something to be said about a studio that has the flexibility to do just about anything or to work with any sort of actress.
Roster
Exclusive + Freelance. Their exclusives roster includes Shouko Takahashi, Sakura Miura, Tsubomi (semi-exclusive with Wanz-Factory), Mia Nanasawa , Julia (semi-exclusive with Oppai), Kana Yume, and a few others.
Notable Series
Real Creampies
Real Creampies has always been one of their iconic series. It's literally just a series centered on real creampies but creampies are nice. It happens to feature my all-time favourite video MIRD-150 (starring Hitomi and Anri Okita) so of course it would be good. That being said it has over 130 entries spanning over a decade so you know it's a great one.
Dream Woman

Dream Woman is also a seriously great series. It's probably the best bukkake series around. Lengthy videos, tons of great bukkake content. They even do this great scene where the screen is split and the actress is masturbating on one side while getting bukkaked on the other.
Codes
MIAA, MIAD, MIAE, MIDD, MIDE, MIFD, MIGD, MIMK, MIRD. Moodyz tends to have a lot of codes that they cycle through depending on the sub-label.  Right now they are using MIDE for exclusives, MIAA for freelancers, and MIFD for debuts. MIMK has been used for hentai adaptations and MIRD has been used for group releases.
Moodyz's best selling point is the variety. While clear themes for a studio can be a good thing, it can actually hinder them. Oppai or Madonna often find themselves limiting their content because the actress is so important. With Moodyz they're able to have whomever they want with whatever theme they can come up with whether that's creampie, anal, lesbian, bukkake, etc. No matter what kind of content you enjoy Moodyz is sure to have good content. That's, coupled with a lot of great actresses that have been exclusive for them over the years (such as Anri Okita, Hitomi, Julia, Meguri, and Ai Sayama), they have heaps and heaps of wonderful stuff.
One of Moodyz's downfalls is how they have no clear direction. Variety can be good but it also often means you don't do things as well as others. So as much as  I enjoy a lot of their videos, a lot of them just aren't as good as they could be. For example, Fitch does thicc better and if that's what I want I would rather watch something from them.
Rocket
Known For
Wacky themes. Rocket is all about things being weird and wonderful. With them it's a matter of how weird or crazy their themes can be while still being enjoyable as porn.
Roster
Amateurs + Freelancers. Rocket has a lot of wacky themes so they often need to get actresses willing to do wacky themes in their door. There always seems to be some big name starring in videos, but Rocket releases are typically multi-actress and feature several actresses who are relatively unknown.
Notable Series
Real Naked Lesbian Battle
This series is literally about actresses fucking each other and trying to force the other to cum. Seeing them engage in such hot and dominant lesbian action is great. The competition aspect really takes it to another level.
Family Sex Game Turns Into Fakecest
Talk about game shows this has got to be the king of all game shows. The premise is that a guy should know what his family is like naked so he's tasked with picking out the members while being unable to see anything but their private parts. It leads to them using sexual things to try and guess and it's the best kind of competition around.
Female Announcer Facial!
This is probably one of the most iconic series I can think of; I'm sure everyone's heard of this at some point. Simply put, an actress tries to deliver the news while people fuck her and shower her with cum. It's surprisingly hot seeing them get blasted with cum while ignoring that and trying to deliver the news.
Codes
RCT, RCTD. Rocket has only really used these two codes, RCTD after they ran through all the numbers available to RCT.
Rocket is always about how weird their releases can be. When we did wacky week Rocket had by far the most videos posted. You could probably identify Rocket releases by a title or a cover with the studio blacked out. Anyway, Rocket's weirdness also contributes to why I enjoy them. A lot of videos tend to have very vanilla releases and so it's easy to find yourself watching the same thing over and over. With Rocket you get so many unusual and interesting videos that separate them from the competition. Sometimes that creates videos that are a little bit too out there but often their videos being unique is awesome.
I find there are two main downsides to Rocket: how out there the videos can get and how poor the cast often is. As much as being unique and wacky is a good thing it's also something that hurts them. There's a reason other studios don't partake and that's because there's a lot of mediocre content that comes from it. It's also rather difficult for them to consistently attract top talent. I remember Kaho Shibuya commenting on a lesbian wrestling video she did for them and how her manager told her not to do it but she wanted the belt. Top talen is top talent because people enjoy them, and studios attract top talent to get people watching their videos. As much as I enjoy all sorts of themes I typically tend to go for videos starring my favourites.
Madonna
Known For
MILFs. Madonna is all about older ladies. Whether it's the actresses, themes, or series, Madonna is just always on that older lady plan. Maybe they should have just changed their name to MILF since it's basically the exact thing their studio is known for.
Roster
Freelance + Exclusives. Madonna is often freelancing and they freelance a lot of the bigger names. Especially big names in the MILF genre like Maki Hojo and Yumi Kazama, though they also work with other big names that aren't exactly MILFs like Yu Shinoda and Nanami Matsumoto just because they can sell. They also do have their own roster of some actresses, usually names that aren't as big as the freelancers they bring in but provide them with a steady stream of MILF actresses such as Kana Mito and Ayumi Miura.
Notable Series
The Married Woman Across The Hall
Risky themes are great and coupled with older ladies is even better. Madonna does exactly that in this series. Hot lady across the hall and you have a window view of the apartment. Cue in the peeping tom aspect where you find her masturbating because her husband won't give her any. The video then ends up with the two being risky and trying not to get caught by the husband. Tons of great content.
Mom's Friend
This is another one of those simple mature woman themes that Madonna is so well known for. Rather than have it be with a mom that so many studios tend to do they take a step back and make it with your mom's friend. It's such a great series because of how simple the plot/theme is. So many series are focused on something so complicated and nuanced but this is really just that your mom's friend is hot and she's turned on by a young guy being into her.
Codes
JUY, JUL, JUX, JUC, OBA, URE. Madonna has gone through a number of codes, JUL is their current main one. URE has been used for hentai adaptations.
Madonna is easily the studio to look at if you want mature actresses. While other studios will have mature actresses in their videos, Madonna is exclusively for mature actresses and themes. Madonna certainly does have some that aren't mature that show up for videos, but the overwhelming majority is mature. And again, the themes are always mature related, whether that's mom, mother-in-law, aunt, stepmom, or just plain married woman. So even if the actress isn't exactly mature the theme always is. Being someone who likes a good amount of mature actresses such as Yumi Kazama, Reiko Sawamura, Chisato Shoda, and Rena Fukiishi, Madonna always has tons of videos starring actresses I can enjoy. One of the great things about Madonna is how many good series they have. Mature actress is such a generic theme so it's really easy to create good series with it.
One of the drawbacks of being so heavily focused on mature actresses is that your studio becomes very narrow. The content tends to be good when it's good but there are limitations to capturing only a small portion of the market. They tend to use the same few top actresses again and again because there aren't enough great actresses to use. On top of that you get actresses like Nanami Matsumoto (who I wouldn't call mature) starring in films simply because it's hard to get a variety of quality mature ladies. Some of the mature actresses they use just aren't quite as nice and you often find yourself sticking to the few favourites that they work with.
Wanz Factory
Known For
Nothing in particular. Like Moodyz they don't have a clear theme to them.
Roster
Semi-regular + Freelance. Wanz Factory has a number of actresses who work very frequently with them but are not exclusive, such as Tsubomi, Julia, Sora Shiina, and Matsuri Kiritani. They also rotate a lot of actresses through their doors as freelancers, especially in their bigger series like Raw Creampie Sex – If You Can Handle It! which has many of the industry's most popular actresses participate in.
Notable Series
Raw Creampie Sex – If You Can Handle It!
What a fantastic series, it's so amazing I even did a discussion post on it. Dubbed 10 Mins the idea of the series is that an actress has 10 minutes to get an amateur guy to blow his load. If she fails to do so she has to let him fuck her raw and creampie her. It's such awesome content seeing her pull out all her best techniques but also seeing her just be herself, filled with much hilarity and awesome stuff. It's starred so many of the best actresses in the industry and around 3/4ths of my top 20… it's by far their most notable series.
Even After Cumming 10 Times Still Have Raging Boner, Older Sister Sex Technique
Codes
WNZ, WNZS, WANZ, WAVR. Wanz Factory has been around for a long time, including since before studios started using a well-defined system for codes. As a result, they have a large number of videos from older codes like YO, and NWF. Right now Wanz is using WANZ for their main stuff and WAVR for their VR content.
Wanz Factory is one of the top studios in the business. They always seem to film with many of the top talent in the industry in some great series. Especially their 10 Min series, it's easily one of the best series in the entire industry. That's always the sentiment I get from Wanz, that they have a few good series with a great cast among the entries. It's so rare to have a series that has as many entries as 10 Min does, let alone with that type of cast. Studios are often busy focusing on a certain type of actress so to have that series go from some busty, thicc actresses all the way to loli is quite impressive.
Wanz Factory having no clear definition does tend to hurt them. I find that there just isn't a ton going on to set themselves apart. To be quite frank, the few top series they have are mostly what I remember of them. Especially their 10 Min series, it has become a huge part of their identity.
Tameike Goro
Known For
Young matures in related themes like cheating and NTR. Tameike's actresses are typically actresses who are classified as mature but don't particularly look that old. They tend to focus on themes either related to mature actresses or cheating. Actress themes like teachers and moms are very common but things like cheating and NTR are also very common.
Roster
Exclusive + Freelance. Tameike Goro has a mix of both freelancing actresses and actresses who are exclusive to them. Nanao Nakano is one of their current exclusives, in the past they've had big names like Meguri, Mako Oda, and Hitomi.
Notable Series
Sultry Night (Nettaiya)
This series is all about the actress fucking her brother in the middle of a heat wave. What makes this so awesome is the actress getting all sweaty. Hot sweaty sex is quite nice and that's exactly what this series is. It also features a really brief and extremely hot shower scene.
Today You'll Cum Inside Me Until I'm Knocked Up…
This series is a nice female dominant incest series. There are a good amount of female dominant sex series but this one has a great plot of the mom being jealous of her son. Seeing her son fucking his girlfriend makes her go wild for him and when we start finally getting all the hot action it's hot and awesome.
Codes
MDYD, MEYD
Tameike Goro is a studio that always has middle-aged women in cheating situations on the mind. They tend to find tons of ways to display this and have a large number of different series. They tend not to pull any punches so they come from all angles, whether the actress is enjoying cheating or being raped. You'd think that such a simple concept would have limited ways to make videos but Tameike Goro has been really great at providing many variations. Particularly with them being open to every type of video it's really easy for them to find different variations. Teacher, neighbour, stepmom, friend's mom, boss's wife, etc. Fun fact, Tameike Goro is a studio named after the JAV director Goro Tameike
Again, one of the downsides to them is that they're so narrowly focused. They're a studio that corners only a small portion of the market, and even if they do it well, you get a lot of the same stuff over and over. Especially with Tameike working a lot with exclusive actresses I find that it's actually problematic for actresses. Seeing them always star in the same type of content, especially with it being one of the lesser liked ones in general, just isn't the best.
Celeb no Tomo
Known For
Nothing in particular. Celeb no Tomo does tend to work mostly with middle aged women but doesn't exclusively do so.
Roster
Freelance. Celeb no Tomo tends to only have freelancing actresses. They do tend to have frequent returners, particularly Hibiki Otsuki and Yui Hatano given one particular series they have. Celeb no Tomo doesn't particularly have a type of actress they look for.
Notable Series
Hibiki And Hatano Teasing Threesome Lesbians
This series is truly a wonderful series. To start it stars Hibiki Otsuki and Yui Hatano who are two of the best actresses and particularly the best duo. Then you add in that it's lesbian action and further add in that they end up doing strap-on double penetration. Hardcore lesbian action can be hard to find so getting a series with it is nice, and the fact that every entry has the Hibihata duo is amazing. One particularly nice aspect is that the strap-on double penetration is limited to the final scene, which means you get more standard sensual stuff in the earlier scenes. With this series starring such great third actresses such as Arisa Hanyu and Yuri Oshikawa it's got so much to like. This is also not even the only series they have that starts the famous Hibihata duo.
It Feels So Good, I'm Wetting Yourself I'm Sorry…
This series is notable because it had several sex scenes with an emphasis on squirting. Squirting is nice and putting such a strong emphasis on it provides tons of great content. I find this is also a great chance for some actresses who don't squirt a ton to give a nice display.
Codes
CETD, CESD, CEAD
Celeb no Tomo is a studio known for their variety work. They tend to do a wide range of stuff and often feature middle aged women, often on the curvier side. They tend to be open to a lot of different things like lesbian and anal where they have some particularly great content.
One of the downsides I find with Celeb no Tomo is they often have videos without plots. I tend to enjoy more story oriented videos and their plots tend to be extremely simplistic, focusing more on the actress or a general theme.
Hon Naka
Known For
Creampies. Simply put Hon Naka is all about creampies. It doesn't matter who's in the video or the theme they're always about the creampies. Hon Naka is actually short for 本物の中出し which means real creampie. They do fake a bunch of creampies now (as does basically everyone) but they were known for it at one point.
Roster
Freelance. Hon Naka doesn't have a set of actresses that are exclusive to their studio but they do have actresses that work there frequently. Actresses such as Touka Rinne, Akari Mitani, Sora Shiina, Yu Shinoda, and Mio Kimijima are familiar faces there. They do tend to have a mix of both actresses that return regularly and actresses who don't return regularly. They don't have any specific type of actress that they look for and worth with all sorts of actress from busty mature like Reiko Sawamura all the way to loli. Hon Naka does have some exclusives from time to time but they rarely last long there due to Hon Naka's heavy creampie focus.
Notable Series
My Girlfriend's Little Sister Loves Me So Much So We Secretly Try For A Baby
This series is basically the same as GES except the sister is younger. It tends to focus on younger actresses I'm not a huge fan of but if you can get past that it's great. Awesome content and a real understanding of the risky theme. This is often emphasized by a scene where they're running around the apartment trying not to get caught. Definitely worth the watch if you're a fan of GES or those risky types of series.
I'm Stuck In The Wall And Can't Get Out!!
Stuck in a wall is such a hilarious theme but it's surprisingly enjoyable. The actress is a teacher at school, notices a giant hole in the wall, and while looking at it finds themselves getting stuck. Cue guys noticing their hot teacher unable to move and they decide to fuck her.
A House With A Slut And ** Single Men
This series might only have three entries but all three entries are fantastic. The actress shows up at a house and then goes around the house fucking the guys who live there. She literally goes room to room getting creampied over and over, not even cleaning up before finding her next victim. Then in the end she has a giant creampie gangbang with everyone.
Codes
HND, HNDS, HNJC, HNVR, KRND. Right now they are using HND as their main code with HNDS for group videos and HNVR for VR releases.
Hon Naka is pretty much known exclusively for creampie themes. It really doesn't matter how they get there as long as the video has creampies in it. That's also conveniently why I end up liking them so much. Creampies are awesome and there can never be enough. I often get to the end of scenes hoping there's going to be a creampie and am disappointed when there isn't, but not with Hon Naka. They're also quite good at finding a variety of themes and plots. Their videos range from a fairly simple creampie soapland to a teacher stuck in the wall getting creampied.
This concludes a list of my favourite studios. There are plenty of great studios and I find so many of them are often overlooked, not because they're bad studios but because people focus on actresses and themes more than studios. I hope this has been educational for some people to learn about the different studios around.