MILFs are a big deal in every type of porn, whether it's Japanese or Western. Everyone's thought of doing it with an older woman at some point, whether it was a teacher, a neighbour, or just some hot older woman they saw one time. JAV is no exception to this rule as they fully embrace older women.
MILF is a pretty awesome genre because it can be either based on physical appearance or the plot. So you can have a MILF video just by virtue of someone being 40 or because it's a mom, teacher, office lady, etc. or you can have a MILF video of some 20 year-old being an actual mom. I think everyone has a different opinion of what makes a MILF which makes it an interesting genre: what one considers a MILF another may not. It makes the genre super open and there are a ton of different avenues to explore.
For this series of videos I've tried to pick a wide range of both actresses and themes. Since MILF is so open I think it's pertinent to give a wide display of what's out there. So sit back and enjoy learning all about what this genre has to offer.
Yumi Kazama
JUX-851
Why this actress/video?
Yumi Kazama has got to be the most well known MILF around. I think I'd attribute that to the fact she's been in the industry over 20 years! Not just that but she shows no signs of slowing down. Yumi debuted when she wasn't a MILF but I think almost nobody remembers the VHS era of Yumi. Yumi has definitely been a MILF for as long as I've been watching her and has been one of my favourites. I think if I had to pick a single actress to represent the genre it would be her. She looks great from her thiccness to nice breasts to that hot cougar look. Simply put, Yumi is the definition of MILF.
I picked this video because office lady is one of the best MILF themes available. I think the reason it's so great is that it is extremely evocative. I think a lot of people can relate to working in an office and having a hot older coworker. Yumi is exactly that, a hot older lady (the boss here in fact). Not every office lady theme is boss-oriented but I do find the boss themed ones to be more enjoyable. There were  a handful of nice things about this video but the main thing is how well the theme is portrayed. The fact that all the scenes were in the office (which is not always the case) and Yumi had on her work attire the entire time (which also isn't always the case) was spectacular.
Kaori
MEYD-128
Why this actress/video?
The reason I picked Kaori is that sometimes you want a thicc MILF. I think when people think of MILFs they often think of people past their prime. Their breasts are sagging and ass is flat, but Kaori really defies both of those. She's super thicc, particularly how big and round her ass is. Kaori is truly the epitome of thicc MILF.
I picked this video because teacher videos are common among MILF. Teacher is easily one of the best themes around. It's super easy to relate to and it's so easy to make quality content. Kaori's video is excellent both from her performance and the content. It focuses on her ass and overall thiccness which is great given that's why I picked her. The outfits suited her nicely and really accentuated her curves. I especially enjoyed that it all took place at school. Teacher videos sometimes involve the teacher going to the student's house or something to that effect which removes part of the teacher aspect but this video keeps it all at school.
Marina Shiraishi
STAR-727
Why this actress/video?
When people think of MILFs they're often thinking of people much older. Marina is someone who definitely doesn't fit that bill as she looks fairly young. Marina plays a lot of MILF roles and it's even rumored she's actually a mom. Regardless of whether she is a mom or not she absolutely nails MILF roles. It's interesting to see people who are younger playing MILF roles because not everyone agrees with that label. Marina really serves as a reminder of just how open this genre really is.
I picked this video because of the theme and the performance. The theme is Marina fucking her son's friend which is a rather common MILF theme. The idea of your friend's mom being hot and someone you want to have sex with is just so natural as a MILF theme. Marina's performance is great as it usually is but I think her MILF roles involving younger guys are particularly great. The way she sweet talks the younger guy in her motherly voice is nice and works out oh so well here. It really gives it that motherly touch that you expect from a MILF.
Mona Kasuga (Rumi Yoshizawa)
JUX-086
Why this actress/video?
When I think of MILFs one thing that comes to mind is lactation. Big breasts squirting out milk is hot. There sadly isn't nearly enough of it in general but Mona is one of the few that have a good amount of lactation videos. She's also someone who doesn't exactly strike you as older off the bat. Her younger appearance with the lactation serves as a reminder that lactation is one of the few triggers that automatically make someone a MILF. Even if MILF is a category with a lot of subjectivity this is one of the few instances where it's not. It's also a reminder that MILF has genres within itself that are fairly unique.
I picked this video because of the theme and of course the lactation. The theme is coercion themed, and while a lot of people don't like rape themes they're very common in the industry. It doesn't have to be completely rape and most of them end up with the actress enjoying it at the end. Seeing Mona unhappy at first but complacent at the end shows a wide range of how that plays out. I also think seeing lactation mixed with another theme is nice. Lactation videos tend to be focused on only lactation because they don't need other things but it's nice here to see it combined.
Chisato Shouda
SPRD-1129
Why this actress/video?
Chisato is a very good representation of older female. She totally looks like she's old whether it's the subtle wrinkles, her saggy breasts, or her flabby stomach. She's also quite old, in fact she's over 50! That isn't to say she's unattractive because my word she's the hottest 50 year old woman I know next to Jennifer Aniston. With the industry often focusing on MILFs who are considerably younger, Chisato really serves as a reminder that there are definitely some older ladies around. Chisato has been in the business for a while and has gone from, well MILF to GILF. She definitely has that MILF appearance going for her and she leans into it very well. Chisato is also pretty well known in the industry and definitely had to make my list.
I picked this video because it was incest themed. Incest is probably the most common MILF theme around so of course I had to include it. There's just something about the taboo nature that adds a little spice to it even if people actually dislike what it actually entails. This video is also poised from the perspective of the mom coming onto her son. A lot of people tend to think of rape themes, I think, so it's nice seeing the female take the lead here in a reverse-rape theme.
Aki Sasaki
MIGD-761
Why this actress/video?
Aki Sasaki is a great MILF with a nice look. The reason I picked her was twofold: one she isn't busty and two her youngish appearance. Aki Sasaki isn't flat but compared to the other ladies here Aki just doesn't stack up. I think people largely look toward more busty MILFs but you don't need to have large breasts to be hot. On top of that, Aki has an interesting facial appearance where she doesn't look that old but you can tell she's not young. I think it's really interesting seeing her with that appearance because you have no trouble seeing her in MILF videos while simultaneously recognizing she doesn't have most of the telltale signs of a MILF.
I picked this video specifically because there's no real theme attached to it. People often think that MILF videos are about the theme but they can simply be tagged as such if the actress is a MILF. You don't always need a theme of a teacher, housewife, mom, etc. and you can just get away with the actress being older.
Ayumi Shinoda
NATR-554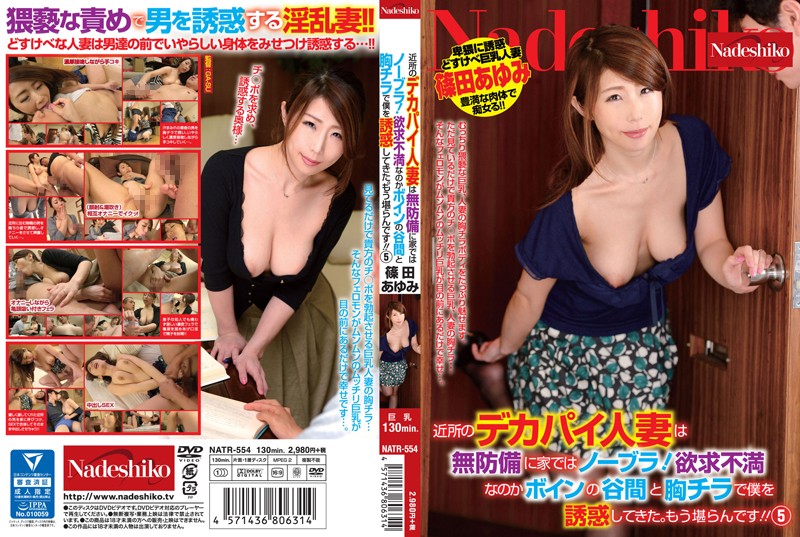 Why this actress/video?
Ayumi Shinoda has got to be one of the most prolific MILFs around. People may not immediately look at her and think MILF but the industry absolutely did. That definitely got cemented when she won an award for best MILF. Ayumi's one of those actresses that can really go either way. When you look at her you see someone who's clearly a bit older but not too old that she can't play non-MILF roles. I think that's one of the unique aspects of the genre, that an actress can have a physical appearance that can go either way.
The reason I picked this video is the cheating housewife is a great theme. I think the fact it's a cheating neighbour is really nice because it gives Ayumi a chance to be assertive. There are a ton of videos that are more rape oriented when it comes to cheating and I think those just aren't as nice. I also thought it was great that the theme was on full display here. A lot of videos in this theme use verbal cues instead of visual cues to emphasize the theme and I think visual cues are so much better for MILF. With this video you get lots of shots of the apartment complex that help depict the neighbour theme nicely and remind you what's going on.
That concludes the MILF beginner series. I hope everyone enjoyed learning about some great MILFs and themes. MILF is such an open theme and I think everyone approaches it differently. I hope this inspires some to go out looking for more.