Profile
Born: 09/12/1986 (32 years old)
Career: 2009 – 2019
Measurements: 90-58-86
Cup Size: G-Cup
Hair Colour: Brown/Blonde
Eye Colour: Brown
Erika debuted way back at the end of 2009 as this cute young wife under the name Yuria Sonoda. Who knew that she would go on to become such an amazing actress. Erika initially starred in a lot of mild, average content as she tested the waters, opening up a bit as time went on to try and find her place. Once Erika grew into her beauty she became an extremely popular actress. I think Erika settled nicely into the typical young, busty actress who can get away with MILF roles, and while that is a very common role Erika's beauty made her excel in it.
2019 saw Erika's decline as she produced less content before ultimately retiring. Even through this decline Erika remained an extremely popular actress, consistently appearing on DMM's top 100. Erika didn't often stray too far from typical stuff but she didn't have to in order to excel. Erika's beauty went a long way in propelling her to the top as she was a total bombshell. Erika's retirement video is set to come out later this month.
| | |
| --- | --- |
| Metric | Score |
| Face | 9.5 / 10 |
| Breasts | 8 / 10 |
| Ass | 6 / 10 |
| Body | 8 / 10 |
| Video Quality | 7 / 10 |
| Performing | 7.5 / 10 |
| Genres | Above Average |
Physically Erika's best quality is how pretty she is. She's absolutely gorgeous and always has been. Regardless of whether she has short or long hair, light or dark hair, she's always been beautiful. I've personally been a really big fan of her light hair especially for how unique it is. Erika's breasts are quite nice as well, a distinct but lovely shape to them. I quite enjoy that there's a firmness to them but they still manage to jiggle nicely. The rest of her isn't nearly as nice but I think having a couple of great qualities helps her stand out especially when they're so distinct from others.
When it comes to performing Erika is good but not great. Like most actresses Erika has some good performances but I've often been let down by her. She seems to perform very well very sparingly which means her good performances feel so much better than her average ones. She's a good enough actress that I don't often think her performances are bad but I often find myself wanting more from her. Erika seems good at being upbeat and rather genuine with her performances but is rarely impressive outside of that type of personality. Her dominant videos are fairly underwhelming which has always disappointed me. Still, Erika has a great smile that she puts to use nicely in those upbeat videos. Whether she's having a bit of fun with someone she shouldn't be or furiously trying to get a guy to blow his load her smile and lovable attitude shine.
As far as genres go Erika is above average but not a lot more than that. Erika has done a few things that are uncommon like BBC and anal but outside of that Erika was pretty tame. I think Erika realized she could rely on her pretty face a lot so her variety really didn't stand up quite as much as others. Looking at her catalog you can really see her videos largely being fairly basic genres. One thing Erika was always ready to do was lesbian. She's got a number of lesbian videos in all sorts of styles. I especially enjoyed all the amazing actresses she did lesbian with which includes Asahi Mizuno, Ayumi Shinoda, Hibiki Otsuki, and Yuri Oshikawa.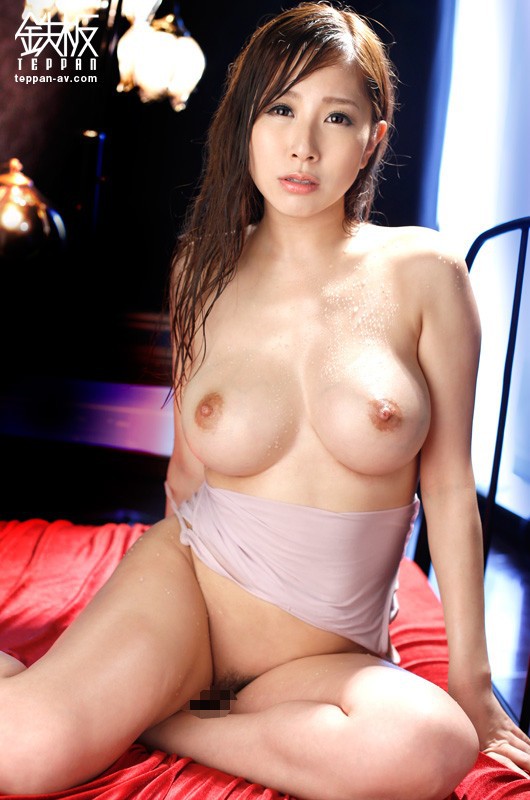 I think Erika's video quality was tied largely to her performing and the content where she struggled a bit. She's had a lot of great content but also a lot of content that doesn't set itself apart from the rest. There's a good amount of content that just looks like everything else. Since her variety tended not to be that high it often felt like she just wasn't putting out the level of quality she was capable of. I think at the end of the day the biggest sentiment I have about Erika is that she had great content but not enough great content. I totally feel like Erika could have been so much more than who she turned out to be.
Honourable Mentions
BONU-012
Slutty Psychiatrist Toys With Cock In The Cowgirl Position
Erika plays a doctor here who likes to fool around with her patients. I suppose one might perk right up when they're able to fuck a babe like Erika. The video consists of a bunch of random scenes where Erika is dominating the guy and having her way with them. Erika looked hot in her various doctor outfits and the video contained three nice sex scenes. I also quite enjoyed her dominant performance though I felt Erika just barely missed the mark. Compared to some others she just wasn't the level of dominant I had hoped for here. It's a great video but being left wanting made it just narrowly miss my top 10.
ZUKO-114
B
aby Making Sex At The Erotic Sensual Festival In The Village Of Big Tits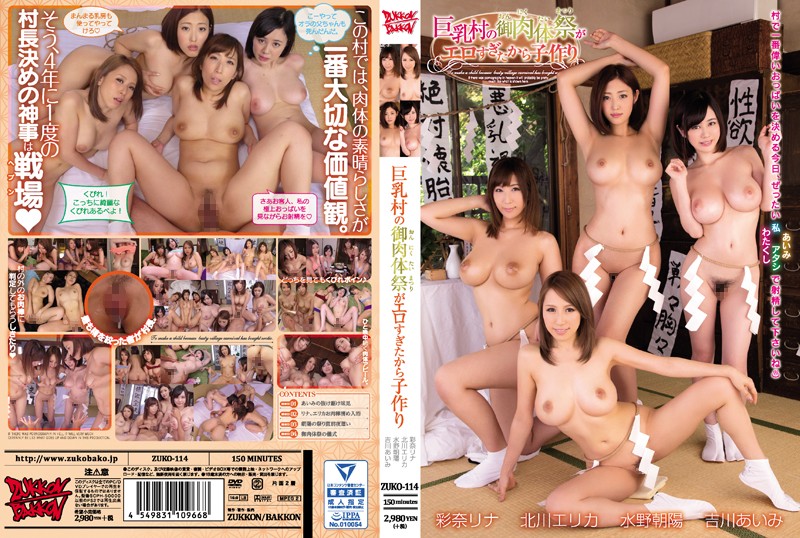 A guy shows up at a house with four busty babes. It isn't long before one of them starts fucking him. Once they do everyone else finds out and suddenly he's fucking everyone. The video contains a pile of different scenes and combinations of actresses as well as creampies. To start off this video has an amazing cast of four busty women and secondly they all get creampied. I quite enjoyed the content here and felt like they managed not to dissolve into a clusterfuck. Scenes typically had one main actress who directed the content and some secondaries who were along for the ride but largely stood out of the way which I quite enjoyed. Ultimately this video is great but not everything can make a top 10 list.
Top 10
10. EYAN-025
A Genuine And Raw Creampie Cheat Tour An All Day And Night Journey With A Sexually Frustrated Housewife
Erika plays an unsatisfied housewife who goes on a hot springs vacation to see if she can be sexually satisfied. Erika has sex in the bath, in her room, and then with a couple of guys. The video is filled with her getting fucked and filled with cum as her new lovers give her their load.
I thought Erika played the role very well here. She was able to come off both as someone who was exploring her sexuality and as someone who was a sexual deviant. She started off very shy and embarrassed to be doing what she was but once she got into it she was full force enjoying herself. Seeing her flip that switch and lead the action was awesome as it gave us the best of both worlds. I also thought the action was nice, a simple hot spring video with just solid sex scenes and creampies.
9. KISD-065
Kira Kira SPECIAL HEAT ISLAND – Amazing BODY With Big Tits/ Crazy Large Orgies
Four lovely gals have some fun in the summer. Erika Kitagawa stars alongside Momoka Nishina, Yuka Minase, and Hitomi Kitagawa – what a cast! The video is themed around summer time as they have some fun outdoors. Whether they're out in a park or in a backyard these lovely ladies are enjoying the nice weather with some hot action. The video contains solo blowjob/paizuri scenes, duo sex scenes, and of course a big group scene.
My favourite aspect about the video is how well everything works together. Four hot gals in a summer theme is nice but when coupled with their lovely performances is even nicer. Each of them has this upbeat spunk to them that really fits the video perfectly. Seeing them laugh and have a great time makes you reminisce about summer vacations and elicits a strong connection to the theme. I think them being gals also works well to fit both the theme and strong, upbeat personalities they presented. Let's not forget that this cast is something else and having all these nice breasts in one video is a treat.
8. BID-053
1 Man Cums on 3 Sluts

1 man Cums on 3 Sluts is exactly what this video is about. Erika and co are in a variety of scenes where their goal is to dominate some guy, get him to blow his load, then bask in the aftermath. The video ranges from some fairly simple handjob/blowjob content up to them being teachers who fuck a student.
The first thing you notice about this vid is the cast. Kurea, Yui, and Erika is one hell of a cast. You've got Kurea who has one of the best asses around, Erika who is one of the most pretty, and Yui who's one of the most popular. If that cast doesn't sell you then the great content will. Right off the bat you get a seemingly average scene where they give him a handjob finish until you see they start playing with his load. That's right, the three of them take turns cum swapping in some incredibly hot action. The video continues this hot action trend as they're teachers fucking a student. The performances here were lovely as well, topped off by one moment where Kurea's slapping the guy to get him to fuck her harder. Hot action by three incredible ladies that you'll definitely want to watch.
7. PGD-935
Sister-In-Law's Creampie Temptation
Erika's brother-in-law comes to stay with them and he can't help but notice how hot she is. One night he catches her and his brother having sex and decides to watch. When Erika notices, rather than being upset she enjoys him watching. She then goes and takes other opportunities to be naughty with him including blowing him beside her husband and even fucking on their bed.
The plot is great and the content is equally up to the challenge. I love risky stuff and this series is always an interesting take where the original guy is still in the mix. Erika's sex life seems great but she's still willing to fuck her brother-in-law in some really risky situations. I think for me the hottest part is absolutely the scene where Erika's fucking her husband while her brother-in-law watches. When she notices him outside the glances she gives him are amazing. She transitions that into fucking him the next scene as if she knew this was coming. The video did a good job reminding us of the adulterous behavior by showing Erika blowing him while her husband was a few feet away reading the paper.
6. PPPD-404
Busty College Girl Tutor Creampie
Erika plays the busty college tutor who does whatever it takes to get her students to excel. Turns out all her students are into her (what a surprise) and she uses her body to motivate them to do well. Erika does it all whether it's giving them a paizuri or letting them creampie fuck her.
This series is really great and is no exception to that rule. Fucking the tutor is such an easy sell for some great content. Pretty face, busty, and you've got yourself some killer content. This series is a prime example of how little effort videos need to be good. There really isn't anything more than getting busy with the hot tutor but the content just sells itself well. Creampies and nice paizuri are hard not to enjoy. Add on top of it Erika's great performance. It's so easy to smile at the guy being turned on by his hot tutor and to enjoy messing around with him. At the same time Erika's able to mix up from being the dominant one giving paizuri to letting her student enjoy himself whilst fucking her.
5. ATHH-009
I Have Eyes For Only You – Reverse Sexual Harassment Life Filled With Love
This video is a collection of scenes where Erika is a promiscuous wife. They set the stage with Erika loving her husband and having some great morning sex. After that you get to see how promiscuous she is whether she's having fun with the delivery guy, at the office, or even fucking her husband's friend while her husband is passed out beside them. The video shows you Erika's true colours while keeping the theme to a minimum and the content as good as possible. It even includes her getting creampied, not just from her husband but from other people too!
Everything about this video is awesome and it starts with Erika's performance. She smiles a lot, is bubbly, and is just generally enthusiastic about everything in an amazing way. The theme of this video is all over the place but in a good way as it allows Erika to perform in different scenarios. It goes all the way from her husband creaming her in the morning to fucking her husband's friend and it's really hot to see her be so promiscuous. She has such great facial expressions the entire time and was great about interjecting with dialog to keep herself from moaning too much. I also really enjoyed how they managed to limit the setup and get to the action quickly while also keeping a theme going. Rather than some long-winded plot they just keep it fast and to the point, like Erika noticing the deliver guy's erection.
4. AUKS-054
Lesbians in Tight Dresses – Unsatisfied Young Wife x Naughty Gal – Sensual Sex Beasts!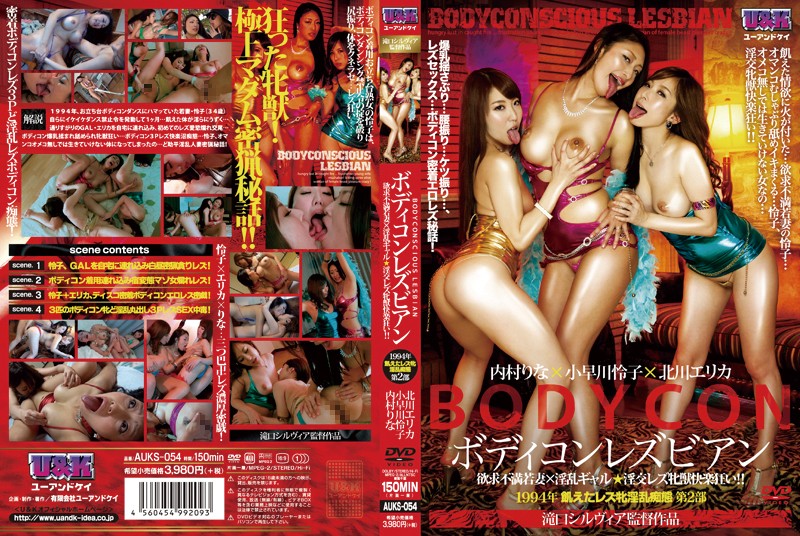 Reiko is a MILF who wants a bit more sexually. Enter Erika who's this young chick ready to show Reiko a good time. The video is then Reiko using Erika as a conduit to explore her sexuality. Erika wastes no time showing Reiko what she's missing out on and as soon as she does Reiko becomes enamored with what she's missing out. In the end Erika even takes it up a notch and invites a friend for a threesome.
There are two main things that really sold this film for me, the performance and the pacing of the content. Erika and Reiko's performances were great and I felt they both nailed their roles. Erika had such great expressions and enthusiasm really showing off her dominant personality. Erika was meant to be some sort of sexual deviant who could really spice of Reiko's mundane life, which she absolutely did. Reiko also came off as really awkward which fit the personality she was going for nicely. I found myself really feeling how much she went from this MILF looking for more to someone who loved everything. The pacing was also a huge thing as I really enjoyed them going back and forth. Them going in between kissing to eating someone out to breast play and back was paced wonderfully. Each transition felt like there was enough time spent and each looked fantastic. I never felt like I was wanting for more and I just always enjoyed every minute of them going at it.
3. WANZ-519
If You Can Withstand Erika Kitagawa's Amazing Techniques, You'll Win Creampie Sex!
Wanz Factory's 10 Min series is an amazing series and one of my favourites. The premise is simple: Erika has 10 minutes to get a guy to cum using everything she can but intercourse and if she loses she has to let him fuck her raw and creampie her. The video is filled with hilarity as the actress blends great techniques and her hot body to try to get the guy to cum.
Erika's entry is one of my top 3 (both on my Erika top 10 and 10 Min top 10) and watching this it's clear to see why. Erika's actually amazing when she's allowed to be herself. She has such vibrant expressions and genuinely understood to have fun with this one. Seeing her have a good time while also displaying some great techniques is exactly how to impress. Erika had some great variation in her technique which included paizuri and riding a guy's face. I honestly think just seeing Erika smile and laugh was enjoyable simply because of how hot she is. It seems a hallmark of her best videos that she's upbeat and smiling and this video is just an overload of that. Let's not forget that Erika does lose in some rounds and does get creampied after some surprisingly solid sex scenes. Those good sex scenes go a long way here in making sure the content is consistently enjoyable.
2. PPPD-501
My Girlfriend's Elder Sister Tempts Me With Her Big Tits Saying It's OK To Creampie Her
Everyone knows GES is my favourite series and if you've seen my top 10 list you'll know Erika's is on it. Erika's younger sister comes over with her boyfriend and Erika winds up in a situation where her towel falls off in front of him. Erika's hot body is enough to get him interested, and when Erika realizes he's into her she spares no time getting down to business. Despite his protests, between Erika's big tits and letting him fuck her raw he can't help but succumb to her. The video then goes on to be them being sneaky around the house until finally they get caught in the deed.
Pretty much everything about this video is great. The intro is awesome seeing Erika's towel fall off and the boyfriend get a good glimpse. The content lives up to that intro as there's plenty of great scenes. There's a scene where she blows him in the kitchen behind the counter, a scene where she gives him a paizuri at night, and of course them getting caught fucking. Erika's all smiles and laughter personality is on full display here and is awesome. It's a treat seeing her perform at her best and that's what you get here. Outside of her lovely facial expressions I very much enjoyed seeing her body language support it like with her shushing him or pushing his hands aside as he tried to protest. I think this was honestly just a pile of great content backed up by an even better performance.
1. JUX-678
"I Don't Want Your Baby!" Hot Sisters Swallow Their Husbands' Creampies
Erika is joined by her friend Ayumi for some hot four-way action. Erika and Ayumi get creampied but aren't ready for kids, and being the loving sisters they are, help deal with the situation by eating out the creampies. The video starts with Ayumi getting creampied when Erika comes to the rescue. After some lesbian content Erika gets creampied and Ayumi's ready to help. Then we get the final scene in which the four of them are fucking and of course Ayumi and Erika are getting creampied.
Definitely the best part of this is how amazing the action is. It's so rare to have videos with lesbian action during traditional boy-girl scenes. The video has Ayumi and Erika constantly interacting with each other. It goes all the way from them kissing and playing with their breasts all the way to eating out each other's creampies. The video isn't entirely that either, it starts off with a solo Ayumi scene and Erika swoops in to save the day which kicks off the lesbian action, which there is a few minutes of some solo lesbian action when Ayumi gets creampied the first time. I think the built up chemistry the two have from various other films they've starred in on top of the skills they already have really allowed them to understand how to make this content great. You honestly won't want to miss a second of watching them fuck their husbands and each other.
So that concludes my spotlight on Erika Kitagawa. It's bittersweet seeing yet another actress I enjoy so much leave the industry. I wish Erika the best and I'll remember her fondly.