Profile
Born: 10/28/1986 (33 years old)
Career: 2011 – 2016
Measurements: 105-59-94
Cup Size: L-Cup
Hair Colour: Black/Brown
Eye Colour: Brown
Anri Okita debuted for S1 in early 2011. She was a very highly touted debut, and it's no surprise why with a body like hers. Large breasts and a great figure stand out for Anri and were big reasons why her career took off the way it did. Anri would spend the first year and a half with S1 before moving on to other studios. Anri would briefly go by the name Akane Mizuki while working for Soft On Demand. While she had videos with a number of studios, the majority of her releases were done for Moodyz where she became a mainstay on their roster for a few years. This is also where she had her famous duo performance with her best friend Hitomi. Not only did she become a mainstay on the Moodyz roster, she was one of the most popular actresses in general. Anri really had it all, from being as hot as she was physically to as wonderful as she was as a performer.  Anri would go on to release over 100 videos in total.
In 2016 Anri finally decided to throw in the towel. Anri would continue to do some non-hardcore videos for Nadine Jansen's site despite being a retired JAV actress, although she no longer does so anymore. Anri had wanted to move on to other career opportunities, including acting in non-pornographic videos and singing. She has since starred in some movies as well as released an album. In 2018, Anri also gave birth to her daughter. Today Anri is still active online although she no longer does porn of any kind. There's still a few lewd photos here and there from her Only Fans and her workout videos from her YouTube channel are actually quite hot, but that's the extent to what she does. Many people, myself included, wish we could get a taste of post-pregnancy Anri, who looks as good as ever.
| | |
| --- | --- |
| Metric | Score |
| Face | 9 / 10 |
| Breasts | 9 / 10 |
| Ass | 7 / 10 |
| Body | 9 / 10 |
| Video Quality | 8 / 10 |
| Performing | 9 / 10 |
| Genres | Average |
Physically Anri is very attractive. Anri is simply one of those actresses you look at and say "damn girl". Anri's face is extremely beautiful and she could put on some really seductive looks without even trying. I think her most notable quality are her large breasts. If there is such a thing as too perfect, that would be the way to describe them. I found that Anri's breasts were so perfectly firm and round that I often found myself doubting they were real. And while Anri had proof that there was no silicone in them, I wouldn't be the least bit surprised to find out there was some fat grafted into them. Her body is quite nice as well, a good thiccness to it combined with a fairly slim, toned figure. Anri's ass is definitely her worst physical attribute. It's not exactly bad but it pales in comparison to how beautiful she is or how nice her breasts are. Her ass just doesn't have the right shape and definition to it, and most of the quality in it comes from her wide hips. Even now in her post-pregnancy days Anri still looks fantastic and her breasts are bigger than ever, in fact due to her pregnancy her breasts even grew to be bigger than Hitomi's! (they checked). I'm pretty sure almost everyone agrees that Anri is just one of those women that are just so beautiful it's hard to describe.
Anri was known as a great performer. Anri has said that she really loves seducing guys and I think it shows in her performances. Most of her best performances were videos where she got to dictate the pace, and even in ones where she's more on the submissive side the moments where she takes the lead really shine. Anri just had a special quality to her that's hard to describe. She seemed to really enjoy what she was doing and it really showed. Anri said she was always curious about exploring her sexuality and even her mom wasn't surprised to see she ended up in porn. That's the kind of "it" factor that you just have to naturally have, and Anri absolutely has it. Anri certainly wasn't always this good, her earlier days as Akane Mizuki were pretty lacking and it would take around a year and a half before she had any performance that I could call truly great. I think she also was so much better at roles where she got to be assertive/seductive or show her personality that other more neutral themes or rape themes weren't as enjoyable. As you'll see in my top 10 list, most of her videos are just that: dominant Anri, working with others, or just letting her be herself. That all being said, she has so many videos that are so good which is pretty crazy considering she was only active for five years. She has two videos that are in my top 10 videos of all-time and I think it's a combination of her performing skills that makes that happen. Truly a great performer that I only wish we had more time to see.
When it comes to genres Anri was pretty average. Anri never really ventured out too far given that the bulk of her career was spent with either S1 or Moodyz. When you look at some of the less common genres like BBC, anal, and uncensored, Anri had never even tried to venture there. Even genres that are based on an actress' skills like deepthroat or squirting were fairly rare for Anri. Everyone looks at the really attractive actresses and points out how tame their content is and Anri was mostly the same. Anri really was a bombshell that managed to user her looks to sell her videos. Now, it's certainly hard to say she did that all the time when she actually was a good performer but being as attractive as she is allowed her not to go too crazy. I would say the most adventurous thing she did was strap-on lesbian in her retirement video and even that was out of the norm for her.
The quality of Anri's videos were quite high. Even if the genres were lacking Anri's videos were still quite amazing. I think a lot of that goes to how good Anri could make a video that would have otherwise been fairly tame. I can look at her videos and recognize that they could have been so much worse than they were if Anri wasn't as good of a performer as she was. JAV tends to have a lot of great themes and plots, especially given that the videos are typically two hours long, so the performance tends to matter a lot. Being able to expect a good performance out of her allows you to watch what would otherwise be a mediocre video and truly enjoy it. I also think some of the high quality videos comes from the cast she found herself working with. Less than 20% of her videos involved other actresses and yet she worked with so many great actresses that I love including Hitomi, Kaho Shibuya, Asahi Mizuno, Ayumi Shinoda, and Kurea Hasumi. Even looking at my top 10 quite a number of them involve those great actresses listed above.
Honourable Mentions
MIDE-248
SUPER BODY: Cosplayer With Colossal Tits – 6 Transformations
I think most Anri fans regard this video quite highly. Even if you're not a cosplay fan Anri does a wonderful job in this one. Cosplaying some easily recognizable characters in Chun Li, Cammy, and Mikasa make this video so easy to enjoy. I found the variety of the content was also great and they spread out the sex scenes quite nicely. I'd probably say the reason it's just shy of making my top 10 list is that Anri's performance wasn't consistently good here. As much as I can enjoy a Chun Li cosplay, seeing her being raped in it didn't compare to how good her performance was when she was dominant, like in her Morrigan scene. Still, definitely one of her best and worth checking out if you like cosplay.
MIDE-186
Hard Fucking Orgy
Anri in a non-stop gangbang is all kinds of yes. The video is just her in non-stop action that's great from start to finish. I think a really underrated quality in videos is how little time the video spends on the plot/theme. Being able to jump from one scene to the next without missing a beat is what really makes this video stand out. The video has a very casual and lighthearted feel to it as well instead of the rape theme that a lot of gangbang videos tend to have. The video just amounts to watching her get fucked a bunch while she's loving it all. I think what prevented this from making my top 10 is that Anri's personality doesn't shine as much in it, largely because she tunes out at times due to the content. Seeing Anri lovingly take several cocks and get covered in cum is still a great sight to behold.
MIMK-044
Porn Retirement x Crimson – Anri Okita Captured By An Erotic Artist
Anri's retirement videos is easily one of the better retirement videos I've seen. I'd say a good portion of that comes from them just sticking to good content. Retirement videos are often reflective of their career and focus too much on how they feel about retiring. As a result, you wind up with more of a documentary than a pornography. With Anri's it not only had her fucked multiple times, it even had Miki Sunohara fuck her with a strap on. Seriously, that stuff was super hot. I also found myself enjoying a cameo from her friend, and one of my personal favourites, Ai Uehara. I found not everything was great, as the scene with her in the blonde wig was lacking. Still, if you're in for an enjoyable retirement video this is definitely among the best.
Top 10
10. WANZ-319
If You Can Endure Anri Okita's Incredible Techniques, You Get To Have Creampie Sex With Her!

This series from Wanz Factory is one of my all-time favourite series and I even did a spotlight on the series. If somehow you haven't seen the series, Anri has 10 minutes to get a guy to blow his load, if she fails the guy gets to have sex with her and creampie her. One of the things that makes the series so great and this entry in particular is the freedom the actress has to be themselves. Actresses are acting in videos but this one lets them really do whatever they want. Most of them tend to take it very lighthearted and have fun with it. It's just so awesome to see an actress being natural and enjoying themselves. Even if actresses look like they're enjoying themselves in other videos there's just something extra when they're doing it in such a natural way. Anri is exactly this throughout the entire video. Lots of smiles and laughter that are so different from the normal plots she plays in it's so incredible to see. When combined with the flexibility to get him off whatever way she wants she just does a great job. I think the fact that Anri loves seducing guys mixes really well with the playful theme and creates such a great performance. Another thing that makes this video great is the outfits, particularly the police officer outfit. Seeing officer Anri have sex after failing to get a guy to cum in 10 minutes is levels of hot that are pretty hard to beat.
9. MIDE-233
Anri Okita Is Your Wife

The video shows a day in the life of having Anri as your wife and what a life it is. Waking up to Anri blowing you in bed is just the tip of an amazing day to come. Anri doing her chores quickly turns into you fucking her and the video is more and more of that whether it's fun in the bath, fucking Anri for dessert, or just simply another fuck before bed. Anri's charm and spunk are on display here in ways that the only way to react is to wish she was your wife. This video, just like the last one, are made much nicer when the actress gets to add their own charm to the video. Anri doing what seems to be her patented salute (as seen in the gif above and below) is exactly the kind of personality that makes it so wonderful. There's also just something about the girlfriend experience type of video this is that is appealing on its own. So much of JAV isn't relatable as they try to keep things interesting, but there's always room for things that are just simple and enjoyable. If fucking Anri for dessert isn't the best dessert you'll ever have I don't know what else to say.
8. JUFD-285
Special Agent OL

Innocent office lady by day, secret agent for the company by night, Anri is out on a mission from the CEO to clean up all the internal scandals and problem employees. Anri deals with all the problems in the only way porn can: using her body. Anri spares no time fucking employees whether it's catching them off guard in the washroom, fucking them in the board room, or even finding them late at night up to no good. Anri's dominant performance works out amazingly as she's both seductive to encourage the guy to give up the goods while assertive to force him. I think the hottest scene is by far the one in the washroom, her performance is just so incredible plus getting naughty in the washroom is a sight to behold. I think another great aspect is her outfits, and having her play a secret agent gives us a wonderful catsuit scene.
7. PPSD-050
The Bigamous Creampie Life With 2 Wives With Big Tits

What could be better than having Anri Okita as your wife? Oh yeah, also having Kaho Shibuya as your wife. That's exactly the premise of this video, the pair play your wife as you are married to both of them. The video is chalk full of great scene after great scene involving one or both of them. This video also made my Kaho Shibuya post, four spots higher in fact, which I think is a testament to how incredibly talented Anri is. Having a creampie sex scene with each of them is a great way to add a lot of enjoyable extra content to the video. When the video has two of my favourites, well, of course the individual scenes would be nice. I do think what stands out is all the duo action though. The video starts with a variety of scenes ranging from creampie sex to showering. I think they really did a good job of capturing the married life with giving that kind of variety. This is especially true in the second scene where you come home from work and they blow you right in the doorway. Speaking of which, the video is shot in POV and all I can say is pretending these two beauties are your wives is incredible. Definitely the best scene is the final scene where they fuck you together and both get creampied. Having it start off with them feeding you and transitioning into that action really cements this idea of them loving you deeply. All-in-all a fantastic video with two wonderful actresses.
6. SOE-808
Passionate Hitwoman

Anri plays a hitwoman who winds up fucking while she's on the job. While the plot can only be described as extremely contrived, the result is a really hot video that's deserving as one of her best videos. Anri has a really dominant personality here that works out very well with the theme of the video. Seeing her play a dominant hitwoman is really something to behold. Those mannerisms come out a lot throughout including in one moment where after she gets two guys off in the battlefield she spits on one of them while leaving. I think seeing scenes range from her being more passionate to her dealing with her target gives a good range of content as well as some variation in exactly how dominant she is. I also loved seeing her speak English throughout (the video is still in Japanese, just that there's English in it). Every video has scenes that aren't as enjoyable, but Anri really steps up her performance in those scenes to make sure they're still enjoyable. For example, the final scene has her humping her target (she's playing a sex slave to get in close) and yet she still manages to lick her nipples to keep it enjoyable. An interesting theme coupled with Anri's good performance makes this one hell of a video.
5. MIRD-151
Polygamy Dream Creampie SPECIAL

Earlier I asked what could be better than having Anri Okita as your wife and the answer was also having Kaho Shibuya… well now you have four lovely ladies as your wives. Just imagine being able to fuck them all the time… okay maybe too much of a good thing can be bad. However, for the whopping four hours this video provides I'll gladly take it. It's funny that even the video itself makes a nod to it when you're crawling in the hallway to get a break only to get caught by Nao Mizuki and fuck her in the hallway. That's sort of the theme of the video, that they just want to non-stop fuck you. You get scenes everywhere in the house, from the bedroom to the hallway, from the kitchen to the bathroom, and the actresses are all so lively because of their desire to fuck you and get creampied. With a four hour runtime the video has a little bit of everything: some solo, duo, and group scenes. I found all of the actresses to be enjoyable which is usually hard when you have a video like this. I especially enjoyed Anri's duo scene because it involved Asahi Mizuno, another favourite of mine. While I think the video does have a bit of trouble dealing with multiple actresses at once, the fact that everyone has a solo scene and there are two duo scenes just gives a ton of great content that doesn't have that problem. At the end of the day it's definitely one of her best videos.
4. WANZ-201
Two Sluts Have A Threesome With A Nurse

First off this is another video with an amazing cast. Two of the best is hard to pass up and it's no surprise that it's an amazing video. Unlike the previous videos that have multiple actresses this video contains lesbian action throughout. While there isn't an individual lesbian scene, the fact that the two of them enjoy themselves at the same time is incredible. Seeing Kurea suck on Anri's tits is one of the hottest things you'll probably ever see and it doesn't stop there. The two of them continue to engage throughout the video and you're always waiting for the next time they'll interact. Even whilst watching them blow a cock together you can't help but hope they just start making out instead. I think that lesbian action is what made it so enjoyable as neither of the actresses every took a backseat. Duo videos so frequently have one actress disengaged from the action and you find yourself not really enjoying them but that's definitely not the case here. Even if a guy can only fuck one actress at a time, the other actress was still engaged in the action. The nurse theme is a nice added bonus to really just push the video over the top. Even if the theme wasn't much more pronounced than the setting and outfits it got the job done. If you like nurses all I can say is you had better check this out.
3. MIRD-145
Superb BODY – Real Creampies – Large Orgies

This video is easily one of the best videos involving any of the actresses in it, which is crazy to think about given how many wonderful actresses are in it (Ayumi Shinoda, Kurea Hasumi, Anri Okita, and Asahi Mizuno). Having a video like this where I enjoy all four of the actresses is pretty special, on top of the fact that each of them are well loved in the industry. Their performances are all so wonderful and they just all sort of understand what they're supposed to be doing. Now, the video contains a plethora of amazing content and there are scenes ranging from duos (Anri + Ayumi and Asahi + Kurea) as well as a few group scenes with a whopping four hour runtime. The group scenes stand out a lot because the actresses enjoy each other. It's so rare for group scenes like this to contain lesbian action in it but this video has it in spades. I think that's what really elevates the content so much because it offsets the fact that there are four actresses on screen. These types of videos tend to have so much going on that it's hard to follow, which does actually happen in the final scene when there are multiple guys. However, in the very first scene with just the one guy, the actresses all interact with each other throughout. Seeing other actresses suck on Anri's tits or Anri suck on theirs is such a treat. If you ever wanted a group scene where actresses were always engaged then the first scene in this one is absolutely what you want.
2. MIDE-213
A Date With a Slut With Amazing Technique and Huge Tits Who Makes Me Cum Over and Over

What if Anri was your girlfriend? What if she was also a slut? That's exactly the premise of this video. I feel like the only way to describe this video is "I wish I had a girlfriend like Anri". Anri's slutty side really comes out here when she's giving you a handjob in the car or blowing you in a public washroom. Those slutty moments really work well when combined with the girlfriend experience the video captures. You and Anri go on dates in the video from eating dinner to sightseeing and seeing them transition to sexual experiences out in public is just awesome. It's very reminiscent of the Garcon series "if *** was your girlfriend" except it makes the trade of less girlfriend experience content while giving you hardcore sex and realistic public scenes. Personally I think that's a wonderful trade to make as hardcore action is just more enjoyable, plus the girlfriend experience content never feels overbearing when the video is four hours long. Anri's performance is also wonderful and she really excels at being assertive and seductive. There's plenty of great moments throughout but I think you get a really good glimpse in the final scene when she's spanking you – it just sets the mood for the scene in such an awesome way. Slutty, assertive Anri as your girlfriend can only really be described as a must watch video, and there's a very good reason it's second on the list.
1. MIRD-150
J & L – Two Pairs Of Huge Tits Take Real Creampies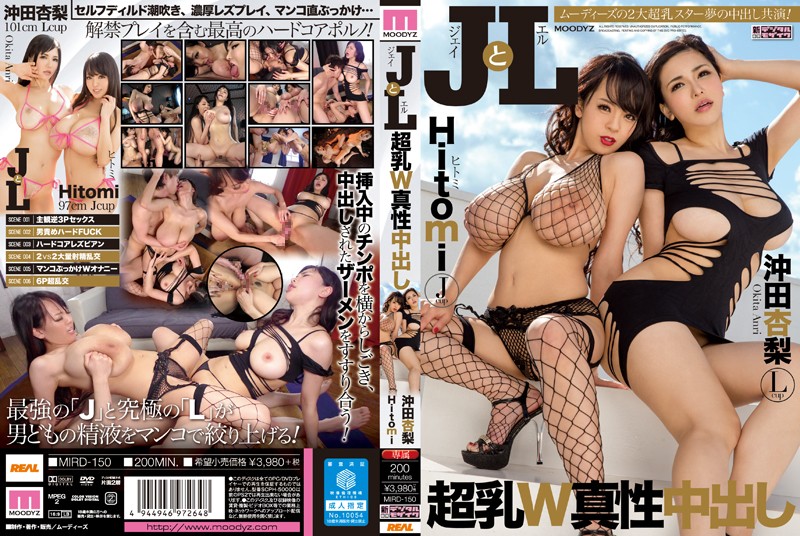 At this point I think everyone on the planet knows that this is my all-time favourite video. For starters, it has my favourite actress (Hitomi) and Anri (who is also in my top 10 actresses). What's more, the two of them are best friends in real life, and it really shows in this video. The chemistry the two have is rivaled only by that of Hibihata – it basically is impossible to find actresses who can work together like this. Another really great aspect of the video is how much amazing variety there is. The video contains basically everything – FFM, FFMM, FFMMMM, even FF (yes, that's right, a lesbian scene). It's insane to think about how they gave you everything you could have ever wanted in a video starring this pair of actresses. On top of that all of the content is wonderful. There's lesbian play during the non-lesbian scenes, which I think is one of the things that really shows their chemistry and how much they love each other. It's honestly so rare to see actresses interact like this, and even when they do they usually don't show the level of passion Anri and Hitomi display here. There's also creampies, hell even creampie eating. This is single handedly the video I recommend the most and it's as good as they get, but don't just take my word for it, I think the gif speaks for itself.
Anri Okita was truly one of the greatest actresses I've ever seen. She's all sorts of lovely, from how attractive she is to how wonderful a performer she was. It's no surprise Anri stars in my all-time favourite video and continues to have a spot on my all-time top 10 list despite being retired for several years. I think it really shows just how great she was when she's still as popular as she is despite being retired for so long.