Profile
Born :10/14/1984 (35 years old)
Career Status: 2005-2016
Measurements: JP 85-58-82 (US 34-23-32)
Cup Size: E
Height : 153 cm (5 feet)
Hair Color: Black
Eye Color: Brown
Introduction
Kaho Kasumi has a career spanning over a decade with 11 years in the industry. She first made her debut clear back in 2005 with the studio SOD Create under the Soft on Demand label. After that she became an exclusive to IdeaPocket and worked with them for roughly 5 years. It wasn't till around early 2015 that she started working with many other studios such as Moodyz, Wanz Factory and Premium. She's got a lot under her belt ranging from interracial, bukkake, creampies, bondage and even anal. Kaho was quite active outside AV: she had a radio show, made regular appearances on satellite TV, and had a knack for comedy. After retiring Kaho chose to disappear pretty much completely as opposed to some actresses who chose to stay around and work at the Red Dragon Hostess Club or try other avenues such as singing, acting, makeup…etc. She has deleted her Twitter and blog and hopes to lead a normal life.
Honorable Mentions
IPTD-671
"Sweaty SEX"
Kaho Kasumi and sweat. What a wonderful combination. Kaho is known for how sweaty she can get during scenes and a whole video centered around that is just amazing. Tons of sweaty action to be had here. What else could you want.
WANZ-278
"SEX Technique Will Make You Hard Until You Cum 10 Times"
I'm usually not a huge fan of this series but I was quite surprised by Kaho's entry. For those unaware it revolves around Kaho and the actor having sex over and over inside a hotel room. There's tons of creampies although they're definitely fake. However her performance, appearance and the overall action are terrific and really help this video standout.
WANZ-362
"Fill My Pussy With Your Cum"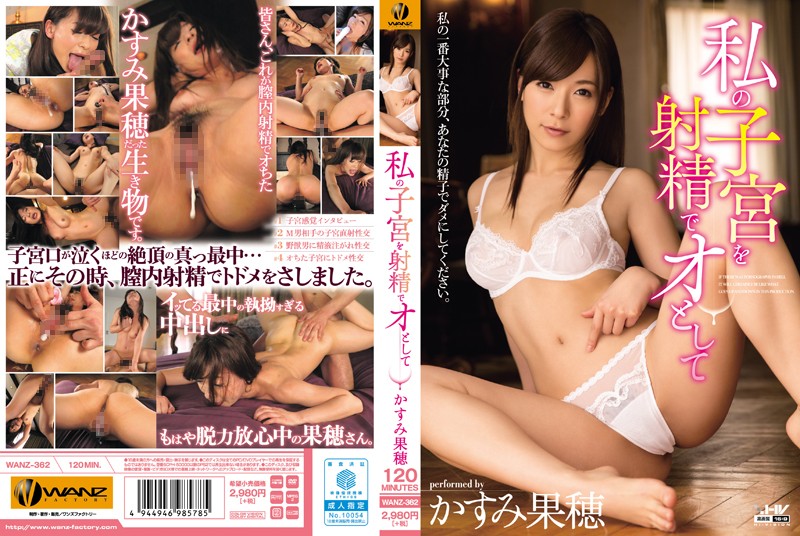 That's one of the most straightforward titles I've ever seen. This is rather simple video containing pretty vanilla sex scenes each ending in a creampie. While it is basic it's done pretty well with excellent action and stellar technical aspects. The creampies are pretty nice too.
PGD-752
"Nooky & Creampies With Kaho Kasumi As Your Live-In Girlfriend

"
I'm always a fan of these sort of setups with giving you the girlfriend experience through pov. And of course one with Kaho is just too good to pass up. She really brings the premise to life with her incredible and engaging performance. Not only that but the action is solid and she looks stunning as ever. Definitely one for pov fans to check out.
CEAD-152
"I Work at a Small Town Real Estate Office"
This one boasts an entertaining and sorta unique premise. Kaho is a real estate agent who seduces her clients into sex so she can strike a deal. It's a plot that is made for her and she absolutely delivers. Her performance is fantastic and her appearance is outstanding. If you wanna see her show off her seductive side then this is one to watch.
Best Videos
JUFD-418
"The Teasing, Pull Out Slut Who Tempts With Dirty Talk- The Neighbor's Wife Enjoys Keeping Me In Anguish"
JUFD-418 was one of the first videos I ever watched from Kaho Kasumi and still manages to be one of my top favorites and a must watch. The premise here is told entirely through pov as she plays the slutty wife next door who endlessly teases you over and over until eventually having her way with you. All this going on while your wife is home so risk plays a major role. The action is easily one of the best parts of this video. Not only is the pov aspect handled excellently but overall the sex is well paced. Starting out with just an "air handjob" while she teases you nonstop. Then she gives you a blowjob followed by an assjob before finally having full on sex. Fitch does a fantastic job at building up to the action so that when the sex does happen it makes it that much better. And of course Kaho delivers an easy 10/10 performance. Seductive, slutty, devilish and super engaging. Not to mention she's incredibly active as evident by how sweaty she gets to the point where its dripping from her body. Her facial expressions are also some of the best. Finally Kaho looks damn good as well. Of course she's in top notch shape but also she wears some very sexy lingerie. Factor in her body glistening from the sweat and she's just breathtaking. To summarize this is hands down one of Kaho's best videos of all time.
WANZ-294
"Cowgirl Lady's Certain Explosion Creampie SEX"
This series was one of my favorites from WANZ Factory and Kaho's entry in it is nothing short of spectacular. The focus here is on the cowgirl position and Kaho taking control and being rather dominant. Not to mention the abundance of creampies(though likely to fake).  While the premise is centered around cowgirl there's still a fair amount of variety in the scenes. From fucking a guy blindfolded and tied to a chair to a pov sex scene and last but not least the final and best sex scene that is a must watch. Adding to the amazing action is her dominant and very energetic performance. As per usual she gets super sweaty as she rides and grinds with unmatched enthusiasm. And some of the positions she fucks in during the last scene are just beyond words. She looks stunning as well wearing a few nice outfits with the last being the standout. Kaho Kasumi in latex while being covered in sweat is just too good. All in all if you enjoy cowgirl sex, creampies and  dominant and energetic performances then this is a can't miss video. At least for the final scene which is an all time favorite scene for me personally.
AVOP-169
"Semen Terminator"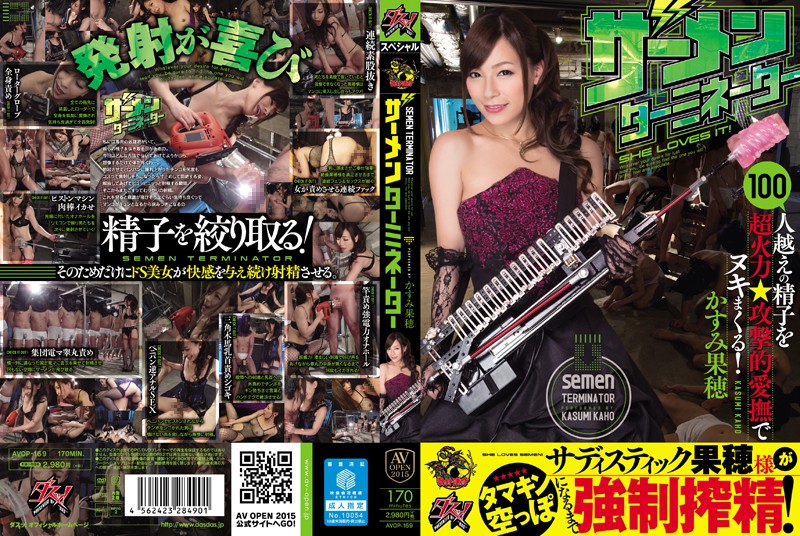 No doubt the weirdest entry on this list but hear me out as its actually one of her very best videos on her resume. Kaho Kasumi plays a nymphomaniac who keeps a ton of guys as her own personal sex slaves. She milks cum out of them through a wide array of means such as the device on the cover. Or even using a powerdrill with a onahole on it or using several wand vibrators on a lineup of guys to have them shoot their load. Now despite most of the screentime being devoted to that there's still a couple fantastic sex scenes with her getting creampied several times and taking a bunch of loads of her body. Hell there's even a pegging scene as well which fits into her role. Speaking of her role she absolutely knocks it out of the park with her performance. She's a perfect fit for this nymphomaniac type role with her unmatched energy and enthusiasm as well as dominance. She really takes this premise and makes the most out of it. Really showing off her slutty side. Can't forget to mention how sexy she looks here too. Some very nice outfits plus she herself is in top notch shape. Whether you're looking for something a bit different or wanna see some slutty nymphomaniac type stuff this is right up your alley and is an easy recommendation.
PLA-047
"Meet And Greet, And Next Our Actress Attacks You For Creampie Sex"
By now I'm sure you're all aware of "DAS" studio and this director Nao Masaki. They're responsible for such masterpieces such as PLA-045,PLA-058 and AVOP-371. Do they deliver another masterpiece? Hell yes. Anyway this particular video bears the same premise as other videos in this series. Kaho Kasumi surprises and jumps on guys and just starts fucking the shit out of them. Such as giving a blowjob to a food delivery guy or screwing two "random" patrons in a bar ending in several creampies. Hell in some scenes she makes the guy cum twice in a row. The sex is all very intense and thoroughly entertaining. In addition her appearance is top notch too as she wears some sexy outfits and she herself is in superb shape. Now what really elevates this video to the next level is her flawless and outstanding performance. Hands down not only one of her best performances but also one of the best pieces of acting I've ever seen. Everything from her facial expressions to her enthusiasm and her engagement is just exceptional. It never feels forced forced or faked from her. It feels like she is just genuinely having a good time and is completely natural.  Kaho Kasumi is an expert and shows why she's one of the best performers.
DVDES-891
"A Cherry Boy Punk And His Auntie With The Big Tits A Nephew And His Sex Life 3 – A Wife Of Childbearing Age Gets Cumtastically Good Sex 24/7 From Her Nephew's Always Rock Hard Cock, Unbeknownst To Her Husband"
It's no secret that incest is a favorite genre of mine so seeing this on here shouldn't surprise anyone. In this video Kaho plays the role of an aunt whose nephew comes to live with her. It starts out with her giving him a handjob in the bathtub after he gets hard from seeing her naked. After that he fucks her while she's in bed with her husband which is probably my favorite scene of the entire video. Finally in the last scene the nephews friend's come over and catch them in mid-fuck. So of course he invites them to join and they all fuck and creampie her. Overall it's mostly a silly plot as some of the scenes are quite ridiculous but they're very entertaining. Helping bring all this to life is Kaho's spot on performance. She portrays her role very accurately. From acting naive and embarrassed in the beginning to being super horny and loving it in the last scene. She never overdoes it and is very engaging and enthusiastic. Kaho's appearance is another big highlight here as not only does she wear a few nice outfits such as some sexy lingerie but also she's in peak physical shape. She's got such a very well rounded body in general. In closing if you're into incest, shotacon and creampies then this is for you.
REAL-576
"If You Can Bear Kaho Kasumi 's Cock Rubbing Technique We'll Give You 100,000 Yen"
Easily one of my all time favorite series and Kaho's entry is a homerun. I'm sure by now all of you know how these videos work. "Random" guys are offered a chance to try and last 10 minutes with Kaho Kasumi while enduring various sex acts decided by a random draw. They range from blowjobs, outercourse, handjobs…etc. If they succeed then they have two options. Take the money which I believe is equal to $1,000 usd or have sex with her. Whether or not its with a condom is decided too with a random draw. The action here is always a little light as most of it consists of just handjobs, blowjobs and some paizuri. However there are a few sex scenes and even a scene where a dude cums from her riding on top him. Did I mention his girlfriend is there and watches the whole thing. . Of course perhaps the most important aspect of this series is acting as it can make or break it. Her performance here is the perfect example of how to act these videos. She's flirty, inviting, fun, active, lewd and very engaging. No whining from her whatsoever as she smiles and enjoys herself throughout. And in the last scene she even gets a bit tipsy and its both fun and hot at the same time seeing her work this guy. Lastly as always Kaho looks spectacular here and her wardrobe is stunning. This series always features great outfits and here is no different. From start to finish you'll be entertained by her flawless performance and simple but effective premise.
MEYD-036
"The Young Wife Next Door"
A pov experience with Kaho Kasumi playing the slutty wife next door? That sentence alone should sell you on this. It starts out innocent enough with her visiting you for some drinks alone. But she eventually drinks a bit too much and gets a little frisky leading to the two of having sex. Basically then the rest of the video is you guys having an ongoing sexual relationship while keeping it secret from her husband. It's a great plot that certainly fits in Kaho Kasumi's wheelhouse. As you can probably guess she absolutely nails her performance here. She's super frisky, flirty and incredibly energetic. From start to finish she really knock it out of the park with her acting. In addition the action is amazing with several nice full sex scenes and the pov aspect is handled expertly. Rounding all this out is Kaho's gorgeous appearance. Also a thing to note is that she gets quite sweaty in several of the scenes here which is always a plus in my book. If you're a pov lover then I strongly recommend checking this out. You won't be disappointed.
SVDVD-523
"Awakening Gas Acme, Drive Her Crazy And Fuck Her! Inhaling The Aphrodisiac Gas That's All The Rage Overseas

"
By far one of the most bizarre and yet entertaining video Kaho Kasumi has ever shot. The premise revolves around the use of an aphrodisiac gas that I believe is called "poppers" but don't quote me on that. Basically what it does is that it will relax smooth muscles throughout the body, including the sphincter muscles of the anus and the vagina resulting in an immediate increase in heart rate and blood flow throughout the body. This will produce a sensation of heat and excitement that usually lasts for a couple of minutes. Definitely wins points for originality(I'm aware it's probably fake but it's still entertaining). So I'm sure you can only imagine what Kaho Kasumi all drugged up on aphrodisiac's is like, right? She pretty much loses her damn mind from ecstasy. She's very intense and expressive while being incredibly energetic as well. No dull moment to be had. Which leads me to the action which is just as entertaining the highlights being a nice group blowjob scene and a gangbang scene at the end. In that scene they pump the room full of that gas and Kaho gets her brains fucked out. And there's creampies as well. Also she looks as brilliant as always especially with how sweaty she gets in some scenes. If you're looking for something a bit different then look no further.

GVG-216
"The Sexy PTA President And The Bratty President Of The Student Council"
This is probably my favorite series from GloryQuest and an entry with Kaho Kasumi is a no brainer. Normally I'm not a fan of rape themed plots but I really like the premise with this one. Just like the rest of the series the premise revolves around Kaho playing a PTA president. She has an affair with a faculty member and during which a few students secretly film it. So as expected they use it to blackmail her into sex. Then at the end they all fuck her in front of him while he's restrained. Part of what makes this video so great is Kaho's strong and dynamic performance. In the beginning she starts out rather submissive and resistant as you'd expect. But eventually at the end she becomes a willing participant and is overwhelmed by pleasure. Not to sound like a broken record but once again she's also very engaging and enthusiastic. Helping solidify her performance is her appearance which is another home run. Her wardrobe consists of the typical teacher garb and some lingerie that all look amazing on her. Also she wears a pair of glasses throughout which really help complete her overall look. Now I will say the action is a little hit and miss but the full sex scenes here are outstanding. They're all group scenes and feature loads of creampies. Plus the technical aspects such as the camerawork and lighting are all top-notch. You've got a great plot, dynamic performance, good action and plenty of creampies. What more could you want?
IPTD-784
"Miracle Collaboration"
Minori Hatsune AND Kaho Kasumi? Sign me up! In terms of a central plot there's virtually nothing. It's all just various sex scenes starring the two of them, sometimes together. There's a nice balance overall when it comes to the action with a nice mix of solo sex scenes and group scenes. Some of my favorites included the double handjob scene, the threesome sex scene and definitely the lesbian scene that incorporates a double ended dildo and some scissoring. Now a huge factor with videos such as these is the chemistry between the duo. Thankfully here their chemistry is fantastic. Not only that but they compliment each other nicely physically with their similar body types. Of course their acting is also solid with only minimal whining and great engagement. And as always they both look absolutely amazing. Their wardrobe isn't too exciting I must say but physically they both look stunning. Factor all this in along with exceptional technical aspects and you've got a real winner. Anyone that's a fan of these two cannot afford to miss this.
Worst Videos
CESD-188
"Attraction's Character Change Quick Change"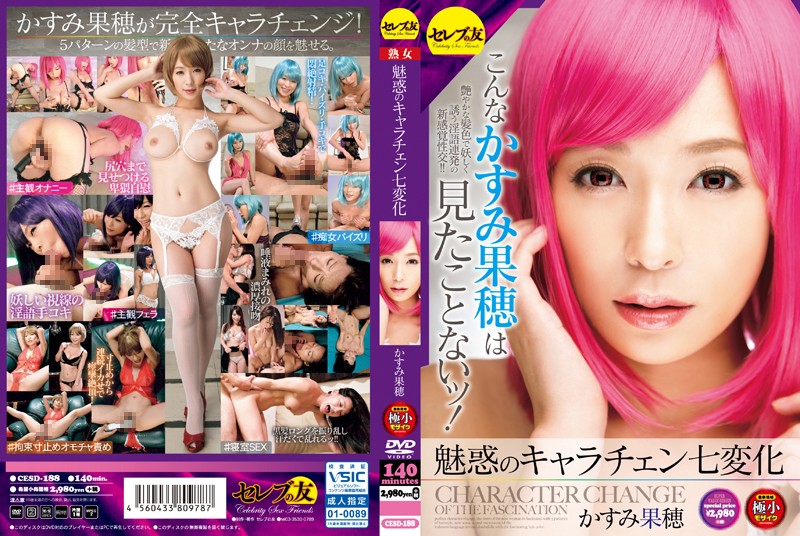 I just couldn't get into this at all. She wears a variety of wigs but they don't play any sort of role in the plot whatsoever. They just look out of place and don't fit her at all. Also there's something off about the whole look of this film. Plus the action is pretty dull. Maybe some of you will enjoy this but certainly not me.
VEC-180
"Explosion of Incontinence ~ Prudish Slut Wife's Shameful Sopping Wet Sex"
Not a super huge fan of piss although I do like squirting. But the whole premise here pretty much revolves around her just straight up pissing herself. Beyond that the action is forgettable and her wardrobe is lackluster. If you're super into pissing then perhaps you'll find enjoyment here. Otherwise you can safely skip this.
MKMP-070
"Bondage Lady"
Heavy bondage and lots of ropes. Two of my absolute least favorite things. I only briefly skimmed through this before I promptly "noped" out of it. This sort of theme is just not my cup of tea in any way. Nothing else to say really. Avoid at all costs.
By now I hope you've gained a bigger appreciation for the lovely and foxy Kaho Kasumi. I always feel like she's a bit underrated which is a shame. She's easily one of the all time best performers to ever grace jav. Always giving it her all and coming off as extremely natural. Not only that but her body is super fit and super sexy. She was definitely a legend and will always be remembered.