DV-1158
"Beautiful Teacher with No Bra"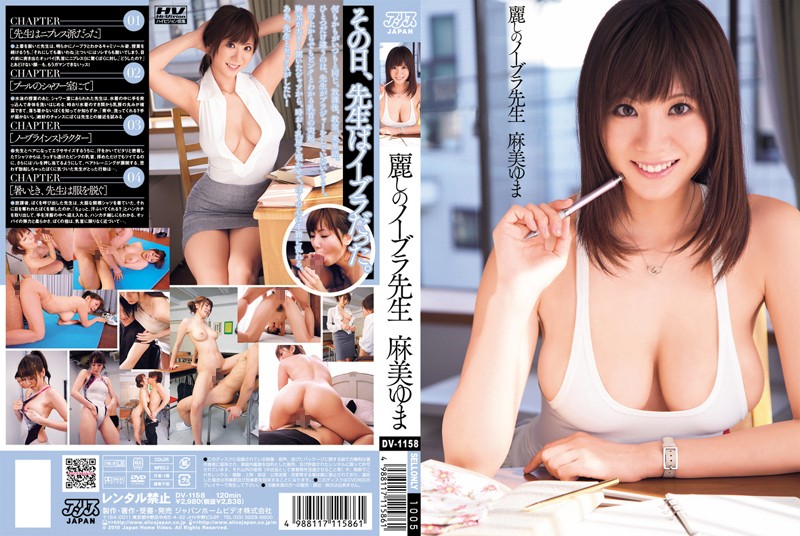 Combining two of my favorite themes into one makes for a fantastic teacher film. The premise tasks Yuma with playing a teacher/instructor who goes bra-less and seduces her students into sex. It's a premise that allow for her to show her seductive side and have fun. She plays a variety of roles here such as an instructor, school teacher and a workout instructor. The action is solid with 3 sex scenes and a blowjob scene. It's pretty standard but it's shot well. When it comes to her acting she's just what you'd expect. Super flirty and bubbly with lots of energy to boot. As always she's a lot of fun to watch. Lastly regarding her appearance she looks as good as ever. Her wardrobe is on point with plenty of great outfits that highlight her boobs quite well. And of course she herself looks fantastic. She's just got this bright natural glow about her that shines in every video she's in. All around this is easily among my top favorites of Yuma Asami. If you wanna see her seductive side then look no further.
20. MIAE-227
"This Female Teacher Was Assaulted By DQN Bad Boys And Forced Onto Her Hands And Knees And Bare Her Anal Hole While Was Spasmically Raped"
I'm usually not a fan of this genre at all. Rape films are not my thing but I'll watch just about anything with Yuu and to my surprise it's actually pretty good. The premise is about Yuu playing a teacher who gets raped by her delinquent students. Sometimes it happens at school and other times at her house. The plot is handled pretty well and as a result I actually enjoyed it. All around the action is superb with a decent variety and tons of ass focus. The camerawork is on point too capturing some really great shots of Yuu. However despite the implied anal in the title there is in fact none of that here. Personally it's a big deal to me though. When it comes to her appearance she mostly wears the typical teacher garb with high-heels, skirts and pantyhose. She looks fantastic in them and as a whole she's in top-notch shape. And lastly her performance is another strong aspect of this film. She's appropriately resistant but not completely over the top. Her facial expressions are also fitting too. This film definitely took me by surprise and ended up being pretty awesome.
19. JUFD-497
"Her Womb Is Throbbing This Female Teacher Is Going To Let You Creampie Her Over And Over Again By Using Her Forced Erection Technique"
This is a fairly straightforward film in the teacher genre. Here Yumi Kazama plays a slutty and seductive teacher who loves creampies and making her students cum. It's a fantastic series overall and her entry is another solid outing. For one the action is terrific with several full sex scenes ending in creampies. Although I should mention that they're fake but it doesn't detract from the scenes too much. Beyond that there's a handjob scene and a scene where she makes a student jerk off to her. They work pretty well due to the theme and her brilliant performance. You can almost always count on Yumi to deliver a strong slutty performance and she definitely does here. Everything from her facial expressions to her enthusiasm is on point and watching her take control is great. Lastly when it comes to her wardrobe and appearance it's very fitting. Expect to see lots of sexy lingerie and fishnets. And physically Yumi looks very good. This is right around her peak physical shape imo where she had just the right amount of thickness to her. All in all a terrific slutty teacher film that should appease any fans of this theme.
18. KK-100
"Our Chubby Big Tittied Teacher"
One of the earliest teacher films I can remember seeing and it's still among my favorites. There's really not much of a plot here to be honest. Momoka plays a sexy and naive teacher who ends up having sex with not only her students but also a fellow faculty member. Its pretty simple overall. Now I'll be honest and say the action is a bit underwhelming as a whole. There's 2 sex scenes and a paizuri scene. Beyond that there's a fair amount of setup and filler such as a scene where she poses in a bikini in front of the class. The sex scenes themselves are solid but leaves you wanting a bit more. So how's her performance throughout all this? Well…pretty typical for Momoka. She's not very engaging and is a bit lacking in enthusiasm. Mostly just average across the board. However by and far the best element here is no doubt her appearance. She looks flat out amazing here. I'll always say that she had one of the very best and well rounded bodies ever in jav. Such an amazing figure with a top-tier rack and ass. In closing despite a lackluster performance this is still a worthwhile teacher film and is certainly worth a watch.
17. BLK-336
"This Gal Female Teacher Has Monstrous Areolas And Is Teaching At This Titty Fuck Cherry Boy Cherry Popping Academy"

Here she plays a sex hungry dominant teacher who loves to tease and fuck her students at will. Such as in the first scene when she welcomes a new student to class by fucking him in the back while the rest of the class watches. It's a great plot that makes for some fun and memorable scenes. One aspect this film excels in is the action. There's 2 sex scenes with one being a threesome, a blowjob scene and lastly some paizuri. Overall the paizuri scenes are decent but nothing too memorable. However the blowjob and sex scenes are very entertaining and are handled pretty well. There are fakes creampies sadly but they don't look too bad and compliment the plot nicely. Moving onto her appearance and I gotta say Nina looks fantastic here especially with her tan. Beyond that her wardrobe is excellent too combining usual teacher uniforms with a "gal" flair. I will say her face isn't the best but her boobs are terrific and her thick figure is fantastic. When it comes to her performance she's pretty good for the most part. She plays her role well enough and throughout most of the scenes she takes control. However in the final scene she's a bit underwhelming admittedly. If you love the "gal" aesthetic and appreciate some thickness no doubt you'll love this.
16. PPPD-818
"Time-Stopping Titty-Fondling Academy – The Stimulation She Feels While Time Is Stopped Hits Her All At Once When Time Is Restarted, Giving Her A Powerful Orgasm!"
Combining the timestop and teacher genre into one is a great unique concept courtesy of Oppai. Hitomi plays a teacher who scolds a student for spying on her changing clothes. He meets up with a doctor who has a device capable of freezing time. So of course they use it and have fun with Hitomi throughout the rest of the film as they grope, finger and fuck her. The one twist though is that whenever time is unfrozen she feels all the pleasure from when she was frozen all unleashed in a single moment. Now with the timestop genre a common issue is that the action can be underwhelming due to the absence of interaction from the actress. It certainly affects the paizuri scenes as Hitomi's performance is what makes those scenes. The rest of the action is solid with some entertaining setups and positions. Hitomi delivers a remarkable performance as she plays her role very well. She manages to stay completely still throughout all the action while she's getting fingered, groped and fucked. Now as far as her appearance goes she wear several standout outfits. Some examples include the typical teacher garb, a swimsuit and sexy lingerie that showcase her tits very well. Overall this one is a bit niche but for those into timestop or want something different then this is for you.
15. MIGD-767
"Baby Making Sex With A Voluptuous Female Teacher!!"
One thing is always certain with Chitose. She always nails dominate roles and here is no different. This time she plays an aggressive and slutty school teacher who seduces and fucks her students.  Oh and there's plenty of creampies to boot. So speaking of the sex its fantastic here. Featuring several full creampie sex scenes, some incredible positions and excellent technical aspects. Also I should praise the pacing which is very well done and no scenes overstay their welcome. Making all that better is Chitose's acting which is nearly flawless. She's her trademark self here as she's expressive, controlling and super energetic. Easily one of her best performances ever. Last but not least is her wardrobe which is chock full of sexy teacher uniforms and lingerie. Every outfit is a winner and showcases her body brilliantly. If you love teacher films with a more femdom aspect then this is right up your alley.
14. BBI-149
"Sticky Cum Swallowing Nympho Teacher"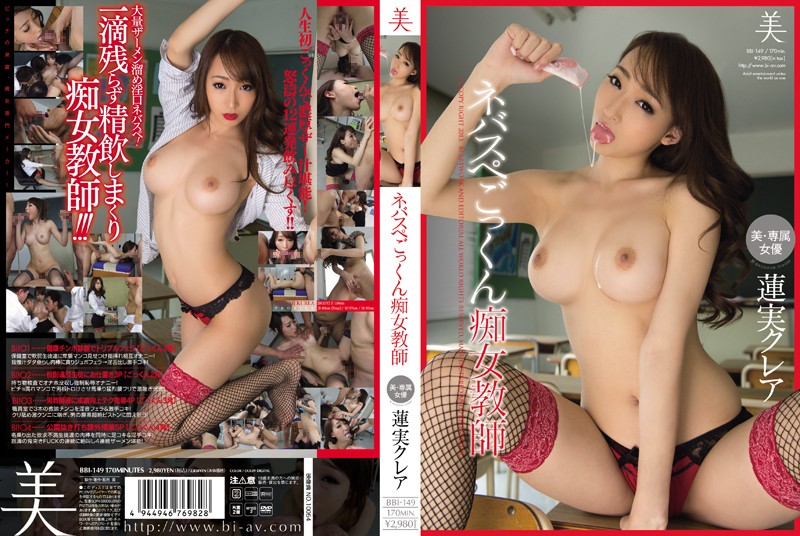 Kurea has a few amazing teacher videos and this is the first to make my list. The plot is just as described by the title pretty much. Kurea plays a slutty teacher who fucks and swallows cum from her students and fellow faculty members. While there is a heavy focus on cum swallowing there's still plenty to enjoy here.  I'll start off with the action which is fantastic. You're treated to several full sex scenes that each end with Kurea swallowing everyone's load. There's a surprising amount of variety actually such as a scene where she milks some guys with onaholes and even some foot fetish material. Of course the cum swallowing is the main draw here and Kurea gulps it all down with ease. Which leads me to her acting. Her performance is as expected, really slutty and totally dominant. She takes control and leads every single scene. I will say she doesn't go into her usual "nympho sex mode" but still is very exciting to watch. Lastly we have her wardrobe which is all around stunning. She wears some very sexy pantyhose, stockings and fishnets that compliment her body and legs very well. What else can be said? You can't go wrong with nympho Kurea doing what she does best.
13. BF-461
"Female Teacher Tempts With Her Huge Ass"
An ass focused Asahi video? Yes sir. Essentially its centered around Asahi playing a seductive and dominant teacher who fucks her students silly. Of course all this with a heavy emphasis on her glorious ass. All around the action is fantastic, even the non-sex scenes thanks to her incredible performance(more on that later). The camerawork is terrific and captures some really nice shots of Asahi's body as well. I don't think I need to say much about her appearance. Her wardrobe consists of the usual teacher garb with pantyhose and skirts and even some fishnet stockings. All of this looks outstanding on her and suits her perfectly, especially her long sexy legs. All this helps compliment her amazing ass too making it stand out. Last but not least is her acting which is perhaps one of her best performances to date. Her enthusiasm and energy are through the roof coupled with some amazing facial expressions. She's incredibly dominant here with some nice facesitting and even some slapping. And on top of that she's pretty engaging too. Absolutely brilliant and entertaining from start to finish.
12. PPPD-288
"Busty Teachers Temptation".
Anri has done several teacher themed videos all of which are very good and this is the first one to crack my list. . The premise is pretty simple as it's the typical lewd seductive teacher based plot. It can be quite entertaining too as in one scene she catches a student smoking so she offers up her body to help keep his mind off of it. She does a stellar job in her acting and really knocks it out of the park. From playing a school nurse type role to playing the seductive tutor she looks and acts the part. She could have done better in a few areas but overall very nice. Her appearance is another major highlight of this film. Her teacher wardrobe suits her perfectly and every outfit is stunning. Her physical appearance is also top-notch as she's in magnificent shape. Lastly the action is just as excellent with several full sex scenes and solid technical aspects. There's also a decent variety so none of the scenes feel too repetitive. All of this combined certainly makes for not only one of Anri's best videos but a superb and well produced teacher film sure to please fans of the genre.
11. GVG-188
"Sexy Student Council Brat"
I must admit this is a little more niche than other entries on this list but I absolutely loved this one in every way. Perhaps the biggest reason is the plot. Kaori basically plays a teacher whose son accidentally pushes a bully of his down the stairs and injures him. Kaori visits him in the hospital and gets persuaded to suck his dick. Another student secretly records it and uses it to blackmail her so he and his friends can fuck her in the restroom. Afterwards they visit her in her apartment and force her to give her son a blowjob and then they fuck her briefly. Finally she gives in and willingly has sex with all of them while wearing some sexy lingerie. I don't normally like rape plots but I personally really enjoyed it this time. Beyond that her performance makes the whole premise even better. She plays her part nicely as she's accurately resistant and unwillingly and at the same time she's not overly whiny. Plus her facial expressions are spot on too. The sex is excellent as well with a few great sex scenes filled with creampies and solid camerawork. Rounding all this out is Kaori's superb appearance and teacher wardrobe. Got a fetish for darker themed teacher vids? Then give this a watch.