Profile
Born : 02/01/88 (31 years old)
Career Status:  2008 – 2015
Measurements: JP 87-57-83 (US 34-22-33)
Cup Size: C
Height : 157 cm (5 ft 2 in)
Hair Color: Black
Eye Color:  Black
Introduction
Aino Kishi got her start way back in 2007 as a gravure model posing for videos and photobooks. At the end of the year in December she announced her switch from gravure to AV. The first studio she debuted with wasn't IdeaPocket as you may have thought. In face it was Alice Japan where she started out with and made a big splash. It wasn't till 2010 that she appeared in her first video with IdeaPocket. She enjoyed much success with them until she announced her retirement at the end of 2015. Aino Kishi was known for her adorable face, slender body and fun personality. While skinny actresses aren't usually my thing I can't deny Aino Kishi was unique and memorable. So all that being said I'll kick off my list with the usual honorable mentions.
Honorable Mentions
IPZ-338
"Is The Girl Next Door Really Slutty Like That ?!"
Gotta love the plot for this one as it revolves around the typical "girlnextdoor" premise. Featuring her seducing you and fucking you multiple times throughout the extended runtime. Not to mention there's a great threesome scene as well. All shot in pov too which is always a plus in my book. In addition her performance is excellent and she looks stunning.
IPZ-551
"My Hot & Bothered Sister-In-Law's Extreme Temptation"
Yet another seductive role for Aino Kishi. This time however she's seducing her brother-in-law. She does a solid job with her performance and there's some great sex scenes here. Of course she looks terrific as always and irresistible. Overall though it just felt like something was missing that was keeping off my top 10 list.
IPZ-621
 "Rookie Booth Babe Gets Fucked – Her Hot Naked Body Cruelly Violated In A Way She Can't Refuse"
Normally I'm not a fan of rape themed videos but occasionally there are exceptions and this series is one of them. The outfits here are always absolutely amazing. Also there's always a fantastic group facial scene where she gets blasted with cum. Anyway the plot is just a basic racequeen rape video where her photographers and agents have sex with her. She's definitely on the whiny side here but those outfits and great action help make up for it.
Best Videos
IPZ-127
"My Super Sweet Cohabitation Life"
Starting out the list strong. Not only is this perhaps my all time favorite Aino Kishi flick but its easily one of my personal favorite pov videos ever. The plot is relatively simple with you moving in with two good friends in Aino Kishi and her co-star Rio/Tina Yuzuki. They certainly make a great pair and work very well together. The entire video is shot in pov and it makes expert use of it. It's used to great effect here and really draws you into the experience. In between all the action is little bit of filler of you and the girls goofing around and playing games which really enhances the whole premise. Speaking of the action it's fantastic. There's plenty of amazing threesomes along with a really nice "holdthemoan" type scene of you fucking Rio while Aino Kishi is in dining room and you're trying to stay quiet. Oh yeah and she squirts several times during this scene. Another nice aspect is that the girls aren't afraid to touch and play with each other throughout. When it comes to their performances they're equally terrific as they play their parts very well and are super engaging which is critical with a plot like this. Finally they each look gorgeous here. So cute and adorable but sexy at the same time. All this combined makes for what is not only one of the best pov videos ever and but also one of Aino Kishi's greatest videos easily.
IPZ-195
"LOVE SEMEN"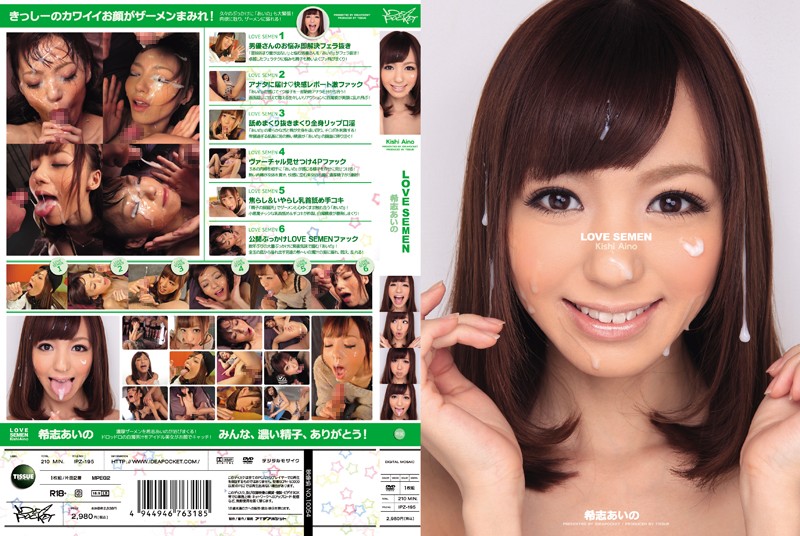 Personally I am a huge fan of bukkake and facials. There's nothing like watching a cute, pretty girl getting covered in cum. And that's what you get here in this video. Its a straightforward bukkake flick with multiple facial scenes and even some nice sex scenes to boot. No doubt the most important aspect of a film in this genre is the quality of facials and thankfully this video nails it. Loads of thick and creamy facials from start to finish. And she wears them all with a smile. Which leads me to her acting. All in all her performance is rather solid. As I mentioned she takes all the facials with a smile and seems to enjoy herself here. Lastly I'd be remiss if I didn't mention how gorgeous she looks here. She's so goddamn cute and adorable. Easily one of the most beautiful actresses IdeaPocket has ever had. While this one is definitely more narrow in appeal than other entries on this list if you happen to be a fan of bukkake and facials like myself then I strongly recommend checking this out. You won't regret it.
IPZ-594
"Rumored Elevator Girl's Climax Invitation"
The concept of an "elevator girl" was foreign to me until this video. Honestly never knew such a thing existed but after this video I 100% support it. The premise tasks her with manning an elevator and during which she has sex with her riders. Sometimes willingly and other times not as much(but mostly the former). Certainly an unique plot that allows for some interesting scenarios. One example being when she purposefully stops the elevator just to have a threesome with two guys on board. Which leads me to the action which is pretty great all around. While there are only 4 scenes in total they're all memorable in their own way. Next up is her excellent performance. She's not perfect here but its easily one of her best performances I've personally seen. Great engagement,  entertaining and quite expressive. Last but not least is her amazing appearance. Her outfits consist of typical office wear and the uniform you see on the cover. They all incredible on her. Meanwhile Aino Kishi is super cute and yet sexy at the same time throughout all this.
IPZ-634
"The Bewitching Temptation Of A Female Teacher In A Tight Skirt"
This is easily one of Aino Kishi's all time best videos. The plot is pretty straightforward as she plays a seductive and slutty teacher. A role we've all seen before but it's always great and simple along with being one of my personal favorites. There's really no bad aspects here as everything is fantastic starting with the action. Running 3 hours long spanning 6 scenes you certainly get your fill here. Multiple sex scenes with some nice blowjob scenes and one in particular ending in a great group facial. Camerawork is quite nice too. Adding to all this is her standout performance. She's very seductive and slutty as she constantly teases the guys in every scene and takes control. Seeing her play the dominant role is fantastic and she does a solid job at it even though she gets a tad whiny at times. Can't forget to mention how utterly amazing she looks here. Her wardrobe is incredible with her wearing tight skirts, pantyhose and high heels. The typical teacher garb. It suits her very well and she looks stunning. I can't recommend this one enough especially if you like teachers and school themes.
IPZ-025
"Honey Trap"
Perhaps her most unique and varied video to make my list. In this she plays a secret agent of sorts who poses as several different professions and uses her feminine wiles to seduce men into sex and steal these rings they're wearing. Such as one scene where she pretends to be a hostess and lets a customer finger her just so she can then get the ring from his finger. Maybe the best aspect in play is the variety of the scenes and costumes. Nearly every outfit looks terrific here. Some highlights include a fortune teller, soapland prostitute, hostess and delivery girl. The variety extends to her acting as well. She plays a nice mix of submissive to dominant and a little slutty. The action is pretty great as well with a runtime of 3 hours and featuring many sex scenes and even a threesome. Even the filler blowjob scenes are worth watching due to the creative setup and scenarios.  If you're looking for something outside the box with a nice variety then no doubt give this a watch.
IPZ-145
"Aino's Seductive Class"
Yet another teacher themed video on my list. What can I say? I'm a sucker for teachers. Anyway the overall premise casts her in the role of a seductive and lewd teacher who seduces not only her students but also fellow faculty members. Maybe the best aspect of this film is how varied the scene scenarios are. Such as when she catches a guy installing a camera in the bottom of her desk so he can peep on her and as punishment she jerks him off. Another example being when she is fitting some male students for swimsuits and end up giving em all blowjobs. Each scene puts a nice little spin on the seductive trope making them all super memorable and entertaining. Adding to this amazing action is her flawless performance. She takes the lead in every scene in convincing fashion with excellent facial expressions and enthusiasm. And just like the last one with her as a teacher Aino Kishi looks amazing here. Her outfits all consist of typical teacher attire which look fine but she herself is stunning. Everything from her hair to her makeup is on point. Aino Kishi is 2 for 2 with teacher videos. If you have a love for teachers then by all means download this asap. Fantastic action mixed with varied scene setups, strong and seductive performance and of course Aino Kishi looking adorable and sexy as always.
IPZ-264
"Eating While Walking!? No No! Public Sex: Take a Walk and Fuck with Me"
The main theme of this one is of course public/outdoors sex. Always a big favorite of mine and IdeaPocket usually nails this series. Here is no different. As you'd expect each scene features her in a risky public scenario trying to mask herself as she engages in various sex acts. Some examples being having sex in a restaurant while being served leading to some humorous moments or when she gives a blowjob in a ramen bar. Another highlight being when she has sex in motel lobby while trying to avoid being discovered. Some really entertaining scenes here sure to appeal to fans of this genre. Compounding this is her performance which is pretty great. She handles all these situations in stride and does so with a smile. There is of course some whining from her but not enough to ruin any of the scenes. Capping off all this is her cute and stunning appearance. Her wardrobe is pretty standard but as always she looks terrific as is. Fans of public and risky outdoor sex should give this a watch.
IPZ-358
"My Personal Housekeeper"
What could be better than having Aino Kishi as your own personal maid who will tend to any sort of request with great sex technique and a smile. She offers sleazy hospitality and is up for any requests from cleaning  and laundry to straight up sex. That's the setup here and its all shot entirely in pov which is a perfect fit for a video like this. First off the action here is excellent featuring several full sex scenes and imo a standout threesome scene at the end. I really enjoyed the plot of that one as it has you convincing her to have sex with 2 repair guys at your place just to get a free fix. Pov is handled nicely throughout and never really breaks immersion. Her performance for the most part is submissive which is fitting given the whole premise. She does a fine job with her acting as a whole as she never gets too whiny and settles into her role nicely. Lastly her appearance is great too as her wardrobe consists entirely of typical housemaid type attire and she herself is incredibly cute as always. If pov is your thing then I recommend giving this a watch. Featuring a unique premise and great pov action this one will surely please.
IPTD-888
"This is Paradise! The Infamous Adult-Only Nursery"
This one boasts a rather odd premise but I strangely liked it. Here Aino Kishi is in charge of an adult nursery for grown men in which she services them. One scene revolves around her doing a show and tell of sorts and another has her giving a guy a blowjob to stop him from crying. Again its certainly on the bizarre side but super entertaining and memorable. As a whole the action is varied enough with a good range of sex scenes and a nice group blowjob scene. It's all bolstered but tight camerawork and excellent lighting. Her performance is a huge bright spot here and she really shines throughout. She's a great choice for this role and she delivers. Everything from her facial expressions to her enthusiasm and engagement is great and on point. She really settles into her character and is very believable. Finally her appearance is pretty nice here. Her wardrobe mainly consists of nursery/daycare teacher type attire so she wears some goofy outfits here but makes the most of it as she looks really cute in all of them. While it's a little on the weird side it's still a very enjoyable and memorable video and one I highly recommend.
IPTD-971
"SEX?! Right Here and Right Now?"
I end my list with the very first video I ever watched of Aino Kishi and still remains one of her best. It boasts a pretty humorous premise that's based off the idea of sudden sex. Basically it features her going about her daily life for the most part when suddenly the actor surprises her and begins to fuck her pretty much. Such as when she's relaxing in her hotel room and the guy bursts in and goes to town on her. Or when she's getting a massage from a female masseuse and the actor reveals himself and starts fucking her. Definitely a highlight of the video as she gets fucked while the masseuse stands by and watches just feet away. All around an entertaining premise to say the least. Compounding this is the action which is surprisingly intense and filled with several great sex scenes and solid blowjob scenes. Moving onto her performance which is mostly submissive which isn't too shocking. At times she does seem into it and laughs  a good bit but mostly she's submissive as she gets caught off guard in every scene. Can't say a whole lot about her appearance as her wardrobe is basic and sorta plain but she still manages to look incredibly cute. Aino Kishi's library is quite diverse in its themes and  plots and what better video to cap off my list then this gem.
Aino Kishi was certainly one of the main staples of IdeaPocket back in their prime. Slender, cute and a solid performer. Always a knockout when it comes to pov centric videos. If you're someone who slept on Aino Kishi and never gave her a proper look well now's your chance.