Profile
Born :

12/17/83 (36 years old)

Career Status:  2010 – present
Measurements: 87-59-88 cm (34-23-35 in)
Cup Size:  F
Height :

154 cm (5 ft 1 in)

Hair Color: Brown
Eye Color:  Brown
Honorable Mentions
HND-150
"Face-to-face With A Big Tits Married Woman Who Wants To Get Pregnant"
Starting out my honorable mentions with what is probably the most simplest video on my entire list. This is entirely a sex driven video with no real plot besides just sex and creampies. Sometimes these videos can be quite dull but I gotta say this one is worth watching due to some solid action and 100% real creampies.  Plus Mako Oda looks real nice too.
JUFD-598
"Forced Erection Technique By A Horny Female Teacher Who Makes Men Creampie Her"
Mako Oda playing a slutty teacher seducing her students into creampie sex? It practically writes itself. The action here is outstanding with several sex scenes and on top of that Mako delivers a superb performance. And as you can probably tell from looking at the cover her wardrobe is super sexy. Anyone with a teacher fetish should check this out.
JUFD-875
"Mako Oda In Her First Ever Fan Thanksgiving Day! She's Visiting The Home Of An Amateur! If You Can Resist Ejaculating When She Hits You With Up Close And Personal Dirty Talk Play For 10 Minutes, She'll Make Any Sexy Wish You Have Cum True!"
It's no secret that fan thanksgiving films are a big favorite of mine so naturally I had to include this on my list. The plot is just the title states so I won't go into too much detail about it. Just know it's basically the home equivalent of the WANZ Factory series we all love. Anyway Mako's performance here is very good which is vital for fan thanksgiving plots and her wardrobe is stunning, as you can tell from the cover. Only downside is the lackluster action but overall still a fantastic video.
JUFD-964
"Hard Working Women In Alluring Fully Clothed Sex"
Anyone that's a fan of clothed sex will love this entry. That's pretty much the whole focus and plot of this one as it centers around Mako Oda playing the boss of an office who seduces and fucks her workers, while fully clothed of course. All around the sex is pretty great with excellent camerawork and fun setups for the scenes. In addition Mako delivers a dominant performance but sometimes flawed performance. However her wardrobe here is amazing with lots of stunning outfits that suit her curves perfectly.
MDYD-991
"Female Teacher Confined & Raped"
I normally don't enjoy rape videos but I actually like this series and this entry is pretty great overall. It's just like the rest of the series focusing on Mako being held against her will and fucked by her students. What's really nice is the slow progression of being broken down through the film. Starting out resistant and by the end fully embracing it and loving the sex. All this back by a solid performance, great action and good directing.
Best Videos
JUFD-456
"A Slut's Dirty Talks And Teasing – My Superior's Girlfriend Enjoys Teasing Me So Much…"
Hands down one of my all time favorite series ever. Nearly every entry I've seen from it has been fantastic and this one is no different. The plot revolves around Mako playing your boss's girlfriend who relentlessly teases you throughout until finally fucking you at the very end. The gradual buildup of the action is extremely well paced here. Starting with just an "air handjob" and paizuri to having you watch her fuck her boyfriend. Rest assured there's 2 really nice pov sex scenes with one having you fuck her while your boss is asleep in the next room. Quality acting is definitely a must here and Mako Oda delivers. Her enthusiasm is excellent along with her facial expressions. She's very lewd and devilish which is absolutely spot on. By far one of her best performances to date. Complimenting all this is her stunning appearance and wardrobe. Every single outfit here is amazing and shows off her wonderful cleavage and  body very well. Not to mention she's in immaculate shape to boot. If you've never seen Mako Oda before then this is the video I suggest to try out. You won't be disappointed.
JUFD-623
"Exclusive And Unleashed! Black Cock Fucking"
Fitch always produces some of the best interracial films and this is yet another stellar entry. It's very basic and straightforward focusing squarely on action and pretty much zero plot. The action here is fantastic featuring plenty of intense sex scenes and a very nice paizuri scene. It's bolstered by solid camerawork and lighting as well. Her performance is another bright spot. She's quite expressive and her enthusiasm is terrific. While not perfect she manages herself pretty well. Lastly she looks stunning here. She wears several sexy outfits that fit her perfectly and beyond that she's just in top-notch physical shape looking thick as ever. I can't recommend this enough if you like interracial sex.
JUFD-647
"I'll Be Watching You The Entire Time Dirty Talk Creampie Baths"
Normally I'm not one for soapland videos but this one was surprisingly pretty good. It's very straightforward as it features various scenes all with a soapland theme. The one huge positive here is that all the scenes are filmed in pov. Makes all the action much more interesting and engaging to watch. Speaking of which there's several sex scenes and creampies so you'll have plenty to enjoy. Making all the action even better is her wardrobe and appearance. From some sexy stockings to full body fishnets Mako Oda looks stunning in every single scene. Plus she's in top-notch shape. Finally regarding her acting she delivers a solid performance all around. Her facial expressions are terrific and she engages pretty well too along with having great enthusiasm. Overall this is a fantastic release that should appeal to many different people whether you're into soapland or pov you'll find something to love here.
JUFD-723
"Enjoy As She Stares You Down While Giving You Dirty Talk Titty Fuck At This Massage Parlor"
This was one of the earliest videos I ever watched of Mako Oda's and it still ranks as an all time favorite. The premise is pretty simple as it centers around her playing a sexy and lewd masseuse. Pretty great concept made even better with the addition of it being shot entirely in pov. Which leads me to the action that overall is fantastic minus one scene where she tittyfucks a blurred out dildo for 30 min. Beyond that the action is amazing with great camerawork and solid sex scenes. And the pov aspect really makes it much more engaging. She also delivers a terrific performance to boot. Pretty great energy all around with equally as good facial expressions. Last but certainly not least is her appearance which is a home-run. For one her wardrobe is amazing with some super sexy stockings and lingerie. On top of that physically she's in remarkable shape. Plenty thick and her boobs look superb here. All in all this is hands down one of her greatest videos ever and is an easy recommendation for anyone new to her.
JUFD-750
"Cum Swallowing Unleashed And Real Creampies 32 Cum Shots"
Personally I'm a huge fan of gokkun and creampies so discovering she has a video where she happily gulps down over 30 loads I knew it belonged on my list. It's a very simple video that focuses on her swallowing 30 cumshots achieved through various means. Most of the action consists of outercourse so expect plenty of paizuri and assjobs with some blowjob as well. Of course there is some sex too but it's mainly not till the very end. Of course the main draw is watching her swallow all this cum and in that aspect it's quite good. Thankfully she does so with ease and seems to have a good time throughout. Her performance all the way through is quite good as she's got great energy and facial expressions for the most part. She handles all the loads with a smile. Not a whole lot to say regarding her appearance. Her wardrobe is minimal as she spends 90% of the video naked.  However it's not a huge deal as she looks gorgeous here. This is a must watch for anyone that is a big fan of gokkun and cum play. You won't be disappointed.
JUFD-765
"I Was Going To Tempt My Cherry Boy Brother… But The Script Got Flipped! A Defenseless Sister With Colossal Tits Who Gets Fucked A Lot By Her Unequalled Younger Brother"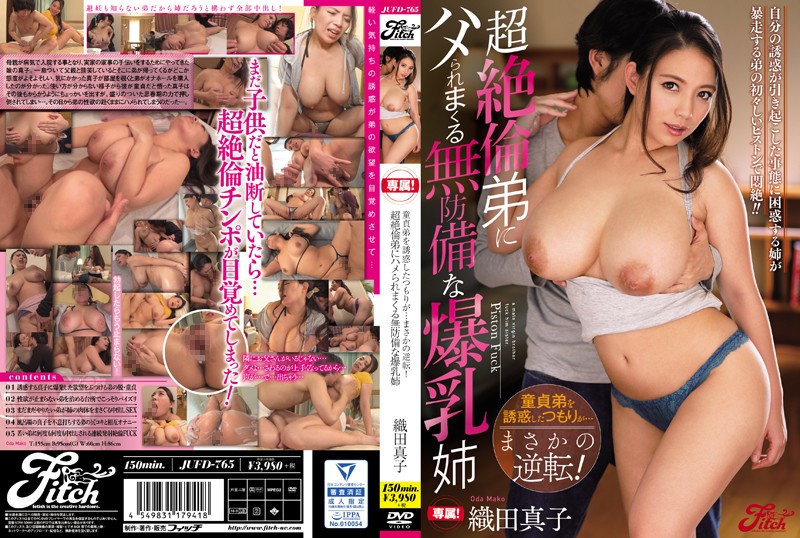 I'm a big fan of the incest genre so naturally I had to include this on my list. The plot is centered around Mako teasing her younger virgin brother until one day he can't resist anymore and decides to fuck her. The rest of the video focuses on him constantly making advances on her and giving her the D. This results in some really great sex scenes that are full of risky and daring action. Such as when they fuck around the house while trying to avoid their father. Now when it comes to her performance she's a bit more submissive than I'd like but still not too bad overall. Wish she could have been more engaging too. While her acting was a tad underwhelming her appearance is definitely not. Her wardobe here is solid and consists of some very sexy outfits. In addition she's almost always flaunting her cleavage. And as always she's in fantastic shape. I highly recommend this for any fans of incest and maybe even shota
JUY-337
"The Totally Masochistic Wife"
Femdom is a favorite genre of mine and upon discovering this video I knew I had to check it out. Thankfully it's pretty damn good. Now I could be wrong but I believe the plot centers around Mako being the head of a household with masochistic men who love to be dominated by her. As a result expect lots of femdom and Mako taking control in all scenes. Speaking of which the scenes are terrific. There's a few sex scenes that are both exceptional and feature some great positions along with a nice facesitting scene and even a pegging scene if you're into that. Now in order for a femdom video to work you need to have a great, dominating performance and for the most part Mako delivers. She boasts excellent enthusiasm and facial expressions and really takes the lead across the entire film. Finally her apperance is great as well. Her wardrobe isn't too memorable besides her last outfit which is featured on the cover. But naturally Mako looks nice at least. While this genre may not be for everyone if you do happen to enjoy femdom then definitely give this a watch.
JUY-462
"Her Husband Is Coaching The Track Team And She Wants Their Rock Hard Cocks So Bad It Hurts A Blowjob-Addicted Horny Housewife"
One of the latest videos to make my list and also features a pretty unique plot. Here Mako Oda plays a housewife whose husband is the coach of a track team. Mako is conducting some physical therapy for one of the young men when she can't help but noticed his erection. One thing leads to another and soon enough they fuck. It's a premise that certainly fits her wheelhouse and as a result she delivers a solid performance. I will say her facial expressions could certainly be better but she plays her role quite well overall and boasts great energy. The action for the most part is terrific too with a few sex scenes and a few blowjob scenes. Lastly I gotta praise her appearance. Mako's wardrobe is on point here and features some nice outfits. Besides that she's in remarkable shape and looks great as always. If you're looking for something with an interesting plot or wanna see Mako play a horny housewife then this is for you.
MDYD-959
"Luxurious Mangoes"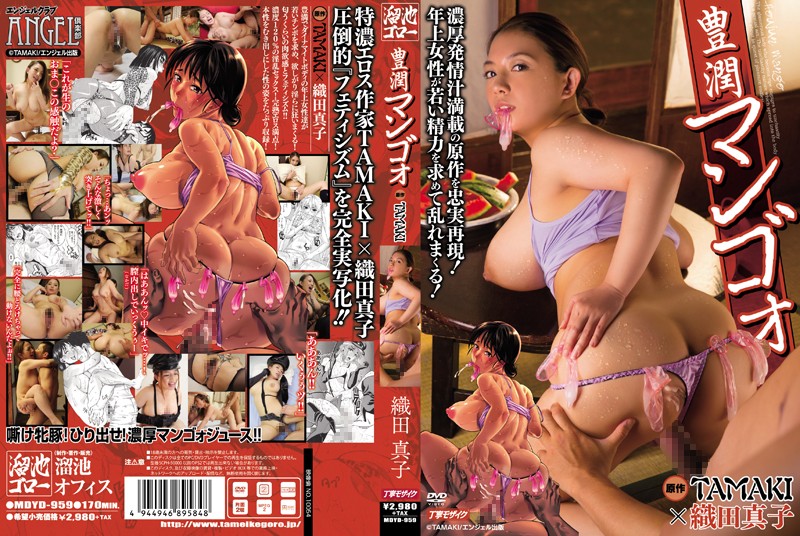 Not gonna lie I'm not too sure on what the exact premise here is. It supposedly based off of some erotic manga but I've never heard of it. Just know that its comprised of several very different scenes that all feature an entirely unique plot. Such as her taking on a femdom role or having sex with her brother and his friend. What's really nice is that every single scene is a full sex scene often ending in a creampie. No one scene feels the same and you'll be entertained from the beginning to end. When it comes to her acting she delivers a pretty solid performance throughout. While she's not entirely perfect she does a good job at changing up her acting according to the scene and the role she plays. Adding to that variety is her wardrobe and overall appearance. She wears plenty of sexy outfits here from a schoolgirl uniform to a makeshift dominatrix outfit and a "slingkini". Not to mention she's in terrific shape. In closing this a very unique and memorable video that easily stands out and is an easy recommendation for anyone wanting something a bit different.
FCVR-008
"Fitch Flesh Fantasy VR Mako Oda Is Lifting Her VR Ban! A Hot Colossal Tits Mama Who Is Excessively Luring Me To Temptation Behind My Girlfriend's Back With Her Glamorous Giant Balloon Titties"
Mako's very first VR video and it's a home-run as it's easily one of the best VR videos I've seen yet. It features a straightforward premise as Mako plays your girlfriend's mother who seduces you into sex. It's a plot that has been done before but this seems to be the first time for vr, at least from what I've seen. Regarding the action it's a bit slow paced consisting of just two scenes really with a near 2 hour runtime. However it really draws you into the plot and feels very engaging. Such as when you're talking with your girlfriend and Mako is sitting behind her just flaunting her cleavage and her ass. The sex scenes is pretty great as well as Mako rides you while your girlfriend is asleep just a few feet away from you. Her acting overall nice too as she holds her moans well enough and plays her role to great effect. And finally she looks super good here always showing off her stunning cleavage and beyond that she's in top-notch shape. By far one of the better VR videos I've seen in recent memory and is sure to please.
In closing I hope after reading this post you may have a better appreciation for Mako Oda or perhaps now have a stronger interest in checking her out. She's certainly a bit under the radar imo and to an extent I can see why. But for someone who has been in the business for 10 years now I think she deserves a bit more recognition. If you like milfs or prefer thick and busty body types then give her a shot.