Ah yes, Hitomi's Girlfriend's Elder Sister video. Those who have seen my top 10 Hitomi videos will know this is my favourite video of hers next to MIRD-150, which is saying a lot when MIRD-150 is perhaps the best JAV of all time.
The video starts out with all three of them sitting in the living room, Hitomi in a nice, loose-fitting one piece. The girlfriend says the bf is going to stay the night and the video wipes as Hitomi says she'll see them later. We next see the pair in the bedroom, Hitomi looking on from the balcony. She's standing behind her sister, it's unclear if the bf sees her but I have a hard time believing he doesn't.
In the first scene, the gf is leaving while the bf looks like he's getting up in the morning. Hitomi's eating breakfast in a one piece and comes and sits down with him, giving him some food to eat. After a bit, she starts coming on to him, and, well, people can't resist. There's not a ton to say about this, Hitomi makes the sex look good though. They have a full sex scene and he creampies her. I tend to prefer more of a setup before they have sex/a creampie, so if there's anything to complain about, that would be it, as small of a complaint as it is.
In the second scene, the bf is cooking in the kitchen while the gf is at the table about 5 feet away from him, back turned to him, reading a magazine. Hitomi enters the scene quietly behind the counter and goes to work on the guy. Off come his pants and welcome to Hitomi's mouth. She sits bum on the floor to prevent her head from being visible over the counter and sucks him. There's dialogue between the gf and bf while Hitomi's getting him off, which eventually leads to a paizuri. She's standing up a bit doing the paizuri so you could see her over the counter, and eventually the gf turns around and Hitomi quickly ducks. While she's ducked, she's viciously jerking him off. There's some portions where she's standing and then he eventually blows his load. He really shoots hit, Hitomi makes a face of pure surprise and excitement from it. All I gotta say is wow, what a load.
In the third scene, Hitomi's spying on them from the balcony, tits out, telling the guy to come join her. She's got a fucking giant dildo vibe in her hand too, and makes some lewd faces with it, licking the tip and such. He eventually leaves and she catches him in the hallway. They fool around, making good use of that vibrator. She blows him and such, and just as they move to sex, the girlfriend gets up and then scramble. Hitomi's left in the hallway and the gf passes by, asks for her bf, and continues to go look for him. This triggers the end of the scene.
In the fourth scene, they continue, in what's like a porch enclosure for their apartment (you can see the apartment number and a buzzer of some sort). The guy has a bag in his hand when it starts, as if he went to the store to grab some stuff. After a while of them having sex, they move back into the apartment and find the gf sitting in the living room on her laptop. They have sex in front of a glass door sectioning off the room, and you can sometimes see the gf in the corner of the video through the glass. Hitomi often looks over at her sister. He eventually creampies Hitomi after a few positions.
In the final scene, Hitomi's giving him a bj/paizuri in the room adjacent to the main room just behind the wall sectioning off the two. The gf is in the other room and starts using the phone. At some point, she gets up looking for him but doesn't quite see them behind the wall. She ends up leaving the room and closing the door. At this point, Hitomi moves them to the other room and they start having sex. At some point, the gf calls Hitomi in the middle, and she tells her sister the bf is with her, even handing him the phone. She hangs up on her sister a bit abruptly and she calls back.
I can't tell whether it's before she calls back or not, but Hitomi makes it obvious they're having sex and the gf runs home. She enters the scene on the phone with Hitomi to catch them having sex. Hitomi talks to her sister and makes some nice facial expressions to sell the act. After Hitomi gets creampied, she makes an effort to show her sister what a mess they made, even going as far as to play with the cum in front of the sister.
Hitomi looks great in this video, and the outfits are all great. A lot of loose-fitting clothing that allows her to show off her assets when tempting him.
Her acting is phenomenal, and gets a perfect score from me. She does a fucking fantastic job seducing him, she goes out of her way to put on the act. Good facial expressions and reminders for him to be quiet. Her seduction makes me want to blow my load when she's out on the balcony with the vibrator motioning him to come join her. What really sells it is the ending, which is one of the best, if not the best. She simply understands exactly what she's supposed to be doing, making it clear what she's doing to her sister and that she enjoyed it.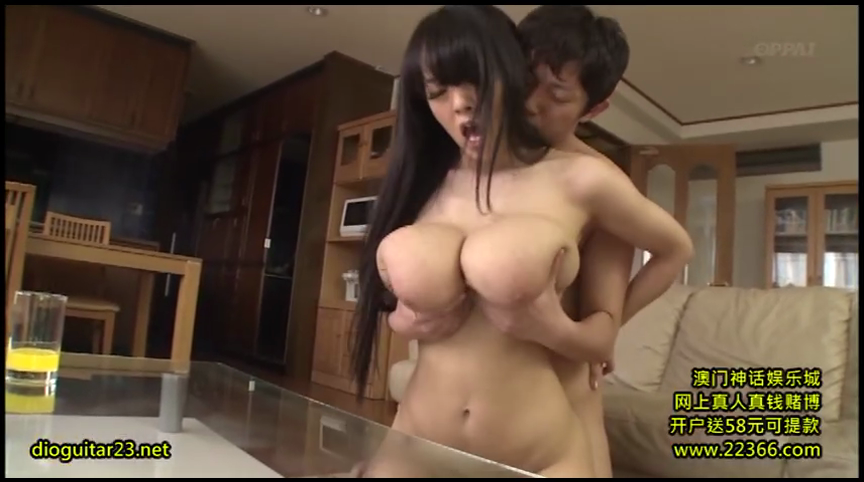 Maybe I'm biased, but Hitomi sex always looks good. Her paizuri's are to die for, and she makes it look good even when the gf is sitting right there. She knows how to use her body to make the sex look good. Again, maybe I'm biased because Hitomi can swing her breasts like no other and I really like that. I thought she was still pretty good overall at dictating the scenes and being in control.
There's no real issues with the plot. I think they just barely have enough dialogue to make the first scene creampie not be a problem. I would have preferred to see some sort of quickie type scene before they creampie, but it's certainly not bad.
The scene work is incredible in this one too. A lot of the girlfriend in the scene or almost being caught. The GF was in the scene twice and they almost got caught in the middle three times, it was super enjoyable. Like I've said before, this is my favourite part of the series, and they simply understand it here. I guess if they're going to have someone do a good job of it, it's Hitomi with her amazing acting skills.
Overall, this is the best in the series. Hitomi gives the most incredible performance. The last scene is just great from start to finish, from almost being caught to the phone bit to Hitomi's insanely good ending. I can't stress how well it was acted and how nice it was.
Rating – 10.4/10
Whether you're a fan of Hitomi or not, it's hard to deny how good of a video this was. I'm not an AIKA fan at all, but I could recognize just how good her video was; this video is way better. If there's ever a video to recommend to non-Hitomi fans that isn't MIRD-150, this would be it.